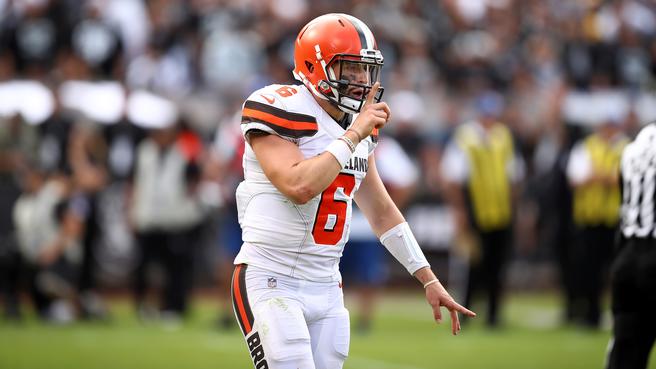 Cleveland Browns quarterback Baker Mayfield has been relatively quiet this offseason, and according to him, that has been intentional. In his first session he has had with reporters this offseason on Wednesday, he said per NFL.com that "It's time to do our thing instead of talking about it." He, along with other Browns players are less focused on making headlines with their words and more focused on working to get their team to where they should've been last season. "Everybody that has been interviewed on our team has kind of hit the nail on the head over and over about, it's time to work," said Mayfield.
The former Heisman winner believes that he has done enough talking and now it is time for him to just act in terms of his play. "There's no need to be talking about it, it's just time to go do it. And right now it's kind of moving in silence, which is fine with me. That's how I used to do it before getting on a bigger stage, so I'm happy to get back to those roots," said Mayfield.
With Mayfield taking a more silent approach when it comes to the media, could that result in him having a bounce-back season in year three? After last season where he completed under 60 percent of his passes and threw 21 interceptions, he needs to bounce back if the Browns have any shot at being competitive this year.
The media silence that the former Oklahoma Sooner has gone through this offseason could be because of multiple variables. Reporters and other media personnel haven't had their typical access to players because of the COVID-19 pandemic that has resulted in the NFL having a virtual offseason. He also has the task of learning the offense being installed by newly hired head coach Kevin Stefanski and offensive coordinator Alex Van Pelt.
Given those two variables alone, it could be understood why Mayfield hasn't been actively talking with the media. Based on what he told reporters Wednesday, he is being much quieter, and more focused on how he and his team can improve coming into next season.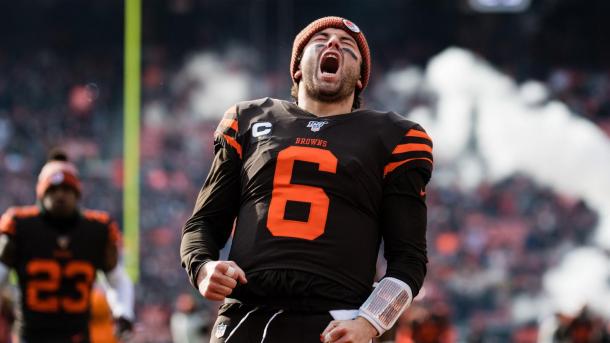 The Cleveland Browns talked the talk last year but didn't walk the walk. They gave themselves high expectations last year after and even considered themselves to be Super Bowl contenders before the season even started. The Browns fell short of their own and others' expectations, going 6-10 in the 2019-20 season and missing the playoffs.
Their borderline cocky talk the previous offseason put a target on their backs and many teams wanted to take it to them, and they did. Last season was a huge disappointment, highlighted by undisciplined football, and a sophomore slump for the former No. 1 overall pick. Mayfield was one of the biggest talkers during the offseason last year, having many quotes about not only his team but some of his fellow quarterbacks around the league. It seems like he has taken a different approach this time around.
The Browns have made some offseason moves that have made them once again playoff contenders at the very least. They signed former Falcons tight end Austin Hooper to a four-year, $44 million contract during free agency. They also drafted another tight end, Harrison Bryant, out of Florida Atlantic. Cleveland now has depth at tight end with Hooper, Bryant, and David Njoku.
They bulked up their offensive line, signing former All-Pro Tackle Jack Conklin and drafting Jedrick Willis Jr. out of Alabama. They also made some moves on the defensive side, signing defensive end Adrian Clayborn, safety Karl Joseph, and drafted safety Grant Delpit from LSU. Adding those pieces to an already talented roster should make Cleveland more complete and more dangerous this season.
The focus that Mayfield and the Browns have had this offseason will need to translate into the regular season. In an AFC North that has the Baltimore Ravens, reigning MVP Lamar Jackson and the Pittsburgh Steelers with Ben Roethlisberger returning from injury and their stout defense, it will require resilience and complete concentration in those matchups. In some games last year, they lacked focus and discipline which resulted in costly mistakes that hurt the team. Maybe the attention to detail they have this offseason is the start of a new trend.
The Browns have the fourth easiest schedule based on their opponents' 2019 records per CBS Sports, which could benefit them greatly. However, they will need leadership from their quarterback. Even though it will be his third year (second year as the full-time starter), it will be important for the 6 foot, 1-inch QB to mature into a leader for the team. The less talk more action approach he has this offseason looks like a step in the right direction.