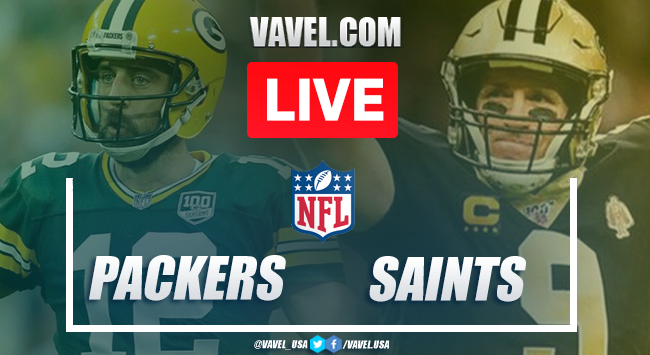 Game highlights
4Q | 00:00
4Q | 0:32
4Q | 0:35
4Q | 1:51
4Q | 2:00
4Q | 5:53
4Q | 6:30
4Q | 7:20
4Q | 8:47
4Q | 10:46
4Q | 11:33
4Q | 12:15
4Q | 13:05
TD Saints 27 - 27
3Q | 00:00
3Q | 0:33
3Q | 1:17
TD Packers 27 - 20
3Q | 2:17
3Q | 5:49
3Q | 5:55
3Q | 8:20
3Q | 8:59
3Q | 11:01
3Q | 11:41
TD Packers 20 - 17
3Q | 12:58
3Q | 14:38
3Q | 15:00
Halftime
TD Saints 13 - 17
2Q | 0:06
2Q | 0:20
2Q | 0:48
2Q | 1:26
2Q | 1:57
2Q | 2:51
2Q | 4:16
2Q | 4:28
2Q | 6:26
2Q | 7:28
2Q | 8:41
TD Packers 13 - 7
1Q | 10:32
1Q | 11:40
2Q | 12:35
2Q | 14:12
1Q | 00:00
1Q | 1:11
1Q | 3:09
1Q | 5:01
TD Saints 3 - 7
1Q | 5:08
1Q | 6:36
1Q | 7:17
1Q | 7:30
1Q | 9:37
1Q | 10:17
1Q | 12:28
1Q | 13:45
1Q | 15:00
We are almost there!
Sean Payton, with a winning record
LaFleur's first duel against New Orleans
The Packers jump onto the gridiron
Deonte Harris is getting ready to receive the kickoff
No main receivers tonight
Without Thomas on the field, Alvin Kamara will have to assume greater offensive responsibility
Jamaal Williams is in good mood while warming up in the Superdome
Adams is ruled out
Follow it here
Who you got?
Michael Thomas is out of action
We have to wait for Adams
Latest face-off
How to watch Green Bay Packers vs New Orleans Saints Live TV and Stream
No more surprises
To remain undefeated
Single-crowned kings
Key player New Orleans
Key player Green Bay
Playoff preview
Good afternoon to all VAVEL readers!