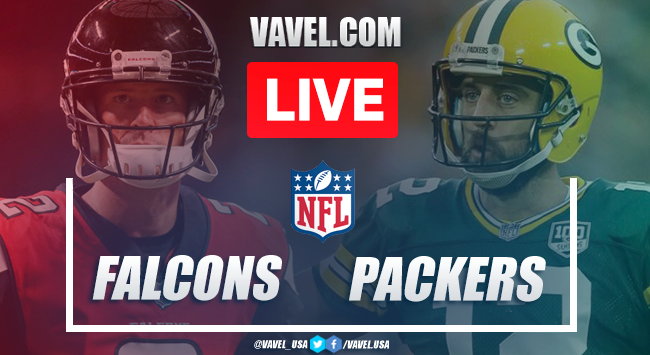 Highlights and scores
4Q | 00:00
4Q | 0:48
1Q | 1:39
4Q | 1:53
4Q | 2:00
4Q | 3:18
4Q | 3:38
4Q | 4:55
4Q | 5:55
4Q | 8:48
4Q | 11:25
4Q | 12:45
4Q | 12:52
4Q | 14:16
3Q | 00:00
3Q | 0:23
3Q | 3:50
TD Packers 9 - 27
3Q | 5:18
3Q | 7:07
TD Falcons 9 - 20
3Q | 7:20
3Q | 7:53
3Q | 9:38
2Q | 10:37
3Q | 11:31
3Q | 11:49
3Q | 15:00
2Q | 00:00
TD Packers 3 - 20
2Q | 0:46
2Q | 0:50
2Q | 1:26
2Q | 1:48
2Q | 2:00
TD Packers 3 - 13
2Q | 2:28
2Q | 3:50
2Q | 5:19
2Q | 6:10
2Q | 7:30
2Q | 7:38
2Q | 9:41
2Q | 12:20
2Q | 14:52
1Q | 00:00
1Q | 1:21
1Q | 2:29
1Q | 3:14
1Q | 5:57
1Q | 8:09
1Q | 9:12
TD Packers 0 - 7
1Q | 10:01
1Q | 11:20
1Q | 12:03
1Q | 13:17
1Q | 13:41
1Q | 15:00
We are almost there!
Jaire Alexander is getting his teammates on the mood
No more doubts
After a week of inactivity, Julio Jones is ready for his game tonight
A little bit closer
Preston Smith is ready to hunt heads tonight
Ideal night for Valdes-Scantling?
Tonight's complete inactive list for Atlanta
Davante Adams is ruled out
Good news for Atlanta: Jones and Ridley are active tonight
The game is postponed again
Follow it here
Who you got?
Last face-off
How to watch Atlanta Falcons vs Green Bay Packers Live TV and Stream
Green Bay's air show
No pressure for Dan Quinn?
Choking all the way
To remain undefeated
Looking for their first win
Key player Green Bay
Key player Atlanta
Schedule change
Good afternoon to all VAVEL readers!