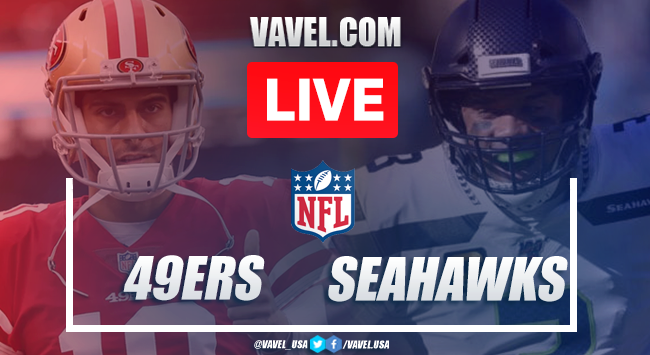 Game highlights
4Q | 00:00
4Q | 1:52
4Q | 1:55
4Q | 2:27
4Q | 2:47
4Q | 3:33
4Q | 3:43
4Q | 4:05
TD 49ers 20 - 30
4Q | 4:16
4Q | 4:52
4Q | 5:53
4Q | 6:33
4Q | 8:03
4Q | 9:36
4Q | 10:51
4Q | 12:36
4Q | 13:35
4Q | 14:07
3Q | 00:00
3Q | 1:14
3Q | 2:39
3Q | 3:46
3Q | 4:27
TD Seahawks 7 - 27
3Q | 5:51
3Q | 6:51
3Q | 8:02
TD Seahawks 7 - 20
3Q | 8:02
3Q | 10:21
3Q | 12:49
3Q | 13:13
3Q | 15:00
2Q | 00:00
2Q | 1:06
2Q | 1:19
2Q | 2:00
2Q | 2:22
TD Seahawks 7 - 13
2Q | 3:04
2Q | 4:59
2Q | 5:42
2Q | 6:55
TD 49ers 7 - 6
2Q | 6:59
2Q | 9:00
2Q | 11:30
2Q | 14:13
1Q | 00:00
1Q | 2:07
1Q | 2:46
1Q | 4:06
1Q | 5:42
1Q | 6:30
1Q | 7:49
1Q | 9:38
1Q | 10:28
1Q | 12:39
1Q | 13:44
1Q| 15:00
We are almost there!
This was the arrival of the 49ers at CenturyLink Field
Seattle is already warming up the engines
Jimmy G' and his 49ers are ready at CenturyLink Field
The Seahawks already jump on the dridiron
Will the leader fall?
Inactive 49ers for today's game
Inactive players this afternoon for Seattle
The best last runner
Best division in the NFL
Follow it here
Who you got?
How to Watch San Francisco 49ers vs Seattle SeahawksLive TV and Stream
To stay on the top
Time to keep climbing
Latest face-off
No more undefeated teams in the NFC
'Jimmy G' had his revenge
Special duel for Sherman
Key player Seattle
Key player San Francisco
Modern and intense rivalry
Good afternoon to all VAVEL readers!