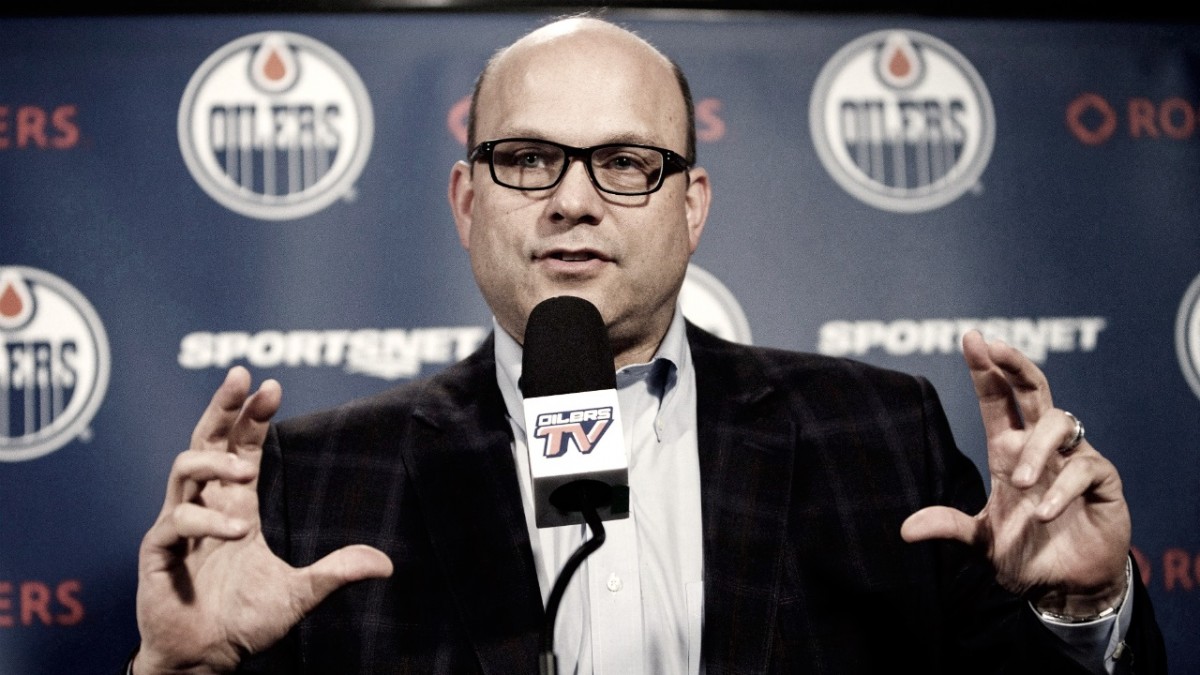 The Edmonton Oilers were one of the busier teams at the trade deadline this year. With 2017/18 being a major disappointment, they were in sellers' mode this year.
General manager Peter Chiarelli had the opportunity to restock his assets in hopes of putting a better a team around Connor McDavid next season.
Let's take a deeper look at all the trades the Oilers made and see how things might go for the team heading into next season.
The Trades:
Trade #1: Brandon Davidson traded to the New York Islanders for a 2019 3rd-Round Pick.
Overall, Chiarelli got a pretty decent return here!
This deal should be a considered a win, given that Davidson was picked up off waivers and the Oilers were able to flip him for a third-round pick.
Davidson was a capable bottom-pairing defenseman for Edmonton and should give the New York Islanders some depth on the blue-line as they try to make a playoff push in the coming weeks.
On the Oilers' front, it looks like they were willing to move on from Davidson. They already have a decent collection of left-handed defensemen in Oscar Klefbom, Darnell Nurse Andrej Sekera, and Kris Russell.
With Davidson gone, it looks like the Oilers are ready to give prospects like Caleb Jones or Ethan Bear a legitimate chance to crack the roster as soon as possible.
Trade #2: Oilers trade Mark Letestu to the Nashville Predators for Pontus Aberg
This should be considered another win for Peter Chiarelli.
Mark Letestu is 33-years-old and is playing on an expiring contract. With age and speed being an issue, the Oilers were probably not planning to extend him long-term.
The trade brought back a modest return. They were able to land a young, speedy and skilled winger in Pontus Aberg. He's a hungry player looking for a chance be a top-nine forward in the NHL and Oilers are willing to give him a shot.
The Oilers also freed up cap space with this trade, as Aberg carries an affordable $650,000 cap hit through 2019. The Oilers now have more financial flexibility to work with this summer.
The Oilers have had great success with low-risk acquisitions (Patrick Maroon and Zack Kassian) in the past, and if Aberg can contribute in a top-nine role, this could turn out to be another win for the team in the near future.
Trade #3: Oilers trade Patrick Maroon to the New Jersey Devils for prospect J.D. Dudek and 2019 3rd-Round Pick
After months of rumors and speculations, the Oilers were finally able to move Patrick Maroon. They waited until the 11th hour to make this deal, and it might have hurt their chances of maximizing their return.
Maroon has been a big part of the Oilers' offense over the last two seasons and notched a career-high 27-goals during the Oilers magical run in 2016/17. The "Big Rig" became a popular player in the room and provided the Oilers with scoring depth, size, and grit in their lineup.
There are a lot of question marks with this trade. It remains to be seen whether J.D. Dudek can become a full-time NHL player. Whilst, it is uncertain if the third-round pick will amount to anything in the future.
Losing Maroon leaves a huge hole in their lineup today, and the Oilers are at least two years away from reaping any potential benefits from this trade.
In summary
Overall, the Oilers did well on two-out-of the three trades but it looks like they might have outplayed themselves on the Maroon deal.
The Oilers also missed out on other opportunities to acquire assets. As they were unable to find suitors for Anton Slepyshev, Mike Cammalleri and Ryan Strome who were all supposedly on the trade block as well.
Nonetheless, these trades give the Oilers some cap-space and assets to put a better team on the ice next year.
Ever since taking over as the Oilers' general manager, Peter Chiarelli has traded most of the team's secondary scoring (Taylor Hall, Jordan Eberle, Mark Letestu, Patrick Maroon) away and haven't really found a way to replace them.
The Oilers have their work cut out for them this summer. One of their biggest priorities is to surround Connor McDavid and Leon Draisaitl with better complimentary players. Otherwise, 2018/19 may be another year of disappointment in Oil Country.
What do you think about the Edmonton Oilers' trade deadline moves? What should they do in the offseason? Let us know in the comment section below.