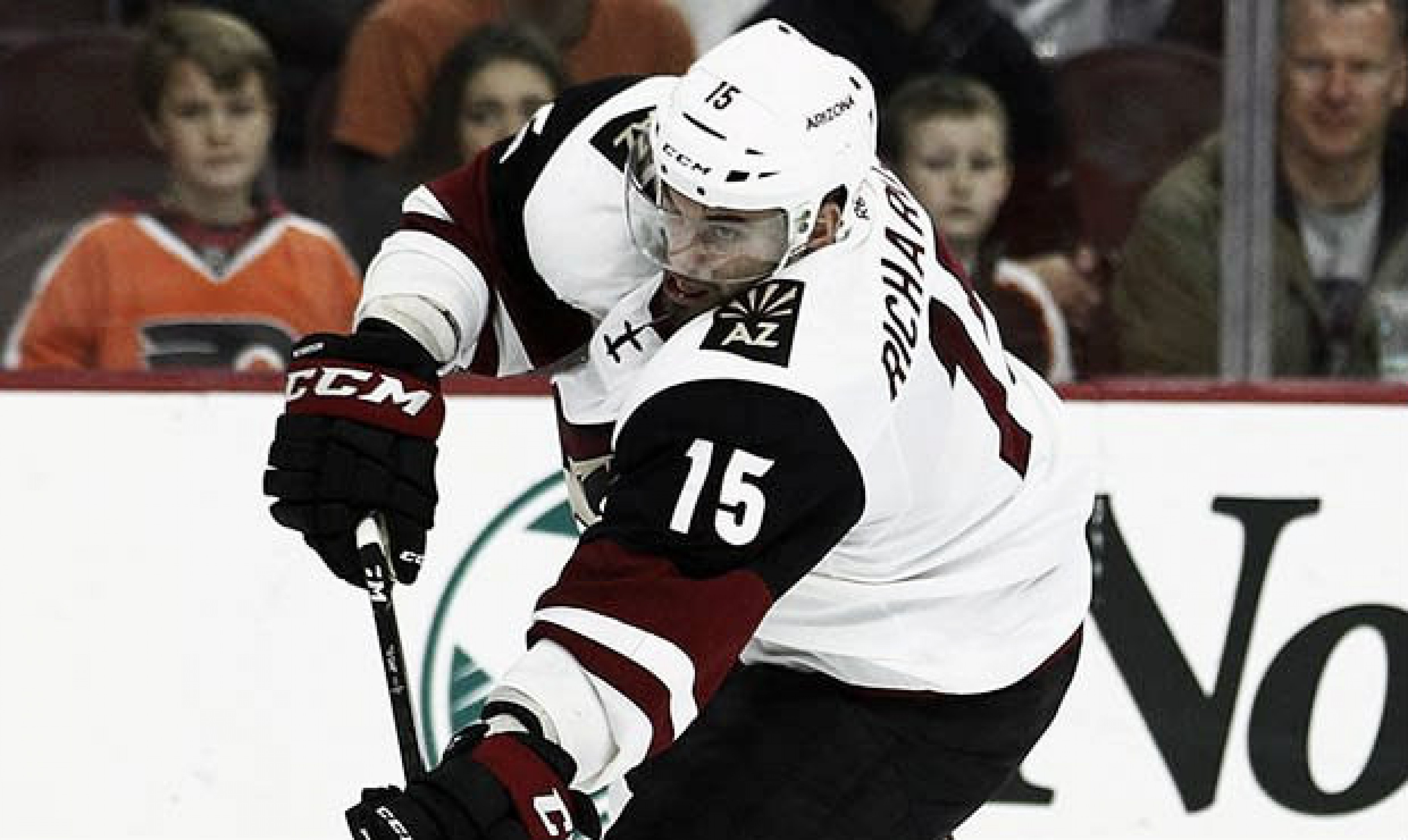 When an NHL player gets injured seriously as Brad Richardson of the Arizona Coyotes did he always wonders if his career is over.
For Richardson the memory of his serious leg injury inflicted upon him by the Vancouver Canucks' Nikita Tryamkin almost two years ago may still haunt him, but it's hard to tell by the way he's playing.
Brad's leg was crushed by the falling Tryamkin who is the size of a football linebacker coming at 6'7", 265lbs. Needless to stay his leg sustained all that weight and gave in. He was diagnosed with a fractured tibia and fibula bones in his right leg.
He was done for the season.
"After consultation with our athletic trainers, medical staff and doctors in Vancouver, it was determined that Brad would require surgery to repair his fractured tibia and fibula bones in his (right) leg," Coyotes general manager John Chayka said in a statement. "Brad's surgery went very well today, and we are confident that he will make a full recovery. He will be out of the lineup indefinitely."
Richardson's comeback
But he wasn't done with his career.
He came back the next season after only appearing in 16 games and the sad part was he had been playing stellar hockey scoring five goals and four assists.
To say Richardson is a relentless competitor is like calling Connor McDavid the best player on the planet... it goes without saying.
In the 2017/18 season he managed just three goals, 12 assists in 76 games but was an integral part of the penalty killing team and the all-important fourth line. The line who plays mostly defense and gets the job of shutting down the scoring lines of opposing teams.
One of Richardson's special skills is in the faceoff circle. His has a career 52.3 percent faceoff success rate and as the saying goes... you can't score without the puck. His rather unique style of going down as low as possible and even diving to the ice to win a faceoff depicts his fervor for the game.
Sometimes he gets so worked up and with the new faceoff rules he gets kicked out of the faceoff circle.
Richardson is at the top of his game in training camp
One of the reasons the Coyotes re-signed Richardson to a new two-year $2.5 million contract wasn't because the team was low on centers... just the opposite. The team has an overflow of talent at center ice and recently acquired Alex Galchenyuk from the Montreal Canadiens to supplement their center ice position even more.
It had been rumored that he may not be signed and it looked like he'd need to start over somewhere else.
When push comes to shove there is no other player you would want out on the ice to pester, irritate and confuse opposing players. He's like a gnat you can't swat and it keeps buzzing your head.
In the two sessions this writer has had the pleasure of viewing at the Coyotes' training camp Richardson's experience and tenacity really stand out. In the red vs white scrimmage game today, he scored two goals, including an empty netter in a two-period 40-minute contest.
It is amazing to think that almost two years ago his leg was shattered and he seems to be skating as if he's as young as some the young prospects trying to acquire a roster spot on the team.
Richardson's skills are needed if the Coyotes want to make the playoffs
Every team needs a tough, gritty player who goes into the corners and does the dirty work to gain possession of the puck and start a rush.
That perfectly describes Brad Richardson.
The Coyotes are hoping with the addition of some key players like Galchenyuk, Vinnie Hinostroza, and Michael Grabner that they can make a push to the playoffs.
It would be their first appearance since the 2011/12 season, and it would be very fitting for a player of Richardson's abilities to be to help them get there.
He is a good leader and mentor to the young players and it was obvious they seek his advice on certain positional play.
Color Brad Richardson ready to go. He wants to show everyone he is completely recovered from his injury.
What better way to do that than to help his team win some vital games allowing them to qualify for the playoffs?
For Brad Richardson, it's all in a day's work.
He thrives on determination and it helps the young players know how to act like a professional NHL player.
Do you admire the way Brad Richardson plays for the Arizona Coyotes? Let us know in the comment section below, and make sure to follow us on Twitter (@VAVELNHL_ENG) for more updates!