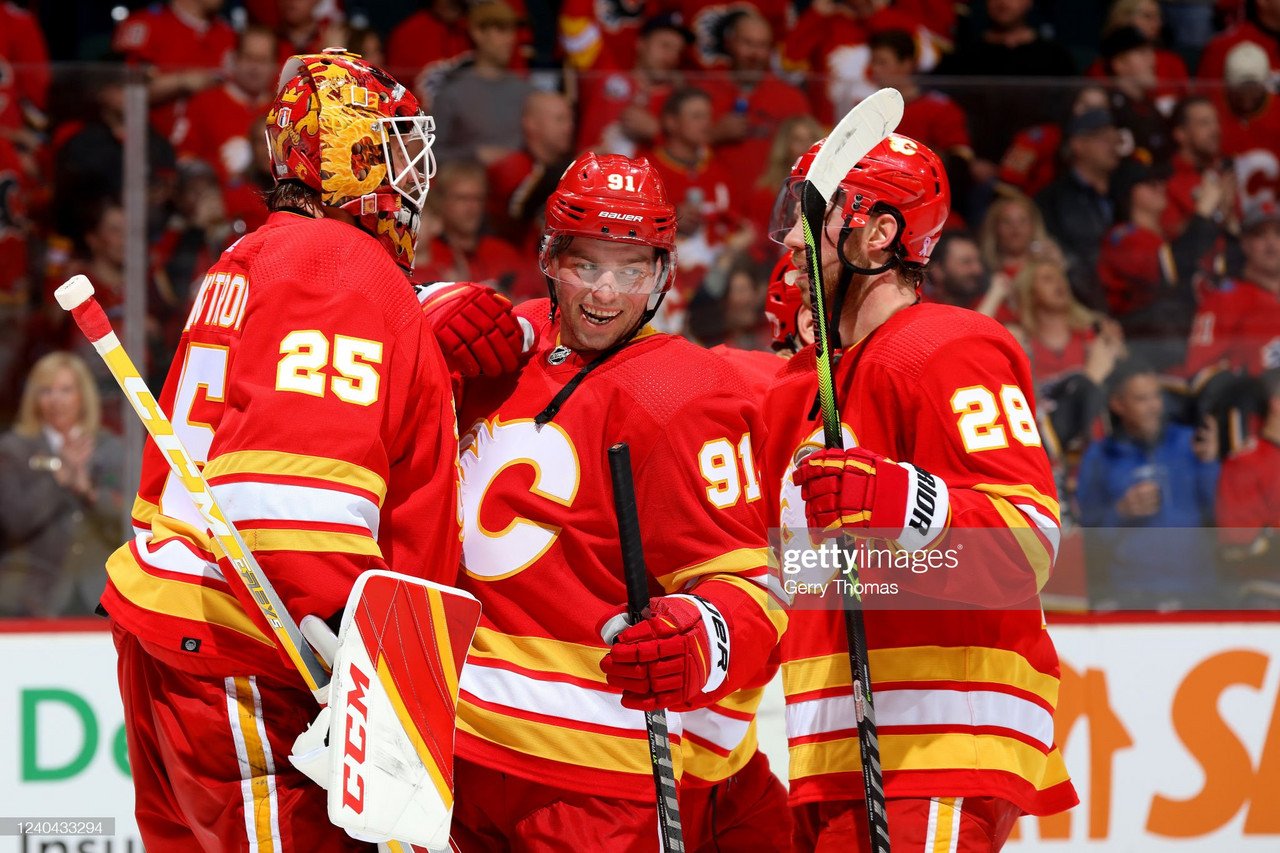 Jacob Markstrom made 16 saves as the Calgary Flames took Game 1 of their first-round Western Conference series against the Dallas Stars by a score of 1-0 at the Scotiabank Saddledome.
Markstrom, the NHL's leader in shutouts this season with nine, posted his second in his playoff career and first since 2020 when he was with Vancouver.
"He was solid", defenseman Erik Gudbranson said of Markstrom. "He was really solid. There were moments in the game when we needed to be sticky and he was sticky and got a whistle for us. We trust him. He's a great goaltender."
Elias Lindholm scored the only goal of the game in the first period.
"I think it was an emotional game, a tight-checking game, but it's just one game", Calgary forward Blake Coleman said. "I said it going into the playoffs: it's going to be a marathon, not a sprint.
"We have to find ways to learn from our mistakes in these games and then find ways to build on things we did well and obviously that will be what we work on.
"I think that's the beauty of this team. We can plat whatever way you want. We can rough it up a little bit, we can make plays, we can defend, we have great goaltending. Whatever the game calls for, we can meet that challenge."
Jake Oettinger made 25 saves in his first career playoff start for the Stars.
"You can't get too high or too low in the playoffs here", he said. "I think we feel that we didn't play our best game and we lost 1-0, so I think we should feel confident about that. I know the guys are going to respond."
Story of the game
Lindholm scored 5:01 into the game when he took a pass from Matthew Tkachuk and one-timed it past Oettinger.
"It's always nice to help the team that way, but overall from our side, I think we can play better", he said. "Our line (himself, Tkachuk and Johnny Gaudreau), there was not much going on out there.
"It was a tight game. Both teams played good defensively. There wasn't a lot going on out there, but we found a way."
Calgary outshot Dallas 9-0 over the first 11 minutes. The Stars got their first shot at 11:06 on a tip from Tyler Seguin, and their second shot came at 16:15 on a Jamie Benn dump-in from the neutral zone.
"I thought they came out flying. The building was electric", Dallas forward Michael Raffl said. "It was an awesome atmosphere to be in. They took it to us, especially the first ten minutes.
"After ten minutes, the bench calmed down and you get used to the speed because it was fast. They were good in the first."
Esa Lindell had a partial breakaway, but Markstrom made a blocker save with 7:32 left in the second period.
Oettinger stopped Tyler Toffoli with his stick, made a left pad save on Andrew Mangiapane's one-timer from the slot and a right pad save against Lindholm in the slot.
"He was outstanding. His first playoff start", Stars coach Rick Bowness said of Oettinger. "He started the year in the minors. We had (Ben) Bishop, we had (Braden) Holtby, we had (Anton) Khudobin.
"None of those guys are around. That's his first start, and for his first NHL start in a very tough rink against a very good team, he did well. Very happy for him, Very proud of him."
Markstrom made a toe save on Seguin's backhand at 8:23 of the third period.
Dallas went 0-for-5 on the power play; Calgary was 1-for-5.
"They won 1-0 wityh the power play goal", Raffl said. "That was the difference tonight. Five-on-five, it was pretty even. I had the feeling we were comfortable playing five-on-five with them."