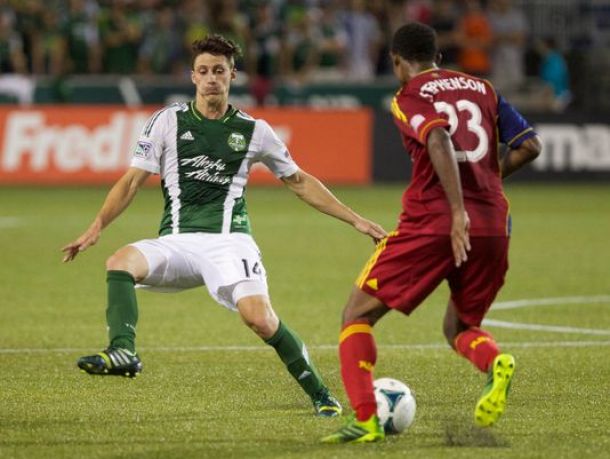 The Portland Timbers will face Western Conference foes Real Salt Lake in their final home game of the season. The Timbers currently sit one spot and one point behind Cascadian foe, the Vancouver Whitecaps, in the fight for the last spot in the playoffs. The season series between Portland and Salt Lake is currently split
The Portland Timbers are coming into this game filled with confidence after a 3-0 thrashing of the San Jose Earthquakes to officially knock them out of the running for a playoff spot. Diego Valeri played hero yet again after netting two goals to bring his total to 11 on the year. Darlington Nagbe continued his career year in assists by providing a ball to Rodney Wallace who opened the scoring. Nagbe now needs only one more assist to tie his total from his first three years in the league, 8.
Despite recording a shutout last game, Michael Harrington will most likely find his way back on the bench in favor of Alvas Powell, who was called up by Jamaica for friendly matches. The 20-year-old has been Caleb Porter's favored outside back as of late, along with Jorge Villafana. Another change that has a chance to be made is Norberto Paparatto making way for Pa Kah. Although the Argentine has been playing well, Porter still doesn't seem to trust Paparatto fully and will most likely use him for their upcoming game against CD Olimpia in the CONCACAF Champions League group stage.
Rodney Wallace was not even dressed for the last game against RSL, a 3-1 victory for the Timbers in Salt Lake, as he was still recovering from a terrible ACL injury that he suffered towards the end of the 2013 season. But this time around he'll be looking to continue his spectacular goal scoring form since his return. Of course he will have Fanendo Adi up top to help pester the RSL defenders. Adi scored two of the three goals in their last match against RSL, and Will Johnson slotted home a PK to put the nail in the coffin on RSL. Johnson will be one man who won't see the field this time around due to an unfortunate leg break in the first moments of the game against Toronto FC. Johnson is not due back until next season.
Real Salt Lake will be looking to stop their recent skid of bad form. The claret and cobalt has lost three of their last four games; their only win coming against Colorado. Coach Jeff Cassar will be happy to get striker Joao Plata back to add some much needed firepower to his offense. Plata is returning from international duty where his goal scoring did not stop. If Plata is not ready to go, the RSL attack will stem from their newest DP Sebastian Jaime. Jaime will be backed in the midfield by veterans Javier Morales and Kyle Beckerman. Both Morales and Beckerman have logged over 2,000 minutes this season.
The RSL defense will be anchored by none other than Nat Borchers. Borchers leads all RSL players in minutes played. RSL will be without Chris Schuler, who suffered a broken orbital bone and is expected to miss at least another week. Salt Lake has recorded seven shutouts this season and boasts the third best goal differential in MLS behind the LA Galaxy and DC United. Arguably more important than Borchers or Schuler, Kyle Beckerman's play will decide how the RSL defense will fare. Beckerman will be tasked with shadowing Diego Valeri and eliminating any possession build up from the Portland Timbers.
Portland knows their backs are against the wall, and that three points is the only acceptable result. They have been playing the best soccer of the season lately and hope to carry that into Friday when RSL comes to town. The Timbers can win their next two games but fail to make the playoffs. If the Whitecaps win out, they will take the fifth and final spot in the MLS playoffs leaving Portland to prepare for next season. The Timbers will finish their season away at FC Dallas.