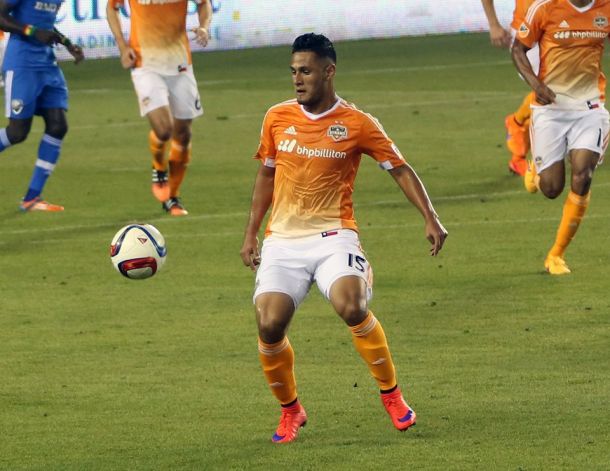 When the Houston Dynamo moved to the Eastern Conference, fans were a bit sad that the rivalry with FC Dallas wouldn't be able to continue in form it was in. With no rivals in the East, fans had little to look forward to as far as intense matches went. Then something happened: games against Sporting KC became very intense indeed. Centered around a natural villain, French defender Aurellian Collin, fans had games on the calendar they circled. It also helped that both Houston and KC were the best in the East over the years.
When the Dynamo were told they were moving to the West, fans were jubilent and chomping at the bit to renew their rivalry with FCD. With KC following them, the Dynamo and their fans now have a pair of heated rivalry games on the calendar.
Enter the new era of Dynamo v Sporting.
Most pundints figured that Sporting would take their great form in the Eastern Conference and slot in seemlessly into the West. Nearly two months into the season and KC finds themselves near the bottom of the conference, having struggled so far in their early games. Star striker Dom Dwyer hasn't been able to find his finishing touch, registering just a single goal and assist. One of their top players so far has been Ike Opara, but a ruptured Achilles tendon has him out for most of the season. With Chance Myers still not back to full fitness from a similar injury suffered last season, the defense is vulnerable.
On the flip side for the Dynamo, Houston will likely be without star midfielder Oscar Boniek Garcia for the second week in a row, due to a knee sprain. If he is available, it'll be limited to a small substitute appearance. With Alex Lopez looking good against DC United and newly acquired Brazilian midfielder Alex yet to make his debut, coach Owen Coyle has options to fill that void. Perhaps the most interesting questions Coyle has to answer is what to do with striker Will Bruin. The controversial player has seen himself on the bench as of late. However, a lengthy substitution against United saw him show what he's capable of. It was his shot that was saved and left for Ricardo Clark to clean up for the game tying goal.
Coyle has rewarded good performances off the bench with starts, the key example of this being Argentine midfielder Leonel Miranda. Nathan Sturgis was given a surprise start in Los Angeles and performed so well that he's become a mainstay at defensive midfield. If Bruin can build on his performance from last week, he'll find minutes easier to come by. Especially if he can actually start putting the ball in the back of the net.
It'll be a tough task for the Dynamo to get the full three points. Not only have the Dynamo not defeated KC at home since 2012, they haven't scored a goal in any of those four games, tying twice. The pressure will be on Coyle to find success to appease the fanbase that is still trying to recover from a poor 2014 campaign that saw KC defeat them in their only home encounter. A key part of any success will certainly be the health and form of Ricardo Clark. If Clark can keep that up and provide good service for the strikers, they should be able to find success. Efficiency in front of net will be their key.
With the defense stout, it'll be up to the offense to find the points for the team to get in front of this budding rivalry.