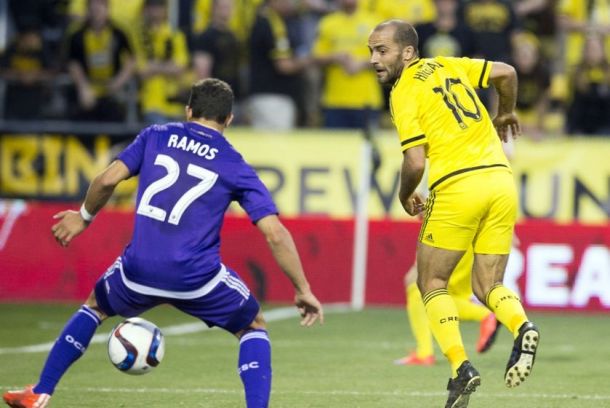 Coming off a disappointing second half performance and loss to the New England Revolution, the Philadelphia Union will travel to MAPFRE Stadium in Columbus on Saturday to take on the Columbus Crew.
There will be a few key things to look out for:
How will the Union and Coach Jim Curtin respond to another second half disappointment?
The Union have not played their best football in the second halves of games this season as they have dropped numerous points in the second half in 3 games (at Sporting Kansas City, at Real Salt Lake and vs. New England Revolution). Against New England, the Union looked on the backfoot for most of the second half and looked very much content to park the bus in the second half. It was not until a Teal Bunbury goal that Manager Jim Curtin went more offensive by bringing in Conor Casey for Zach Pfeffer. Some of the lackluster play could be contributed to the very tired legs on the field for the Union, who played 3 games in only 8 days with a limited bench.
"When we give up a goal you can sense it throughout the stadium and on the field that there's a 'here we go again' mentality. Until we shake that, it's on us and we're going to have to deal with it when teams come in here. That's my job to get corrected and move this team forward," Curtin remarked at this week's press conference.
Who will be available to play?
Cristian Maidana and CJ Sapong both played around 60 minutes on Sunday. As seen on Sunday, Maidana was a key cog for the Union as he delivered quality service into the box as well as a beautiful set-piece goal off the post past Bobby Shuttleworth. Sapong played well in the role of a big man in the box battling for crosses. However, it is unknown if both are fully match fit. Their progression, minutes-wise, has been good but it will left to be seen if both can go the full 90.
Another important player,Vincent Nogueira, is still up in the air for Saturday's match. He was kept out of the match last Sunday with an ankle injury. "He's nursing an ankle that's still pretty swollen. It's questionable whether he'll be ready," said Curtin in his midweek press conference. He went on to talk about the risk of bringing Nogueira back too early, which could exacerbate his injury and leave him out even longer.
Lastly, Zach Pfeffer was called in the U-20 USMNT Camp and will be unable for selection this game.
Possession
"For me, Columbus is one of the top possession teams in our league," said Curtin. It is no secret the Union have struggled to keep possession this season as they have only won the possession battle in 3 out of their 8 games this season and routinely have been in the low 40%'s for possession. It will be interesting to see how Curtin will tweak his tactics in this game to battle such a possession-dominant team like Columbus, who build the attack well from the back.
Referee: Chris Penso
TV: The Comcast Network, MLS Live 7:30PM EST
Last 3 Games:
PHI: Win vs.NYCFC, Tie @NYCFC, Loss vs. New England
COL: Tie @ Vancouver, Tie @ New England, Win - Orlando,