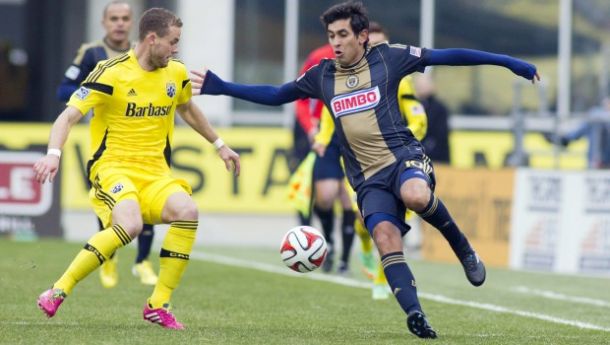 So, when you look at the past performances of a team like the Philadelphia Union, it is hard to look at their record and believe they are an easily beaten team either at home or on the road. With all the issues they have had with injuries as well as the drama surrounding former starting Goalkeeper Rais M'Bolhi. The Union have done better since then, but still seem to have issues when it comes to closing out games and coming out on the winning end.
The New England Revolution took advantage last week with two second half goals to walk out of PPL Park victorious. Undoubtedly, Columbus Crew SC will want to do the same in front of their home crowd, but they need to be aware that the Union could have changed things in training in preparation for the game. One major issue for the Union that teams are going to be able to capitalize on until they figure out how to fix it is the inability of the Union to make the proper adjustments in the second half based off of what the teams are doing.
Basically what this means is, looking back at last game for a moment, the Union made substitutions they thought were smart, however, the substitutions could (and maybe in some people's opinions should) have been different had they been aware of what their opponent was trying to do. I understand, however, that other factors also play into making the substitutions such as injuries and health of players and also timing of substitutions. I am also in no way saying that Philadelphia Union Head Coach Jim Curtin should wait on a substitution, but in the grand scheme of the game, substitutions play a pivotal part in being able to close out games.
Now, looking ahead to the Columbus game, the game plan will be different because of many factors. Both Head Coach Jim Curtin and Columbus Crew SC Head Coach Greg Berhalter will have to make adjustments due to injuries and players being unavailable. For the Philadelphia Union, starting midfielder Zach Pfeffer will be unavailable because of his call-up to the United States Under-20's National Team, as well as Eric Bird and Antoine Hoppenot who are confirmed to have injuries.
Listed as questionable for the Philadelphia Union are Fernando Aristeguieta and Vincent Nogueira. Aristeguieta will most likely play if he is able, but Nogueira may not being that he reinjured his ankle. Without someone readily available to fill the role normally filled by Nogueira, that could be a source of a weakness that the Columbus Crew could exploit, if he is not able to play.
For the Columbus Crew, there are no players slated to be "out", however Sergio Campbell and Wil Trapp have been listed as "questionable" on the injury report. Given their respective injuries, Head Coach Craig Berhalter might have to make some changes to his game plan and lineup.
This might expose a few places for the Union to capitalize to win in Columbus; however, the main thing that the Crew needs to focus on is the issues in the defense and look for ways to make them pay for mistakes. For the Union to stop losing points against Eastern Conference opponents and climb in the standings, they need to have fixed the apparent communication issues as well as at least have attempted to create a better plan for changing things "on the fly" in game. The other potential question mark for the Philadelphia Union is whether they are going to lean on Goalkeeper John McCarthy again or whether 2014 MLS SuperDraft first overall selection Goalkeeper Andre Blake is healed from his injuries and ready for action. This will definitely be an interesting matchup between two teams needing points on Saturday April 25, 2015 starting at 7:30pm EST.
If you are unable to watch the game, we hope you will check out VAVEL USA's coverage as Tyler Fisher brings the LIVE play by play of the matchup between these two Eastern Conference opponents.