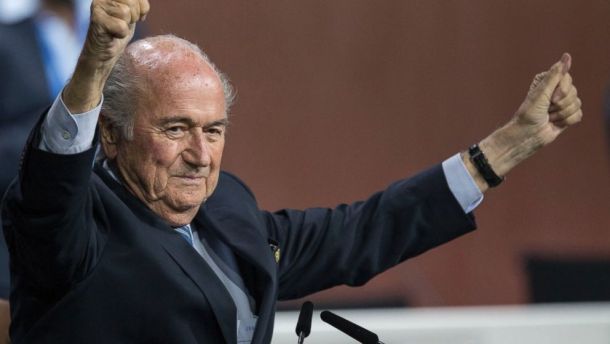 According to a report published in the BBC early Wednesday morning, FIFA President Sepp Blatter could be in office for just 190 more days. Yes, the BBC report states that the Emergency FIFA Congress which will be held to elect Blatter's replacement could be held as early as December 16th, 2015.
Late last month, Blatter announced his intention to resign his presidency just four days after being reelected to a fifth term. He has promised that this special Congress will go ahead and he will not stand in the election in light of the United States Department of Justice investigation into FIFA's culture of corruption.
In the last couple of weeks, world soccer's governing body has been rocked by the arrest of nine current and former FIFA executives, the implication of FIFA Secretary General Jerome Valcke in a $10 million bribery scandal to help South Africa win the right to host the 2010 World Cup, story after story surrounding former FIFA Vice President Jack Warner, allegations from Football Association of Ireland Chief Executive John Delaney that Blatter gave the FAI a €5 million "loan" not to pursue legal action after Thierry Henry's blatant handball which lead to the French goal that sent them to the World Cup instead of Ireland went unpunished, and, finally, the accusation that FIFA deliberately miscounted ballots so that the 2010 World Cup was hosted in South Africa and not Morocco. Oh, and claims from former executive committe member Chuck Blazer that he took bribes for his votes to send the World Cup to France in 1998 and South Africa in 2010. And that Germany traded RPG's for votes to get the 2006 World Cup.
That storm of controversy and corruption finally convinced Blatter to step down, and we could see his replacement as soon as December 16th. The full BBC report, which can be read here, goes on to state that all 209 member nations will be invited back to Zurich in December when this unprecedented event will take place. Knowledge about the vote, who will run and who could win is still largely unknown, but with a definitive date now outlined it seems just a matter of time until potential candidates declare their intention to run. Meanwhile, Blatter will stay in office for 90 more days.