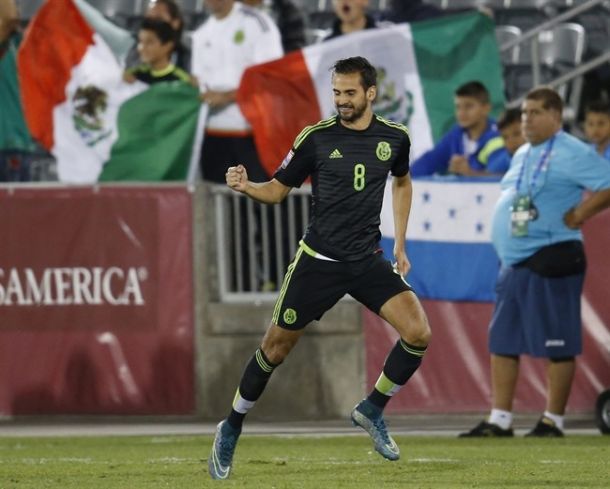 New Mexican National Team coach Juan Carlos Osorio had his first player setback when Paul Aguilar, the Mexican folk hero after his 118th minute volley go ahead goal against the United States in the CONCACAF Cup Finals a month ago, picked up an injury this weekend while playing for Club America.
Since Miguel Herrera took over Mexico two years ago, Aguilar has been a fixture for Mexico on the right side of the defense. Starting every match at the World Cup in Brazil and being a consistent call up cementing his place on the right side of the defense with his aggressive runs up the flanks and his endless crossing.
His play earned a call under new coach J.C. Osorio, but now he won't be able to recover from injury to participate in Mexico's opening games as they start the fourth round of qualifying. Replacing him will be the 23 year old Raul Lopez of Chivas de Guadalajara, who will be earning his first senior team call up.
Lopez has been having himself a good season for Mexico's most popular club, Chivas De Guadalajara. He also had a great CONCACAF Olympic Qualifying U-22 tournament. Even though in that situation, he played in the midfield instead of in the back with the U-22 team already having outside defenders, Juan Carlos Van Rankin and Rodolfo Pizarro at their disposal.
Even though J.C. Osorio played it safe with his call-ups for his first roster, calling up Lopez though shows his recognition of the young and talented pool of Mexicans that he will have to work within the next few years.
On the field, with Aguilar out and Lopez in, could very well mean that Miguel Layun might move from the left side of the defense to the right side of the defense. A natural right footed player, Layun has shown the ability to play with either foot and on either side of the defense. Also, considering the other wide backs that've been called are left side defenders Luis Fuentes and Jorge Torres Nilo, Layun moving to the right would make sense.
As the week goes on leading to Mexico's opener in Friday against El Salvador, we will get a better idea of what Osorio is thinking when it comes to his backline and how and who he chooses to play on outside of the defense.