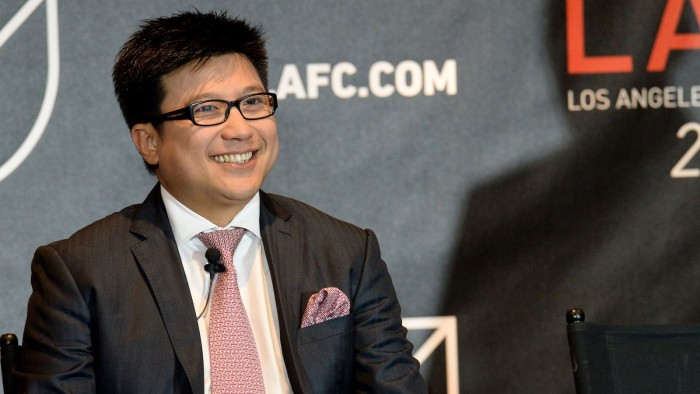 On Thursday Los Angeles Football Club showed the world their official crest and colors, and less than 24 hours later the club is back at work attempting to complete their goals.
Vice president of soccer operation John Thorrington and the rest of the owners are not taking time off after celebrating their crest. The owners have a list of tasks they want to complete before the club enters the Major League Soccer (MLS) in 2018.
The biggest goal to accomplish is starting the construction for their 22,000 seat stadium. At the moment the club is getting ready to break ground at the Los Angeles Sports Arena in the summer. The other two big projects for the one year old club is starting an academy and getting a United Soccer League (USL) club up and running.
"We, of course, have some very big ambitions, but if you're going to build a great club, if you're going to win cups and win championships, you've got to have a process, you've got to have a culture, and that's what we want to establish," LAFC managing partner Henry Nguyen said. "I think that's the unique opportunity of having this club built from the ground up. Obviously, so much of our focus has been on the stadium and what's happening as we build the identity of this organization, but this is the year as we get the stadium entitlements in place, as the shovel goes in the ground, we can start turning our focus toward the technical side of the our club, finding our technical manager – our coach – and then start building our roster of players that will represent the kind of culture and style that we want to play."
LAFC are aware that they are attempting to build a club in a city that already holds a popular MLS club. The Los Angeles Galaxy has won five MLS Cup titles, giving their fans plenty to celebrate and to stay loyal. The Galaxy are already used to sharing LA with another club, Chivas USA.
For 10 years the two clubs both played under the same roof at the StubHub Center. Eventually the Goats were bought by Nguyen, Peter Guber and Vincent Tan. Chivas played their last season in 2014 and the experiment was finally ended after going down as a failure. Nguyen and the rest of the owners are aware of that and do not want to replicate the same disaster outcome for LAFC.
Every move they make seems to be completely thought out. Even for a simple act as breaking ground on their stadium, the owners are handling the process with perfection.
"Summer, that's our plan," Nguyen said. "We'll probably do some groundbreaking event, or maybe even a demolition event around the old Sports Arena. It's a building with a lot of history, so we want to be respectful of that, too, and we want to make sure as we begin this new chapter that there's some continuity to what that particular plot of land is and where we fit in Exposition Park."
There is still some paperwork to be done before everything gets finalized. The academy is also coming along with Thorrington leading the charge. He has said that LAFC is looking for an academy director, but that might pick up more speed down the road. However, the former MLS midfielder has stated that there will be an announcement on the academy very soon.
"We have our academy designation already – that's a process where we had to apply to U.S. Soccer, we've met with them, and they are very excited about our plans and our vision for what we see for the youth players in L.A.," Thorrington said. "Now we're in the midst of rolling out, starting with our coaching and then recruitment of players."
The academy is still in the works but the USL club is another project Thorrington is heading. In fact, this is a project that might get accomplished before LAFC kicks a ball in 2018.
"There's potential for that. We're not closed to that idea," Thorrington said. "Everything we do will be done right. So we'll be protective of our brand, and when we make decisions, it will be with the confidence that we'll do it right. We have resources, we have options to build things like that, but we're only going to make those decisions when we're confident we can do it right."
That being said, Thorrington is currently attending the MLS Draft Combine in Fort Lauderdale, so maybe the second division team for LAFC might be happening sooner than later. It is clear that LAFC has ambitions, and they are on the way to accomplishing their goals before they debut in MLS.