 Juan Carlos Osorio has released Mexico's 40-man preliminary roster for this summer's Copa America Centenario. The list doesn't offer too many surprises and are full of players that Osorio has worked with in his short time as Mexican coach.
The spine of Mexico
All the regulars that make up Mexico's heart make the list. Hector Moreno, Miguel Layun, Andres Guardado, Hector Herrera, and Javier Hernandez all made the list. They're the backbone of the Mexican team and if El Tri hope to make a deep run in the tournament, they will need this core to lead them. Also making the list are regulars Paul Aguilar, Diego Reyes, Jonathan Dos Santos, Carlos Vela, and Alfredo Talavera.
Youth movement present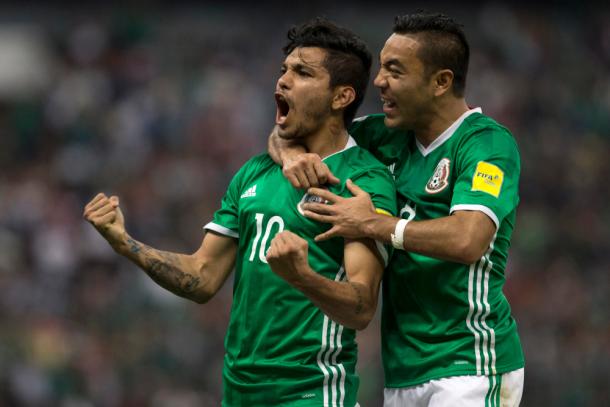 What Osorio has made clear is he values the youth of Mexican soccer as seven of the forty players to make the roster are eligible to also play in the Olympics later in the summer which is a U-23 tournament (Jürgen Damm, also 23, just misses out on the age limit for the Olympics but made the roster). While it's hard to see Carlos Salcedo, Raul Lopez, Rodolfo Pizarro, Jesus Corona, Hirving Lozano, Candido Ramirez, and Orbelin Pineda all making the Copa America roster, make no mistake that at least three of these players will make the roster and make an impact for Mexico.
The one glaring player missing out from the youngsters is Erik Gutierrez, as the Pachuca midfielder has yet to catch the eye of Osorio the way his fellow club teammates Pizarro and Lozano have. There is a chance that in the future he will have a spot to show his quality to Osorio but obviously just not yet.
The Captain and a saint return
At 37 years young, Rafael Marquez continues to defy the odds and gets called up for Mexico again. Making this the 20th year he has represented the senior national team as he made his debut as a 17-year-old. It's hard to see Osorio dropping Marquez at this stage in the process and he will most likely lead the final 23-man roster. While his vision and passing ability are still top quality, he does lack pace and struggles to recover from knocks as quickly. Don't expect him to play every match for Mexico, but when he is in look for him to play in front of the backline as a defensive midfielder.
After almost a year away from the national team, Giovani Dos Santos has finally made a Mexico roster. A combination of bad form, no form (MLS off season), and injuries had left the elder Dos Santos somewhat in limbo, but after hitting some great form over the last few weeks Giovani has done enough to catch the eye of Osorio. His next step is to continue his great form and try to make his way to the final 23-man roster.
Roster:
GOALKEEPERS:
Guillermo Ochoa (Malaga)
Jesus Corona (Cruz Azul)
Alfredo Talavera (Toluca)
Jonathan Orozco (Monterrey)
Alejandro Palacios (Pumas)
DEFENDERS:
Rafael Marquez (Atlas)
Hector Moreno (PSV)
Paul Aguilar (America)
Jorge Torres Nilo (Tigres)
Miguel Layun (Porto)
Israel Jimenez (Tigres)
Nestor Araujo (Santos)
Carlos Salcedo (Chivas)
Yasser Corona (Queretaro)
Jose Rivas (Tigres)
Raul Lopez (Chivas)
Diego Reyes (Real Sociadad)
MIDFIELDERS:
Jesus Molina (Santos)
Andres Guardado (PSV)
Jonathan Dos Santos (Villarreal)
Hector Herrera (Porto)
Marco Fabian (Frankfurt)
Jose Juan Vazquez (Leon)
Carlos Pena (Chivas)
Elias Hernandez (Leon)
Jesus Duenas (Tigres)
Rodolfo Pizarro (Pachuca)
Javier Aquino (Tigres)
Jürgen Damm (Tigres)
Candido Ramirez (Monterrey)
FORWARDS:
Giovani Dos Santos (LA Galaxy)
Orbelin Pineda (Chivas)
Hirving Lozano (Pachuca)
Isaac Brizuela (Chivas)
Eduardo Herrera (Pumas)
Jesus Corona (Porto)
Raul Jimenez (Benfica)
Oribe Peralta (America)
Carlos Vela (Real Sociedad)
Javier Hernandez (Bayer Leverkusen)