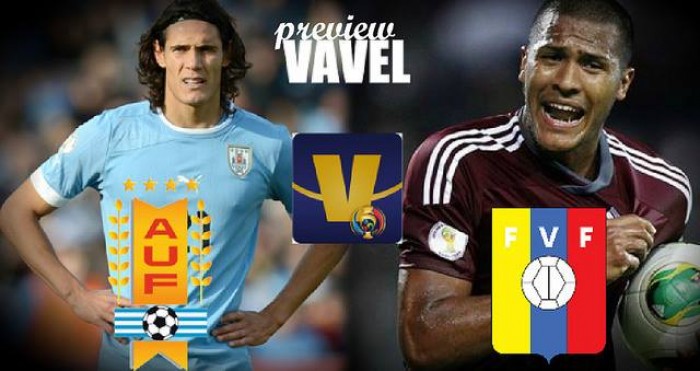 Venezuela will face 15-time Copa America champions Uruguay on Thursday night at Lincoln Financial Field in Philadelphia looking to secure passage to the knockout stage of the Copa America Centenario for the first time in five years. Venezuela opened the campaign with a 1-0 victory over Jamaica at Soldier Field in Chicago on June 5th.
Meanwhile, Uruguay will be hoping to secure their first victory of the tournament, having fallen 3-1 late on to Mexico at University of Phoenix Stadium in Glendale also on June 5th.
Uruguay the superior side historically
Despite their contrasting fortunes in this year's edition of the tournament, Uruguay hold a commanding lead over Venezuela in their all-time history, with a record of 17-4-7. La Celeste's last encounter with the Venezuelans was a June 2013 victory in World Cup qualifying in Ciudad Guayana, Venezuela courtesy of an Edinson Cavani goal. The Uruguayans went on to finish five points ahead of Venezuela qualifying for the AFC–CONMEBOL play-off where they defeated Jordan over two legs to reach the 2014 World Cup in Brazil. Once there, Uruguay fell in the Round of 16 to James Rodriguez and Colombia. Uruguay currently sit atop of CONMEBAL standing for 2018 World Cup qualification while Venezuela is dead last; the two will play in October.
Tactical keys to the game
Venezuela is expected to press much like they did against Jamaica hoping to force Uruguay into similar defense errors as they committed against Mexico; however, the Venezuelan team lacks the pace of the Mexicans and may simply force Diego Godin and Jose Gimenez to play the ball long, to the benefit of Cavani and his tall, lanky frame. Meanwhile, Uruguay may rely primarily on the strength of players like Diego Godin to wreak havoc on set pieces as well as the individual dribbling ability of players such as Nicolas Lodeiro and Gaston Ramirez to pull apart Venezuela's defensive unit and play provider to Cavani.
Injuries and suspensions
Luis Suarez appears to be the only player missing for either side as he continues to recover from a hamstring injury suffered in FC Barcelona's defeat of Sevilla in the Copa Del Rey.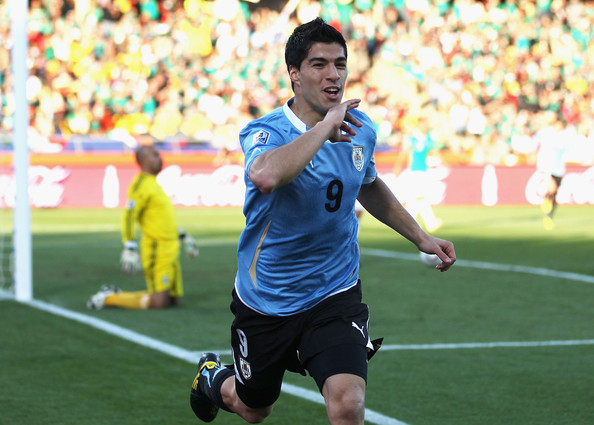 Key Players
Uruguay
Edinson Cavani
Uruguay's joint top scorer in World Cup qualifying along with Godin, he's been expected to be the main man for Uruguay during the early stages of this tournament due to the continued absence of Suarez. Capable of creating his own chances and taking advantage of excellent service from the likes of Lodeiro and Alvaro Pereira, Cavani will need to perform regardless of his teammates contributions should the Uruguayans wish to proceed deep into this tournament.
Diego Godin
The Atletico Madrid man is a terror at either end of the pitch, a serious threat from set pieces and a tactically astute center back, he's a nightmare to play against and will be tasked with the job of keeping Venezuela's Salomon Rondon in check.
Venezuela
Roberto Rosales
La Liga side Malaga's starting right back, Rosales is very much a two-way player and he'll be expected to fulfill that role against Uruguay on Thursday. While being tasked with stopping the flow of crosses to Cavani from the likes of Pereira and Diego Rolan (or whoever plays there on Thursday), Rosales will also need to do his own share of attacking as one of the providers for Rondon and Martinez from the wing.
Salomon Rondon
The West Bromwich Albion striker is a monster in the air and holds the ball up well. He has been just as good at putting the ball in the back of the net as he has been at assisting his teammates. The Caracas native is just seven goals away from Juan Arango's all-time goal scoring record for the Venezuelans in nearly half the time. With some of the attention brought off of him because of the excellent play of Josef Martínez, he'll be looking to remind Uruguay why he's as close to that record as he is.
Pre-match thoughts
Venezuela goalkeeper, Dani Hernandez was particularly aware of the threat that Cavani poses despite failing to score in Uruguay match against Mexico, saying, "More than anything, we must defend as a team. We want them to receive balls the worst way possible. We need a great defensive performance to try and stop them. We also want to keep the ball, which will keep danger away."
Recent matches between the two sides have either been close draws or total blow outs by Uruguay and with Uruguay struggling to find their rhythm so far and having shown defensive deficiencies on the counter attack, expect Venezuela to take advantage in one way or another.
Prediction: 1-1