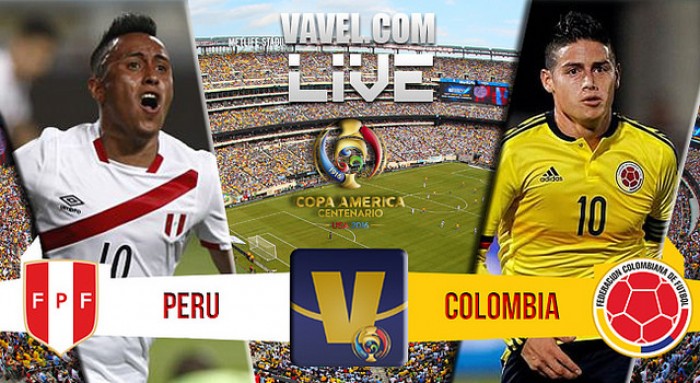 Colombia have advanced to the semifinal in Chicago, where they will face the winner of Mexico/Chile. Peru have been eliminated.
Fulltime: (After Penalty Kicks): Colombia 0 Peru 0 (4-2)
After Four Rounds: COL √√√√ PER √ √ X (4-2)
R4' Cueva (PER): NO GOAL X
R4' Perez (COL): GOAL √
After Three Rounds: COL √√√ PER √ √ X (3-2)
R3' Trauco (PER): NO GOAL X
R3' Moreno (COL): GOAL √
After Two Rounds: COL √ √ PER √ √ (2-2)
R2' Tapia (PER): GOAL √
R2' Cuadrado (COL): GOAL √
After One Round: COL √ PER √ (1-1)
R1' Ruidiaz (PER): GOAL √
R1' James (COL): GOAL √
Colombia will kick first...
Fulltime: Colombia 0 Peru 0. The match will be decided on penalty kicks.
90+' Close! Ramos' header is saved by a sprawling Ospina.
90' Three minutes of added time
90' Substitution: Fabra on for Diaz (COL)
89' Back and forth stuff here at the Meadowlands, both sides trying to avoid penalties.
81' Substitution: Benavente on for Polo (PER)
80' Substitution: Torres off for Perez (COL)
79' Bacca is played in one on one but can not get a foot on the boucning ball to lift it over Gallese.
77' Substitution: Flores off for Ruidiaz (PER)
76' Substitution: Cardona off for Moreno (COL)
75' Cuadrado passes it to James, but his shot is deflected wide.
71' Peru have a free kick in a dangerous position. The free kick results in nothing.
70' Yellow Card awarded to Farid Diaz (COL)
66' Yellow Card awarded to Cristian Zapata (COL)
63' Yellow Card awarded to Renato Tapia (PER)
59' Carlos Sanchez recieves a ball to the face from Paolo Guerrero.
53' Bacca taken down in the box but no call.
50' Peru starting the half very strong, multiple players making runs behind the defense as well.
46' Second half underway
Halftime: Colombia 0 Peru 0
45' Two Minutes of added time
44' Both sides have had trouble keeping the ball, too many turnovers on the flanks.
37' Tapia and Diaz have collided in the Colombia half and are down injured.
30' Peru put pressure on Ospina in the form of long balls in the air, but the Colombian keeper is up to the task.
22' Woodwork! James runs down the middle of the pitch and blasts a shot from outside the box that hits the right post.
20' Referee attempting to control the match withiut having to award any caution cards. Match continues to be a fight for every inch.
15' Colombia with a flurry of chances in the box, but nothing clean on net.
9' Flores with Peru's first chance at goal, as he nods a header over the bar.
7' Very physical match so far, both sides not giving the other any space with the ball.
3' Bacca played in, but his shot is saved. The assistant referee had also marked it offside.
3' Trauco takes down Cuadrado for the match's first foul.
0' Kickoff in New Jersey!
Anthems have been sung, time for kickoff....
Teams are on the field for anthems!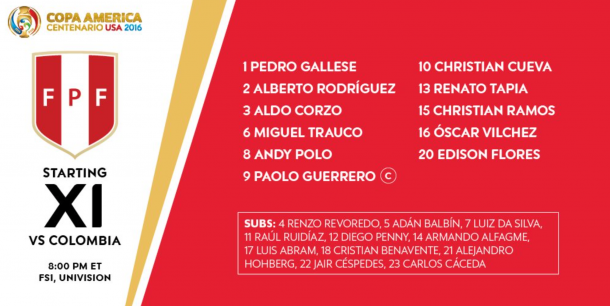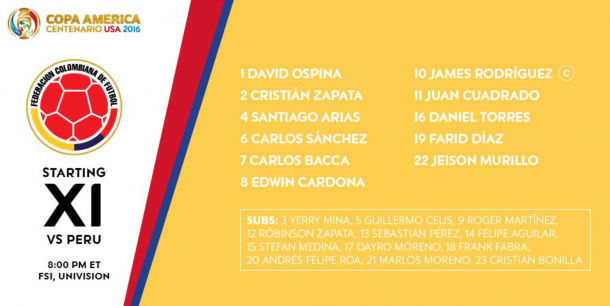 Opta Fact: Peru has also the worst difference between shots made (23) and conceded (37) amongst the teams who'll lay the quarterfinals.
"The most beautiful thing about the game is to resolve the situations that show up and we have to prepare ourselves for that. Because of that, it is an attractive match: both teams have good players, work hard and are able to modify their tactics. Both teams are flexible and that makes the game very interesting."
"Each match has different situations, so if we try to previously predict what is going to happen, then it won't be football anymore," he said.
Despite playing strong sides in the group stage, Pekerman knows that his team has to be willing to adapt to defeat Peru Friday night in New Jersey.
"Under this criteria, we are driven in any circumstance – qualifying, World Cup, friendly or in the Copa America."
"Colombia always tried to find in the capabilities of his players, the freedom to play in a responsible way and with efficiency and with balance," he said. "We have always mentioned those three words: balance, efficiency, and audacity. And try to play good football.
"During these past years, Colombia have shown an important level and have gained the respect of all the national teams in the world," Pekerman said. "Colombia has set up at a place where they haven't been for a long time and that was possible by been the protagonist, by having a clear idea of how to compete in order to win and never stop attacking."
After years off being bottom-feeders of the CONMEBOL table, Jose Pekerman believes Colombia has risen to the top tier of footballing nations of the world.
Opta Fact: Five of the last seven meetings between these two sides in the Copa America have ended as a draw.
"We are strong and united. The win [over Brazil] has helped us, but we must now turn the page," he said. "To win is always nice, and it motivates you to go phase by phase, but now we must fully focus on Colombia. They are a strong team. We've played them in the past and we must be wary of what they are capable of."
Renato Tapia believes that despite the handball, his team definitely deserves to be in the quarterfinals after solid performances in the group stage.
Opta Fact: Peru and Colombia have met 15 times so far in the Copa America – Peru lead by seven wins to two.
"While we will try to get the best out of us physically, games are hotly contested and you have to work more on what is the mental aspect. Peru has demonstrated an important power, and it is a team that is always getting better."
"Our physical aspect is fundamental, but a lot of games are usually won by the mental aspect," the Aston Villa winger said. "I think the team that prepares better mentally for this game will make the difference. In today's age, everything is a lot more equal and the games are won by little things."
Despite facing a potentially easier opponent, Colombia's Carlos Sanchez had warned his fellow teammates to not look down against the task that faces them Friday night.
On Thursday afternoon, it was announced in a press release that the meeting between Colombia and Peru is officially sold out. There will be no tickets available at the Box Office on the day of the match.
Opta Fact: Peru has also reached the quarterfinals of the Copa America on eight occasions, progressing to the semi-finals three times, including the last two editions in 2011 and 2015.
Colombia's defeat to Los Ticos in Houston took them to New Jersey instead of Seattle. In hindsight, finishing second is not so bad. Colombia avoids having to play on Argentina's side of the bracket.
Peru's victory on a handball has led to the sacking of Brazil manager Dunga, with storied and loved Corinthians coach Tite taking over. Tite is said to be making plenty of changes, including bringing back center back Thiago Silva.
In their last match, Colombia lost 3-2 to Costa Rica, while Peru beat Brazil 1-0 on a handball goal.
Peru qualified after a controversial victory over Brazil in Boston.
Opta Fact: Peru has recorded the lowest average possession amongst the eight teams who've reached the quarterfinals of this Copa America (42.8%).
Despite beating the USA in their first match, Colombia ended up second behind the Americans in the standings.
Hello, and welcome to VAVEL USA's Live coverage of tonight's crucial Quarterfinal encounter at the Copa America Centenario! My name is Josef Leizerowitz, and I'm genuinely thrilled to be bringing you tonight's match between Colombia and Peru. We've got plenty of time until kick-off, so sit back, relax, and let me walk you through the build-up to the match.