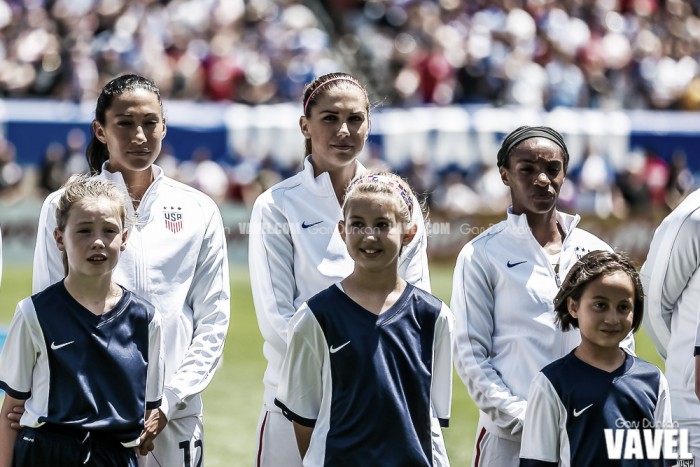 It's been just over a year since the United States made history as they became the first team to win their third Women's World Cup. They are going to the Olympics to try and make more history. No team has ever won the World Cup and Olympics in consecutive years and Jill Ellis and the USWNT are trying to be the first.
US Statistics
Gold: 4 (1996, 2004, 2008, 2012)
Silver: 1 (2000)
2016 record so far: 14-0-1 (including tournaments)
Olympic Roster
Goalkeepers: Hope Solo, Alyssa Naeher
Defenders: Becky Sauerbrunn, Julie Johnston, Meghan Klingenberg, Kelley O'Hara, Ali Krieger, Whitney Engen
Midfielders: Carli Lloyd, Tobin Heath, Allie Long, Lindsey Horan, Morgan Brian, Megan Rapinoe
Forwards: Alex Morgan, Crystal Dunn, Mallory Pugh, Christen Press
Alternates: Ashlyn Harris, Heather O'Reilly, Sam Mewis, Emily Sonnett
Key Players
If the USWNT wants to win this tournament, they have to utilize their players at all positions. For them it isn't too hard to do, especially since some of their players are versatile and can move around to different positions.
Carli Lloyd, the captain, the finals hero. In the last two Olympic finals Lloyd scored the game-winner and in the World Cup final last year she scored the fastest hat trick in World Cup history. For this Olympic games, Lloyd is just as strong and capable as ever in that attacking midfield position. Even coming off an injury, she proved that she is still able to create chances and follow through on goals. The goal created by her co-captain Becky Sauerbrunn was perfectly placed off of a set piece and went straight to Lloyd's head. Sauerbrunn will also be key to this Olympic team. She has commanded the backline along with Julie Johnston for over a year now and her ability to see what's going on in front of her will be key to this team stopping their opponents from scoring, especially in group play when they play teams like France and Colombia.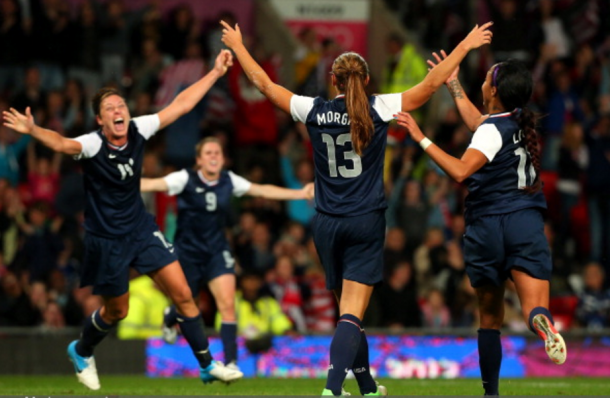 Another key player is Alex Morgan. Morgan is at her best and is able to move into positions to be that target up top. She has become more of a threat there than she has been in the past year and could even give the US a goal similar to the USA - Canada semifinal in the last Olympics.
A brand new team
Eleven players on this Olympic roster are going to their first Olympics. Not only that, but the team is very different from the World Cup roster a year ago. Four players retired including Abby Wambach and Lauren Holiday, two are gone from maternity leave and there could only be 18 players instead of 23 for the Olympics.
Although many members of this Olympic team don't have the big stage experience, many of them should make a difference for the US. Crystal Dunn was a surprising omittance from the World Cup roster, but has proven her place on this Olympic team. She is able to translate the goal scoring ability from her club side to the international level very well and this year already she has nine goals. She will be an offensive threat for this team.
Two other newcomers that will be threats are Lindsey Horan and youngster Mallory Pugh. Horan has embraced the holding midfielder role and has shown to be a big power from the middle. Similar to Wambach, Horan can get her head on the ball and also score with her feet. She reads the play well and is a big threat in the box. Pugh is almost the opposite of Horan. Smaller in stature, the forward has an eye for the oncoming play. She can see where her teammates are moving very well and creates the opportunities for them as well as score goals herself.
Even without the big tournament experience, this team has a strong chance at bringing gold back to US soil.
The group
Group G: USA, New Zealand, France, Colombia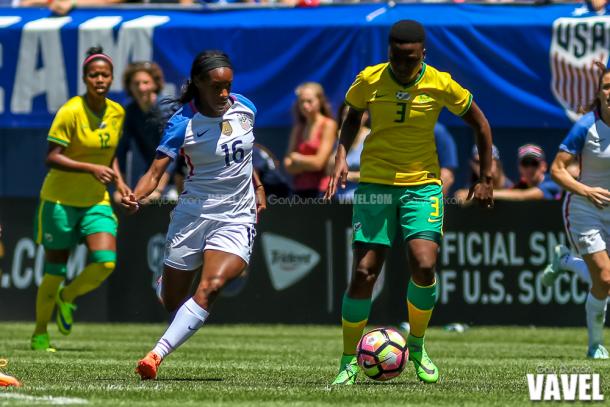 The USWNT has a tough group, there's no denying that. They've also played each team they'll face in an Olympic tournament before, including two that were in their group four years ago in London.
The first game is against New Zealand and as long as this team plays the way they have been all year, they should beat them. In London, the US won 2-0 but had many scoring opportunities. This team will have to put on the pressure and play like they did against Costa Rica in their final send-off game. This game is also preparation for their game against France, so they need to play at their level high pressure to keep the momentum for game two.
The last time the US played France in the Olympics, they went down 2-0 early on but came back to win it 4-2. That was the resilient team of the London Olympics four years ago. Things have changed in four years and in the most recent game against France, the US won 1-0 in March. France is a tough team and right up there with the USWNT in the FIFA rankings. The US will have a challenge against France, but can overcome it with the persistence and pressure this team is known for.
Colombia is the last team in the group and from past experiences against them, the matches get pretty physical. Last time these teams met, the US thrashed them with 7-0 and 3-0 victories in April friendlies. It should be a win, but this team cannot underestimate the physicality of this Colombian side and must play smart to win.
Overall prediction
This team is likely to make it to the knockout stage. No question that this team is poised to make another gold medal run as long as they keep playing their game. Upsets are always likely, but this strong US team has what it takes to make history.