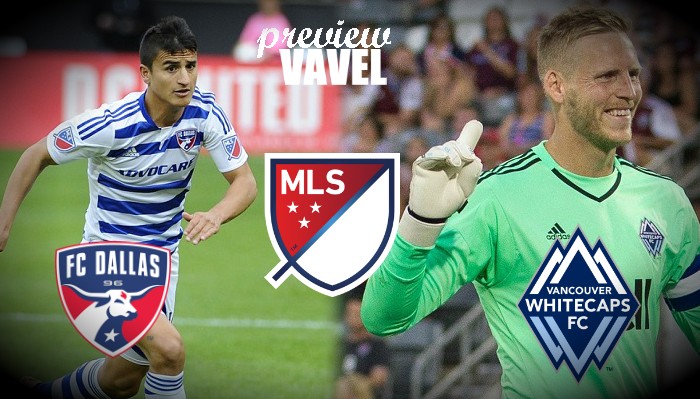 FC Dallas looks to remain undefeated at home when they take on the Vancouver Whitecaps on Sunday, July 30, at Toyota Stadium in Frisco, Texas. The game will kickoff at 3:00 PM PT and can be seen on TSN and MLS Live. This will be the 16th all-time meeting between the two clubs, with FC Dallas holding a (win-loss-draw) 8-4-3 all-time series lead.
How did both teams fare last weekend?
FC Dallas tied the host Colorado Rapids 1-1 last Saturday in a battle between the Western Conference's top two teams. Colorado took the lead in the 44th minute when midfielder Marlon Hairston blocked an Atiba Harris clearance before rounding FC Dallas goalkeeper Chris Seitz and rolling the ball into the empty net.
Dallas worked tirelessly to find an equalizer and was rewarded for their efforts in the 82nd minute. After winger Michael Barrios' shot was blocked, the ball fell to substitute Victor Ulloa ten yards outside of Colorado's 18-yard-box. Ulloa took a touch before hitting an absolute thunderbolt from 25 yards out, beating Rapids goalkeeper Tim Howard to tie the game at one. With the result, FC Dallas remained first in the Western Conference while the Rapids remained in second place, just three points behind them.
The Vancouver Whitecaps also earned a road point after tying the Houston Dynamo 0-0 last Saturday. The Whitecaps won the possession battle but the Dynamo had the better scoring chances. Dynamo midfielder Oscar Boniek Garcia hit the post while center back David Horst had his header brilliantly saved by Whitecaps goalkeeper David Ousted in the final moments of the match. Ousted made a trio of quality saves last Saturday and continues to be the Whitecaps' most valuable player this season. With the draw, Vancouver moved to 8-8-6 and dropped to sixth place--the final playoff spot--in the Western Conference.
FC Dallas' game plan against the Whitecaps will be to...
Get the ball to Mauro Diaz as often as possible. The 2016 MLS All-Star has three goals and nine assists (second in MLS) on the year and is one of the most dynamic playmakers in the league.
The impending sale of teammate Fabian Castillo to Turkish club Trabzonspor does complicate Dallas' attacking plans, but with Diaz as the center attacking midfielder and defensive midfielders Carlos Gruezo and Kellyn Acosta supporting him, Dallas can control the tempo in midfield.
Manager Oscar Pareja will likely instruct Gruezo and Acosta to get the ball to Diaz as often as possible on Sunday, especially when Dallas looks to counterattack. Once Diaz gets the ball, he will likely try to release speedy Colombian Michael Barrios down the right flank as often as he can. Neither of the Whitecaps' fullbacks has the pace or defensive chops to contain Barrios, and if Barrios is able to outrun the Whitecaps' fullbacks, look for him to lay the ball off to forward Maximiliano Urruti or Diaz for open shots on goal.
The Whitecaps' game plan against FC Dallas will be to...
Try to draw Dallas' center backs out of position. The Whitecaps beat FC Dallas 3-0 earlier this year by drawing Dallas' center backs--and specifically center back Walker Zimmerman--out of position and exploiting the vacated space. Dallas' center back pairing of Zimmerman and Matt Hedges is one of the best in MLS and the 'Caps can't just cross ball after ball into Dallas' 18-yard-box and expect good things to happen.
Against FC Dallas, Whitecaps' manager Carl Robinson will likely instruct his central attacking midfielder--most likely Nicolas Mezquida--to drop deep in order to link up with teammates and maintain possession. While this might create some disconnect between Mezquida and the lone center forward (most likely Masato Kudo) in the 'Caps 4-2-3-1 formation, the 'Caps will be content to keep possession and not allow FC Dallas to spring any counterattacks on them. Playing Mezquida deep may also lead Dallas' center backs to take unnecessary risks and venture higher upfield. If that happens, Mezquida will try to take advantage of Dallas' aggressiveness by playing through balls to Kudo or dribbling past Dallas' center backs and running through on goal.
From the Whitecaps' perspective, a road point against the league leaders is not a bad result, and manager Robinson may also have center forward Kudo drop deep to support his team's midfield when FC Dallas are in possession. Don't be surprised if Robinson utilizes a conservative game against Dallas and instructs his team to only throw numbers forward when a counterattacking opportunity arises. While a game plan that stresses defensive shape isn't aesthetically pleasing, Robinson won't mind sacrificing style points for a hard-earned road point on Sunday.
Projected formations
FC Dallas projected starting lineup/formation (4-2-3-1)
Chris Seitz; Atiba Harris, Walker Zimmerman, Matt Hedges, Maynor Figueroa; Carlos Gruezo, Kellyn Acosta; Michael Barrios, Mauro Diaz, Tesho Akindele; Maximiliano Urruti.
Notable Subs: DF Aubrey David, MF Victor Ulloa, MF Ryan Hollingshead.
Vancouver Whitecaps projected starting lineup/formation (4-2-3-1)
David Ousted; Fraser Aird, Kendall Waston, Tim Parker, Jordan Harvey; Matias Laba, Andrew Jacobson; Christian Bolanos, Nicolas Mezquida, Pedro Morales; Masato Kudo.
Notable Subs: DF David Edgar, MF Cristian Techera, FWD Blas Perez.
Matchup to watch
FC Dallas center forward Maximiliano Urruti - Vancouver Whitecaps center back Kendall Waston
FC Dallas forward Urruti has played in all but four of his club's regular season games this season and is one of Dallas' most important attacking players. Although his goal and assist totals may be underwhelming--five goals and three assists in nineteen appearances--he has two goals in his last two starts and looks to have broken out of a two-month-long slump.
Yet what makes Urruti such an important player in Dallas' system is his tremendous work rate. He is constantly hounding opposing teams' center backs, trying as hard as he can to force turnovers and win the ball back for his team. Against a Whitecaps back line that has been far from stellar in 2016, Urruti's persistence could lead to scoring chances that Urruti may be able to convert on Sunday.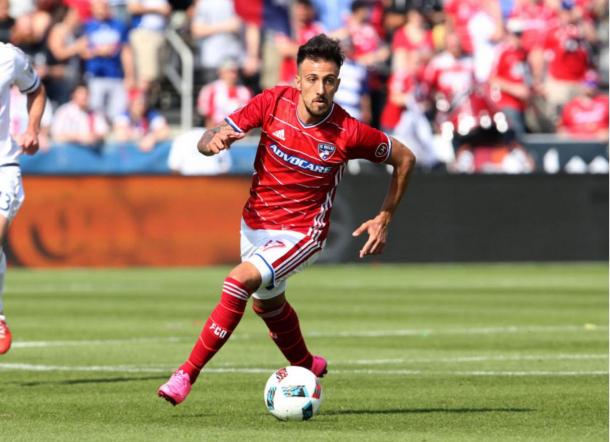 One of the Whitecaps responsible for containing Urruti is Costa Rican center back Kendall Waston. Waston was recently named a 2016 MLS All-Star and is an integral part of Vancouver's back line. But he has not been as dominant as he was in 2015, partially because of international call-ups and mostly because of disciplinary issues; he has already collected six yellow cards and two red cards in 2016.
Against FC Dallas, Waston will need to be on his best behavior and can't turn the ball over to Dallas' high-octane offense. Urruti will certainly try to bait Waston into committing silly fouls and if Waston isn't able to control his temper, the Whitecaps' defense will be under siege for all of Sunday's contest.
Projected scoreline
The Whitecaps were able to earn a valuable road point against the Dynamo last Saturday, but this author doesn't see them beating a red-hot FC Dallas side on Sunday. Dallas attacking midfielder Diaz will collect either a goal or an assist against the 'Caps and teammate Urruti will score his third goal in as many starts. The Whitecaps have been maddeningly inconsistent on defense this season and aren't used to playing in the broiling Texas sun. While this author believes that the 'Caps will fight valiantly to keep Dallas off the scoreboard, Dallas will score two goals after the 60th minute to put the game out of reach. Dallas' rock-solid defense will shut out the 'Caps offense and the league leaders will move to 9-0-3 at home and 13-6-5 on the year, maintaining their grip on first place in the cutthroat Western Conference.
Projected final score: FC Dallas 2 Vancouver Whitecaps 0