Seattle Sounders first-year manager Brian Schmetzer knows what he likes. He likes to use a 4-2-3-1 formation with two defensive midfielders, a true "No. 10" at the center of the Sounders' three midfielders, and a lone forward to spearhead the attack. Schmetzer's 4-2-3-1 formation has proven to be the right formation for this Sounders squad as the Sounders have become one of the most balanced teams in Major League Soccer. Schmetzer will almost certainly use the 4-2-3-1 formation when the Sounders face off against Toronto FC for the MLS Cup on Saturday. Here's a breakdown of the tactics the Sounders will likely use against TFC:
Defensive tactics
The Sounders back line has become rock-solid in the postseason largely because of the return of center back Roman Torres to the starting lineup. Torres made his season debut in July after a long injury layoff and quickly became an imposing force at the heart of the Sounders' defense. He and center back partner Chad Marshall will have their hands full defending in-form TFC forward Jozy Altidore and Altidore's forward partner, Sebastian Giovinco, on Saturday.
Look for Seattle Sounders defensive midfielder Osvaldo Alonso to track Giovinco on Saturday. Neither Marshall nor Torres is fast enough or agile enough to deal with Giovinco's dribbling skills, but Alonso is, and he will likely sit in front of Marshall and Torres for the entire match. Marshall will likely mark Altidore on set-pieces and in open play. The 32-year-old center back is quicker than teammate Torres and is adept at blocking shots, so he will be tasked with denying Altidore the ball on Saturday.
The Sounders' fullbacks, Joevin Jones and Tyrone Mears, will likely push forward to support the attack whenever they can. Jones is a marauding left back who can deliver an accurate cross if given time and space, so look for him to provide support for projected Sounders left winger Andreas Ivanschitz when the Sounders are in possession.
Sounders right back Mears is more conservative compared to fullback Jones; the Englishman tends to get forward only when an opportunity to get forward arises. Mears played one of his best games of the season in the Sounders' 1-0 win over the Colorado Rapids in their Western Conference Championship matchup and his one-vs-one defending has improved over the course of the season. Look for Jones to track TFC right back Steven Beitashour whenever Beitashour gets forward and for Mears to track TFC left back Justin Morrow whenever Morrow gets forward.
Offensive tactics
If the Sounders want to have a fighting chance on Saturday, they will need to get the ball to center attacking midfielder Nicolas Lodeiro early and often. Lodeiro is one of the hardest working "No. 10s" in the league, but as the Colorado Rapids showed, he can be neutralized if he's denied access to the ball. The Sounders made a concerted effort to get Lodeiro the ball in both of their legs against the Rapids, but the Rapids' two defensive midfielders forced Lodeiro to settle for easy or backward passes.
Lodeiro will not have much time on the ball when he goes up against TFC's five-man midfield, especially since he'll be constantly hounded by TFC captain/defensive midfielder Michael Bradley. It'll be up to Lodeiro's teammates to make well-timed runs through TFC's defense or make runs that give Lodeiro more time on the ball. If Lodeiro's teammates are static, TFC's midfielders will surround Lodeiro and force him to give up the ball. Lodeiro without the ball is still dangerous since the Uruguayan never stops running, but he's much more dynamic when he's on the ball with his head up and his eyes scanning the field. If the Sounders are able to create time and space for Lodeiro, they will generate scoring opportunities on Saturday.
When the Sounders are in possession, look for Sounders winger Jordan Morris to make runs through the channels, which are the pockets of space between a team's center backs and full backs. In TFC's Eastern Conference Championship matchup against the Montreal Impact, Impact winger Dominic Oduro made a number of well-timed runs through TFC's channels and TFC's back line had no answer for Oduro over both legs.
Morris is one of the few players in MLS who can match Oduro's speed, and it was his well-timed run through TFC's defense that led to the Sounders' lone goal in their 1-1 draw with TFC back in July 2016. Sounders fullbacks Jones and Mears and center attacking midfielder Lodeiro can all play accurate long balls over the top, so don't be surprised if the Sounders play balls over the top to Morris and hope he can beat TFC's offside traps and finish past TFC goalkeeper Clint Irwin.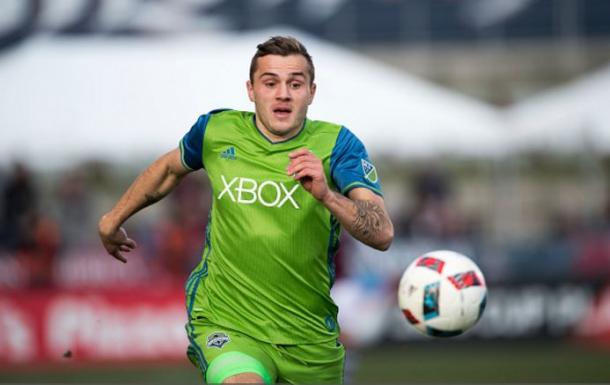 Conclusion
The Sounders know they need to be disciplined against TFC on Saturday. TFC has the home-field advantage and a raucous fan base on their side, which means the Sounders will have little margin for error. The visitors will need to stay organized on defense, use their fullbacks when in possession, and give Lodeiro time and space on the ball. The Sounders' biggest asset is their speed since very few defenders can run stride-for-stride with Morris in the open field.
Look for the Sounders to absorb pressure and then launch balls over the top to get Morris in one-vs-one situations. The Sounders' two X-factors are Lodeiro and Marshall; if both play well and influence the game's tempo, then the Sounders have a shot of upsetting TFC on their home turf. It will also be up to manager Schmetzer to make any necessary halftime adjustments or tactical switches if the Sounders fall behind. The 2016 MLS Cup playoffs have shown that the Sounders have the talent and the drive to beat any team in this league. All they need to do on Saturday is honor their offensive and defensive tactics, keep their team shape, and not make any critical errors.