 After two dreadful performances to start their first MLS season, Minnesota United FC is in need of a big win this weekend against the Colorado Rapids. It got harder this week when head coach Adrian Heath announced that goalkeeper John Alvbage would be out 3-4 weeks after injuring his leg against Atlanta. This is on top of goalkeeper Patrick McLain, who hasn't practiced this week due to a concussion.
MLS VET ONLY ACTIVE GOALKEEPER AT MOMENT
The lone goalie left on the active roster is Bobby Shuttleworth, who was acquired in a trade with the New England Revolution just before the season. He came on in the closing minutes of Saturday's loss and gave up a goal.
"I haven't had a ton of time to play with these guys, seeing as I just got here and then was dealing with an injury," Shuttleworth said. "Just trying to help them out as much as possible and try to get us in the right spots and me pick up good positions."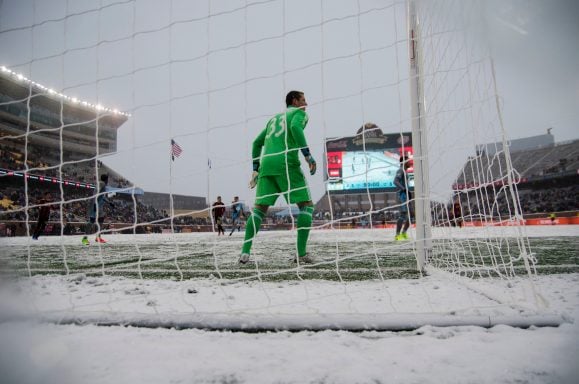 Last season with the Revolution, Shuttleworth played in 21 games, allowing 38 goals while compiling a 4-9-8 record. He also battled a minor knee injury during the preseason but says that he is back to full strength.
CONTINGENCY PLANS
The larger issue for the team is the fact that if McLain doesn't clear concussion protocol before Saturday, they will only have one goalkeeper available, which means they need to find an emergency goalie quick.
"It's no problem for Bobby," United coach Adrian Heath said after Tuesday's training session. "He's an experienced keeper. That is one of the reasons we brought him in, for occasions like that."
Sporting director Manny Lagos told the Minneapolis-Star Tribune on Tuesday that he was talking with the league about how United would go about acquiring an emergency goalie, and that he hoped to have a solution before the weekend.
The league rules say that if a team has less than two healthy goalkeepers, they qualify for an "extreme hardship call up", which enables them to sign an emergency goalie to a series of four-day contracts to fill the void. Another possibility is a loan, though it isn't clear if United has explored that option. Any emergency goalkeeper they acquire would only be allowed to stay on the roster until one of the other goalies is healthy enough to return, at which time someone would have to be removed from the roster.
OTHER INJURIES
Goalkeeper isn't the only position that is suffering from injuries, as forward Joe Greenspan is also on the shelf due to a concussion suffered on Saturday. The other injured player is midfielder Bernard Anor, who is suffering from a nerve problem in his knee, and will be unavailable for Saturday.