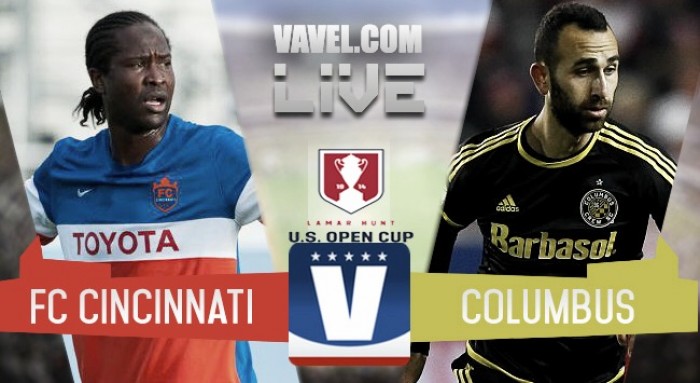 WATCH: Djiby score a goal for FCC in the 60'#CINvCLB pic.twitter.com/TLShIXEhlc

— FC Cincinnati (@fccincinnati) June 15, 2017
That's it from Nippert Stadium. Again your final score, FC Cincinnati 1-0 Columbus Crew SC. Cincy advances to the Round of 16.
FULL TIME: FC Cincinnati 1-0 Columbus Crew SC. The Queen City claims the Ohio Derby title with their win. FC Cincy advances to the next round. Columbus is eliminate.
90' PIPA! SO CLOSE! The shot goes over the net.
Six minutes of added time.
90' FC Cincy Sub: Marco Dominguez replaces Andrew Wiedeman.
Six minutes remaining in the game. Cincy still up 1-0.
75' Crew SC Sub: Dilly Duka replaces Hector Jimenez.
74' FC Cincinnati Sub: Eric Stevenson replaces Danni Konig.
71' Jahn can't get on the end of an Artur low cross.
Tonight's attendance from Nippert Stadium: 30,160.
68' Crew SC Sub: Niko Hansen replaces Finlay.
65' Goal. Djiby puts FC Cincinnati up 1-0.
64' CHANCE! Finlay can't get on the end of a Jimenez cross.
61' A snap header from Higuain just misses the back of the net. Goal kick Cincinnati.
58' FC Cincy Sub: Justin Hoyte replaces Matt Bahner
58' Artur lets go a shot from the half circle but it's high.
54' Free kick Cincy.
Second half substitution: Josh Williams replaces Nico NAess
SECOND HALF!
HALFTIME: FC Cincinnati 0-0 Columbus Crew SC
45' Yellow card caution to Waylon Francis of Crew SC.
45' Ethan Finlay with a shot. Adam Jahn trying to poke it home but it hit's the outside of the net.
Naess and Djiby are down. Trainers on the field tending to both.
Not many chances being created from either team.
25' Free kick Crew SC.
24' Higuain with a chance from outside of the box, but wide.
17' Djiby has a good shot on goal, but it's high over the bar.
12' Alex Crognale has a go, but it's not on target.
11' Corner kick Crew SC. Federico Higuain to take it right in front of the traveling Crew SC supporters.
7' FC Cincinnati have had three free kicks within two minutes.
4' Forward Adam Jahn gets a nice ball from Justin Meram, but his shot is just wide.
KICKOFF!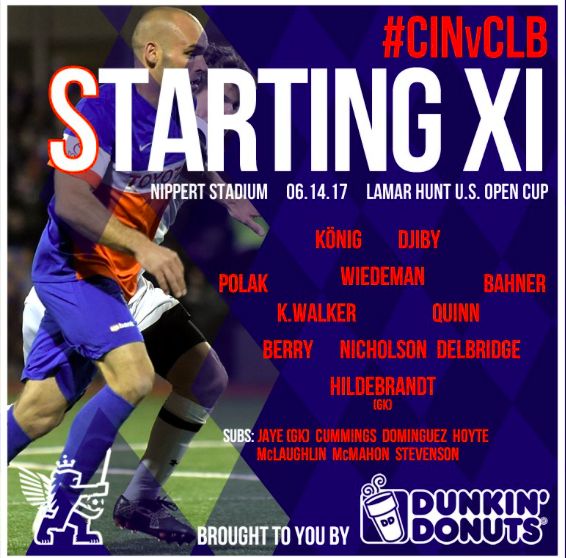 And here's the lineup for FC Cincinnati.
Here is the Columbus Crew SC starting lineup.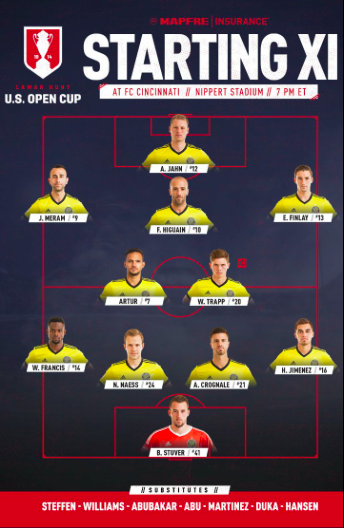 6:26 pm EST Starting Lineups have been announced.
6:10 pm EST: Tonight's match officials: Center referee Younes Marrackhi. Assistants Cory Richardson, and Noah Matos. The fourth official is Brandon Artis.
6:03 pm EST: Fans have been let into the stadium, and a small contingent of Crew SC supporters have made their way down to their seats. Ladies and gentlemen, Hell Is Real.
5:40 pm EST: I'm all settled in at Nippert Stadium!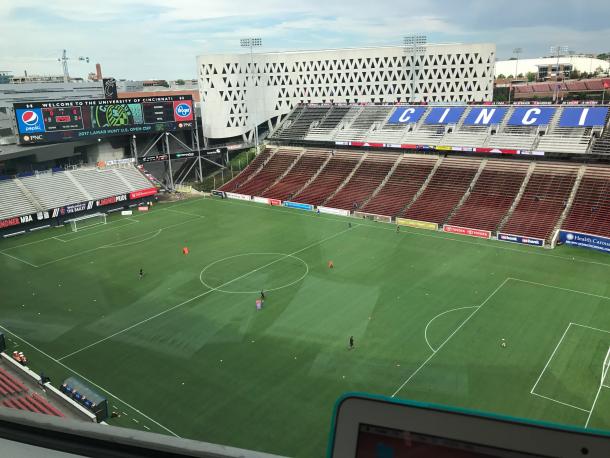 2:12 pm EST: Arrived here in Cincinnati, Ohio! Nippert Stadium is gorgeous! Pictures coming soon
11:39 am EST: Next stop: FC Cincinnati vs Columbus Crew SC. See you guys soon!
11:21 am EST: Seeing all of the hype for the match on Twitter is getting me very excited that I get to cover the match for VAVEL USA and Last Word On Sports.
11:11 am EST: Hopefully the rain holds off for tonight's match. Mainly because I don't have a jacket with me at the moment.
10:55 am EST: Facts on the tweet below. MLS Cup 2015 didn't reach that many (appx. 21,000+ on that cold December day). Tonight has a chance to surpass that. Also, Crew SC would go on to lose that match 5-0 to the Reds.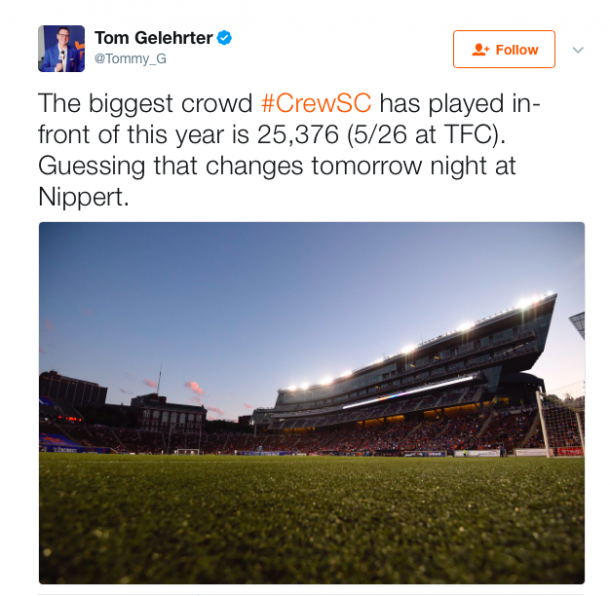 10:32 am EST: At 7:21 this morning, FC Cincinnati posted that over 25,000 tickets have been sold for tonight's match. Can't wait for this atmosphere!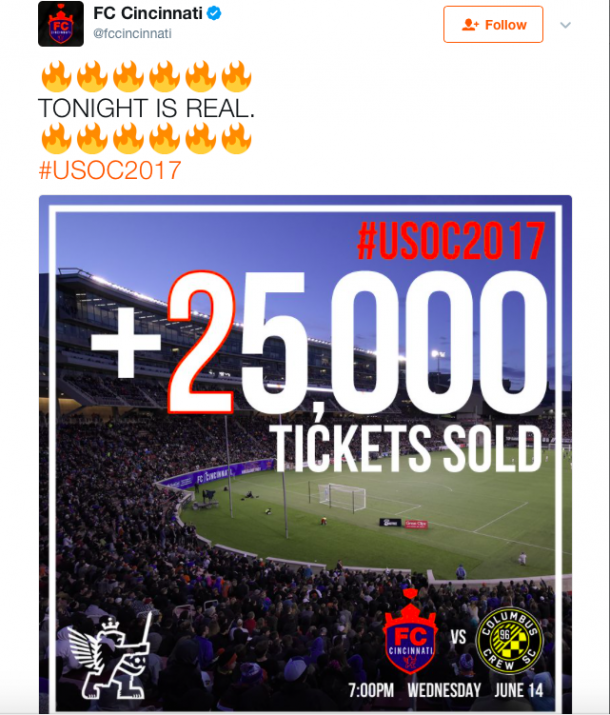 10:05 am EST: I have safely arrived here in Dayton, Ohio. Be here for a while, so go vote in the comment below or throw me some questions on Twitter at @LWOS_TylerF
8:45 am EST: Everyone, go vote on my latest poll who you think will win tonight's, I-71 Derby. Click here to check it out!
8:33 am EST: Currently awaiting departure. Next stop: Dayton, Ohio. Remember, kickoff for tonight's match is at 7:00 pm EST.
Final Score Prediction: FC Cincinnati 1-2 Columbus Crew SC
Although FC Cincinnati seems to be an equivalent match to Columbus, the experience of Columbus will somehow be a factor especially in a major tournament like this. Not taking anything away from Cincy, but the success that Columbus has in this tournament, they will want to keep that alive. They are looking to gain another title since 2002 when they defeated the LA Galaxy by a score of 1-0 at MAPFRE Stadium. Columbus will win this match on the road, courtesy of a brace from new player Kekuta Manneh.
This match will be broadcasted live on www.ussoccer.com, and Spectrum Sports Ohio. Channel 311 for Central Ohio and Southwest Ohio areas as well as channel 320 for Northwest Ohio areas. The match is set to kickoff at 7 pm EST from Nippert Stadium in Cincinnati, Ohio.
FC Cincinnati also has a league match after this match today, so it is unlikely for them to play a matchday squad.
Columbus Crew SC are currently without four major players due to international duty. Left back Jukka Raitala is with the Finland National Team, while defenders Jonathan Mensah, Harrison Afful, and midfielder Mohammed Abu are with the Ghanaian National Team. Finding replacements for the four first team players will be difficult, but every player is ready for the challenge. It won't be the usual matchday Saturday lineup, mainly because Crew SC have a league match this upcoming Saturday against expansion side Atlanta United FC before returning home to host the Montreal Impact on June 24th.
Although this is the first time the teams have met, Columbus will need to play as it seems like it is just another game. Playing on the wings is where Columbus is lethal. With Ethan Finlay and Justin Meram operating both sides along with overlapping runs from the fullbacks, crosses will be tough to stop on the defense. In addition, midfielder Federico Higuain is the maestro. He is very unpredictable. If, and that's strong, Higuain plays, he will need to be on every player's radar.
Key Points: Columbus Crew SC
Columbus likes to play out of the back. In order to catch Columbus off guard, Cincy will need to pressure the keeper frequently, in order for Columbus to play quickly. Getting Columbus to play quickly isn't something they do too well, as they frequently lose possession at midfield. This will give Cincinnati an opportunity to counter quickly, pushing the defense against the wall. If played correctly, FC Cincinnati will be on the board early on in the game.
Key Points: FC Cincinnati
FC Cincinnati currently sits in ninth in the USL Eastern Conference, while Crew SC sit in fourth in the MLS Eastern Conference.
A little about the US Open Cup. It is the oldest domestic tournament in the United States. The Open Cup brings together amateur and professional teams from all three angles of the United States Soccer Federation's pyramid.
After news broke that Crew SC would be playing FC Cincinnati, fans were ready to buy tickets. Since then, over 1,100+ Crew SC supporters will be making the trip down 71 South to the Queen City. Also, over 21,000+ tickets have been sold. This is on track to being one of the most attended to US Open Cup matches ever since Sporting Kansas City and then USL side Minnesota United with had over 19,000+ spectators at Children's Mercy Park.
This will be the first-ever meeting between the two teams. FC Cincinnati was granted the hosting duties after a coin flip determined who would host their fourth round matchup after round three ended.
Columbus Crew SC have had major success in the US Open Cup. Columbus holds a 23-16-2 record, thus including a 13-5-1 record in the opening round. When playing against USL teams, Crew SC hold a 6-2-0 record.
FC Cincinnati, in only their second year of existence, plays their home matches at Nippert Stadium, home of the Cincinnati Bearcats.
FC Cincinnati got here by defeating Louisville City 1-0 to reach this round. Columbus, on the other hand, had ten days off after their recent outing. They were defeated by the Colorado Rapids by a score of 2-1. FC Cincinnati had a league match before and drew Charlotte Independence 1-1. Justin Hoyte scored his first goal for the Queen City to earn the draw.
Today's match is the fourth round of the US Open Cup. This is where the professionals start coming into play.
Hello! And welcome to VAVEL USA's LIVE coverage of the 2017 Lamar Hunt US Open Cup. My name is Tyler Fisher and I am here at Nippert Stadium in Cincinnati, Ohio. Today's match features FC Cincinnati of the USL (United Soccer League) and Columbus Crew SC of MLS (Major League Soccer).