 This game was all set up for the Portland Timbers to do well in, and for 45 minutes, they did. But it turns out they were getting rope-a-doped; Colorado Rapids let the Timbers exhaust themselves by running around for 45 minutes, like a parent with a 5-year-old who is hopped up on sugar. Once the Timbers' sugar high wore off in the second half, Colorado sat up and said "OK, we're in charge now", and dismissed the Timbers with two second half goals, the game winner/heartbreaker coming in the 89th minute off the head of ex-Timber Alan Gordon.
The Good
Not much time to mourn. The Timbers play Wednesday night in Minneapolis, so they don't have a week to get right what they got wrong on Saturday. They have to let this one go and prepare to face a Minnesota United FC team that may be in last place in the Western Conference, but who still play reasonably well at home (four wins in seven home games).
The Bad
Jake Gleeson. I generally don't like pinning goals on any one person. Any conceded goal is usually the result of a series of small mistakes by several people, so saying "(X) is responsible for the goal" is reductive at best. That said, the Rapids' first goal is pretty much all on Jake Gleeson. He came out for a ball he had absolutely no need to come out for - there were three defenders right in line with Dominic Badji. For one, If Zarek Valentin were running while looking at Badji and not running backward, he would have seen Badji calling for the ball and be able to close down the passing lane.
But still, Jake Gleeson: you can't come out for balls like this. Stay at home, trust your defenders, and don't make it easy for them to chip you. I like Jake overall, and I will defend him 99% of the time, because he also does stuff like this, but this was really, really poor, and the frightening thing is that it's not the first time he's done it. He needs to learn from his mistakes, and get these overly optimistic rushes at the ball out of his game ASAP.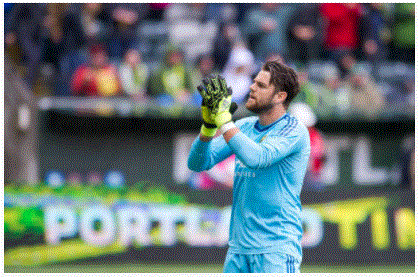 The full 90. I know, there's altitude. Altitude is hard. But altitude doesn't explain the Timbers' inability to think in the second half. The Rapids defended a bit tighter, so the Timbers just punted balls into the box - which, as I mentioned in my preview, is a hazardous/stupid thing to do in the thin Colorado air, in which the ball will travel further, higher, and if you're used to more or less sea level, less predictably. And sure enough, it didn't work; all those crosses were overhit, and the Timbers' attack disintegrated.
The Ugly
Dropped points. MLS is a very tight league, so it's not like losing here was fatal. This was a very winnable game, though, and the Timbers let it get away. That's far from the first time this season the Timbers have dropped points from winning positions. That mentality needs to change, and the Timbers need to be able to see games out if they want to make a deep run at MLS Cup this season.