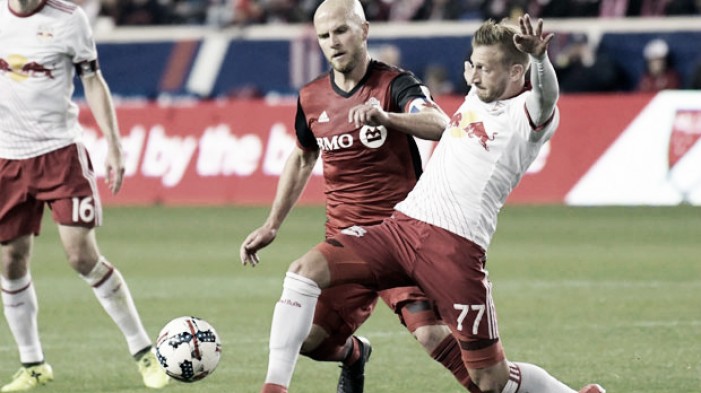 Toronto FC 0 - 1 New York Red Bulls
Thanks for joining me once again here at VAVEL USA. This is Kudzi Musarurwa signing off!
The Red Bulls just did not have enough in their locker to get the result they needed and their season ends here in Toronto.
Well, what a game! Most of the focus will be on the officiating but even though they conceded a goal, Toronto will take the result. They'll go into the next round without the services of Altidore however, but they will feel confident in their ability to replace him temporarily.
Full-time: They may have lost this game but Toronto FC are through to the Eastern Conference finals!
90+4' Morrow wins a free kick for his team, eating away at the clock.
90+3' Vázquez uses some trickery to bypass his marker and lobs the ball towards Giovinco but it goes over his head!
90+2' YELLOW CARD: Felipe brings down Giovinco and gets a card for it.
There will be four minutes of added time in this tempestous match.
90' Moor makes another great interception and brings the ball out before playing it to Giovinco. The Toronto man is then fouled and helps push his team up the field.
87' Moor wins a free kick in his own area to alleviate the pressure on Toronto.
86' The Red Bulls are pushing for that second goal but Toronto are standing firm.
82' Giovinco finally gets the call but Vázquez wastes the free kick.
80' YELLOW CARD: Giovinco gets a yellow for dissent after not winning the free kick.
80' SUBSTITUTION: Derrick Etienne comes in for Verón.
78' GOAL DISALLOWED! Toronto think they've equalized thanks to an Adams own goal but the referee awards a free kick for a push by Osorio on Adams. Thats is an awful call by the referee.
77' The referee is not a popular man here today as he doesn't award Giovinco the free kick but does give it to Felipe.
76' Adams swings in a low cross that Bono cuts out and stays on top of.
The only goal of the game has been accredited to Wright-Phillips and not Royer.
72' Vázquez wins the free kick and squares up to Adams. It's still a little testy out there between the players. The set piece leads to nothing however for Toronto.
70' YELLOW CARD: Wright-Phillips is the next name in the book after his challenge on Moor.
68' Hassler gets to the byline but his cross is cut out by Lawrence who then stays down with seems like cramp.
66' SUBSTITUTION: Jonathan Osorio replaces Zavaleta.
64' SUBSTITUTION: Nick Hassler comes in for Beitashour and Sean Davis replaces Murillo.
62' CHANCE! Bono makes a big save to keep the score at 1-0 tp NYRB! Wright-Phillips and Verón play a lovely one-two which frees up Wright-Phillips. Bono comes out quickly and uses his body to block the shot!
60' Toronto have come out of the break sluggish while the Red Bulls have seemingly found their groove.
58' Vázquez thinks he's through but the offside flag goes up.
55' SUBSTITUTION: Nick Hagglund comes in for Mavinga.
Toronto FC 0 - 1 New York Red Bulls
Long won the ball back from Giovinco and played it to Royer who then tried his luck from a long way out. The ball took a deflection that wrong-footed Bono and gave the away side the lead.
53' GOAL! Royer gets the breakthrough for NYRB!
53' Wright-Phillips almost gets to a loose ball ball but he's called back for an offside.
52' Vázquez steals the ball in midfield and plays a blind pass to a streaking Giovinco. The Italian goes for goal from a long way out and it doesn't trouble Robles at all.
51' Murillo makes a great tackle to stop Morrow from going one-on-one with Robles.
49' Moor is living a little dangerously hee and almost gets the ball stripped away from by Wright-Phillips close to his own penalty area.
46' The Red Bulls get the second half underway.
On top of that, both Altidore and Kljestan were given their second yellow cards during the break by the referee. Both teams will see this game out with 10 men each.
Michael Bradley was also given a yellow card at the end of the half, presumably for dissent.
Half-time: That's the end of an interesting first half. Giovinco had the best opportunity to open the scoring but he couldn't make the most of his chance. The referee also walks off to a round of boos after seemingly favouring the Red Bulls with his calls. His decision to only give Kljestan a yellow card will most certainly be a talking point.
45' CHANCE! What an opportunity for Giovinco! The Italian wriggles his way into the box and only has Robles to beat but his shot goes just wide of the far post!
37' Kljestan tries to pick out Felipe but Eriq Zavaleta tracks him the entire way and Bono gathers the ball.
36' Steven Beitashour gets forward and tries to pick out Altidore with his cross but Murillo read the ball and heads it away.
34' YELLOW CARD: Altidore and Kljestan go into the referee's book.
32' Altidore and Tyler Adams come together which causes a kerfuffle in midfield. Kljestan then appears to push Altidore in the aftermath but referee Chris Penso elects to only hand out yellow cards.
31' The Red Bulls get the ball into the box through Kemar Lawrence but Moor is there to clear the danger. Altidore then fouls Felipe and the Red Bulls regain possession.
27' Bradley Wright-Phillips sneaks in but can only win his side a corner. Toronto again clear the danger from the set piece.
26' The Red Bulls get another corner that Felipe eventually swings in but it's too long for anyone.
25' Toronto have had the better chances but the Red Bulls do pose a threat on the break.
23' Now Giovinco goes down in the box but the referee again waves play on, signalling that it was a fair shoulder-to-shoulder challenge.
16' Verón goes down looking for a penalty but the referee waves away his appeals.
15' CHANCE! Chris Mavinga wins the ball back in midfield and finds Vázquez out wide. The Spaniard then plays the ball across goal and Luis Robles gets a touch to the ball. The deflection evades Giovinco at the far post!
14' Toronto take a quick free kick and Altidore goes down clutching his face. The referee may have missed him beig obstructed by Long there.
11' Giovinco gets brought down by Michael Murillo, earning his team the set piece. Aaron Long gets his head to it and clears the danger.
10' Toronto break quickly with Jozy Altidore but his shot goes wide of the goal.
7' Justin Morrow fouls Kljestan and the Red Bulls playmaker sends in the free kick that Toronto have no problem dealing with.
5' After a lovely touch by Víctor Vázquez in midfield, Giovinco almost plays Marco Delgado through but Damien Perrinelle was alive to the danger. Toronto come again but both times the Red Bulls backline gets a vital touch.
4' The Red Bulls bring the ball forward again but it's easy for Alex Bono to collect for his first touch of the game.
2' The TFC defense stands firm.
1' Sacha Kljestan wins the Red Bulls their first corner which Toronto deal with but the visitors get another one.
1' Sebastian Giovinco gets us underway here!
The anthems are done and teams exchange handshakes. Minutes away from kick off now.
Gonzalo Verón starts for the Red Bulls today but the biggest news has to be the availability of both Drew Moor and Víctor Vázquez for Toronto. Both players had been questionable leading up to this game due to injury but it seems as though they're both good to go.
Starting XI for New York Red Bulls (3-5-1-1): Robles; Murillo, Long, Perrinelle; Adams, Verón, Felipe, Royer, Lawrence; Kljestan; Wright-Phillips.
Starting XI for Toronto FC (3-5-2): Bono; Zavaleta, Moor, Mavinga; Beitashour, Delgado, Bradley, Vázquez, Morrow; Altidore, Giovinco.
Good afternoon everyone. This is Kudzi Musarurwa reporting live from a wet and skightly humid afternoon here at BMO Field. Toronto FC and the New York Red Bulls are out on the field for their warm up as they get set to square off in the second leg of this Audi 2017 MLS Cup Playoff match.
Toronto FC 2 - 1 New York Red Bulls
Prediction: Toronto FC have the lead in this tie and they will not be looking to relinquish it, especially in front of their home fans. Even though Moor and Vázquez may not be available for the game, Toronto have more than enough quality to see this tie out. The Red Bulls will undoubtedly put up a fight but at home, Toronto have been near invincible and I don't see that changing this time around.
The center official for the game will be Chris Penso. His assistants will be Jeremy Hanson and Eric Boria, the fourth official is Silviu Petrescu, and the man helming the VAR system will be Ted Unkel.
Toronto FC will be led by head coach Greg Vanney while the New York Red Bulls will be led by head coach Jesse Marsch.
Projected Lineup for New York Red Bulls (3-5-1-1): Robles; Perrinelle, Long, Murillo; Adams, Davis, Felipe, Royer, Lade; Kljestan, Wright-Phillips.
Projected Lineup for Toronto FC (3-5-2): Bono; Zavaleta, Hagglund, Mavinga; Beitashour, Delgado, Bradley, Osorio, Morrow; Altidore, Giovinco.
The match will be played at BMO Field on November 5, 2017. The game will kick off at 3:00 PM EST and will be broadcast on ESPN and ESPN Deportes in the United States of America and on TSN 1 through to TSN4 in Canada.
What could provide to be the key for the Red Bulls is if they find the space they did in the second half of the first leg to operate in again. The slight change in tactics allowed Sacha Kljestan to get some help in midfield and thus find passes to Bradley Wright-Phillips and others, that much easier to find. Wright-Phillips showed in glimpses that he as dangerous as ever and it was his movement that gained the Red Bulls their converted penalty in the first leg. These two players have to get into the game a lot more this weekend for the Red Bulls to defeat a very difficult opponent. If they don't, the Red Bulls season may end at the final whistle on Sunday.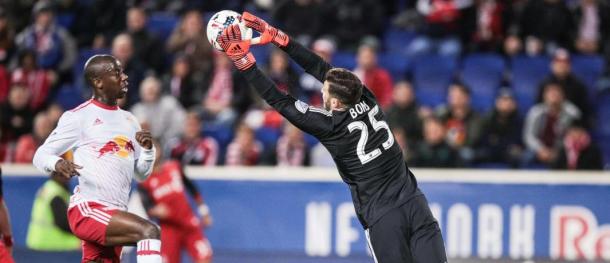 The Red Bulls have had a lot to think about since their first leg defeat. With almost their full compliment of first choice starters, they were still unable to find the win they needed to make the second leg an easier challenge. They started the first half very slowly and were punished for it, and their second half lapse of judgement through Michael Murillo allowed Giovinco to get the game-winning goal. The Red Bulls backline cannot let that happen again if they want to have any hope of moving forward and Damien Perrinelle will have to do a much better job against Altidore this time around than
On the other end of the field for Toronto, Drew Moor's potential absence may be a cause of concern. During the first leg, Moor kept the Toronto defense well-marshalled against a potent Red Bull's attack. Moor may have given away the penalty that led to NYRB's goal and his injury but his presence in the backline cannot be underestimated. Nick Hagglund is a capable deputy for Moor but the focus will be on how well goalkeeper Alex Bono will perform without the shield of Moor in front of him. Bono made some key saves late in the second half to keep Toronto ahead last week and he may be called upon to do the same thing again now and help his team advance.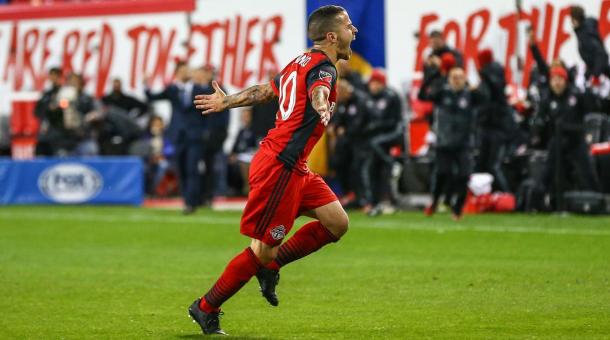 What can be said now about Sebastian Giovinco that has not been said before? In the first leg, the Italian superstar provided a moment of quality to give his team a big advantage going into the second leg. He had spent most of the game fairly quiet, doing the role he had been assigned to by his head coach but when his chance came later on in the game, he took it and finished with some style. Jozy Altidore had a monster first half as well which saw him terrorize the right hand side of the Red Bulls' defense and create the opening goal. Víctor Vázquez may not be available for the second leg but with Giovinco and Altidore on the field, Toronto will have every confidence of getting the necessary result.
This is the do-or-die match up between the powerhouses of the Eastern conference, Toronto FC and the New York Red Bulls. Toronto managed to grab a vital 2-1 away win at the Red Bull Arena last weekend and gave the Red Bulls a tall task to complete if they hope to keep their season going after this Sunday. Toronto will know that a low-scoring draw will be enough for them to advance to the next stage but I'm sure they will be looking make a statement to the rest of the MLS when they welcome the Red Bulls to Toronto this weekend.
Hello everyone to VAVEL USA's coverage of the second leg of this Audi 2017 MLS Cup Playoffs match. This particular playoff match will feature Toronto FC who will be hosting the New York Red Bulls. I'm your host, Kudzi Musarurwa in what should be a thrilling conclusion to this clash of some of the best teams in Major League Soccer.