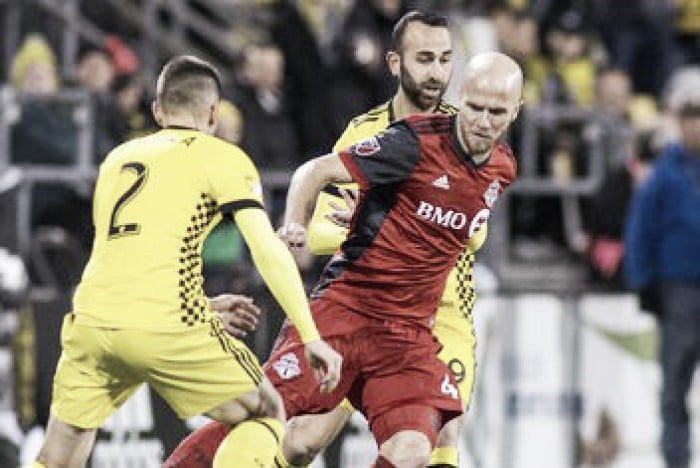 Thank you for joining me tonight here at VAVEL USA. This is Kudzi Musarurwa once again, signing off. See you next time!
Toronto FC 1 - 0 Columbus Crew SC
Full-time: Toronto hang on to make their way to another MLS Cup final! Altidore's solitary goal enough for the regular season champions to see off a resilient Columbus side and set up a potential rematch against Seattle Sounders FC.
90+4' Columbus win a free kick and Steffen goes forward for what must be the final action of the game. The free kick is taken short and the referee blows the final whistle!
90+3' Moor wins another free kick, this time in Toronto's half. Time is running out for Columbus now.
90+2' Manneh picks out Kamar's far post run and Bono has to come out quickly to get to the ball before Kamara can.
90+2' The ball is loose in the Columbus area but Steffen gets to the ball before Copper can get to it.
90+1' Giovinco wins a free kick in Columbus' half and gives his team a reprieve.
90+1' Cooper goes for goal at long way out but it doesn't trouble the goalkeeper at all.
There will be four minutes of added time here as Columbus throw everything at Toronto!
87' CHANCE! Meram swings in a fantastic ball which Jahn's diving effort gets a touch on and it takes it away from Kamara who is right on the door step. What an opportunity for Columbus!
86' YELLOW CARD: Mensah comes in through the back of Copper and earns Columbus' first card of the night. It was a little naughty but not worthy of a red card.
85' SUBSTITUTION: Héctor Jiménez comes inf or Santos.
85' Manneh thinks he's gotten to the ball and cross it in but the ball had strayed just out of bounds so it's a goal kick for Toronto.
82' Toronto win another corner but can't make any headway with it. It eventually goes out for a goal kick.
81' SUBSTITUTION: Nick Hagglund? comes in for Osorio.
80' CHANCE! Toronto struggle to clear the corner and Meram skies his shot over from right in front of the goal!
80' SUBSTITUTION: Adam Jahn comes in for Abu.
80' Manneh cuts into the box and Mavinga has to concede the corner to stop Manneh from causing any further damage.
78' YELLOW CARD: Bradley does well to stop the counter but then he goes in again and cuts down Manneh without getting the ball. Columbus get another dangerous set piece. Bradley makes up for his error and heads the free kick away.
77' It comes to nothing as Higuaín sends it right into Bono's hands.
76' Bradley mishits his pass and gives Columbus a corner kick.
75' Santos swings in another searching cross that Mavinga gets to before Kamara can. Columbus keep possession of the ball though.
73' SUBSTITUTION: Columbus make their first change as Kekuta Manneh comes in for Abubakar.
69' Vázquez finds Moor with his corner and the defender nods it on towards his partner Mavinga. Unfortunately for Toronto, he can't react quickly enough to divert the ball past Steffen from close range.
68' Cooper does well to keep the ball before winning his side a corner.
67' SUBSTITUTION: Altidore's night is finally done as he is replaced by Armando Cooper. The Toronto man has done his job and Greg Vanney has decided not to aggravate his injury any firther by keeping him on.
66' Columbus are pushing here and Higuaín tries to get onto a pass that's just too long for him.
66' Santos swings in another great cross and Chris Mavinga swoops down to nod the ball out of danger.
65' Mohammed Abu wins a free kick off of Bradley and Columbus take the set piece quickly but Toronto recover well.
Greg Vanney's decision to keep Altidore on despite his injury pays dividends for the home side.
Toronto FC 1 - 0 Columbus Crew SC
Bono kicks the ball up field and Altidore leaves the ball to drop at Giovinco's feet. The Italian holds up the ball well before combining with Vázquez who then plays Altidore in and the big man makes no mistake from inside six yards, finishing into the far corner.
60' GOAL! Altidore puts Toronto ahead!
60' Higuaín thinks his stolen the ball away in the Toronto area but he used his hand to win the ball back.
57' Another Toronto corner is upcoming as Altidore looks to recover from his injury. The corner finds the US international but the play is stopped as the referee blows his whistle for a foul against Toronto.
55' Altidore is definitely not okay but he seems determined to continue on. Replays show that Afful slipped and fell into the Toronto man which injured his ankle.
52' Altidore returns to the field but he still seems to be in some discomfort.
50' The ball is played out by Columbus as Altidore goes down again. Now the training staff is out to see if they can help the striker. It looks like his ankle is the issue.
49' Play stops momentarily as Altidore stays down but he gets up without receiving any treatment and the game restarts.
48' Santos bends the ball behind the Toronto backline towards Kamara and Bono comes out quickly to get the ball. The offside flag goes up so even if Kamara had gotten the ball, the play would not have counted.
47' CHANCE! Vázquez whips it towards the goal and a combination of Steffen and one of his defenders have to stop the shot right on their line!
46' Immediately Morrow pushes forward and wins a free-kick near the byline for his team as Mensah cleans him out before getting the ball.
46' Giovinco and Vázquez get this game going again after the break.
46' SUBSTITUTION: Marco Delgado comes in for Zavaleta before the second half begins.
Toronto FC 0 - 0 Columbus Crew SC
Half-time: The half went by quickly as neither side could find the decisive touch to put themselves ahead. The big talking point will off course be Steffen's massive save on Vázquez' penalty earlier on in the game to keep the score at 0-0.
45' Toronto keep getting half chances in and around the penalty area now but no one can sort out their first touch and get a good shot off.
44' There's pure chaos in the Columbus box as Beitashour finds space and puts the ball in. Giovinco, Vázquez, Altidore, Morrow and Osorio all swing at the ball but none of them can put it in.
38' CHANCE! A dangerous low cross almost finds Kamara but the Crew man can't connect and the chance goes begging.
38' The first half is almost over and apart from the penalty, Toronto's attack has been completely shut down by how Columbus have set up. Their midfield is the issue as all three Toronto midfielders are passing the ball instead of trying take someone on in midfield which would open gaps up for them going forward. Columbus are using that lack of penetration to counter into the gaps left behind when Toronto go forward and it's causing the home side problems.
35' Toronto win another corner and this time Columbus clear the area without any incident.
33' Higuaín draws Moor out and finds Santos out wide. The forward swings the ball in but it's too close to the goalkeeper.
32' Columbus look to break again but the final pass is errant and Bono gets things started again for Toronto.
29' Santos finds space and cuts onto his right foot but the ball goes wide of the far post.
26' SAVE! Steffen is the man of the moment! Vázquez instead of Giovinco takes the penalty and the goalkeeper guesses the right way to parry the effort to his right. What a big moment in the game!
25' PENALTY! Josh Williams brings down Moor who was set to head the ball home and Toronto have the chance to take the lead!
25' Toronto in another corner through Beitashour which Vázquez will take.
23' Lalas Abubakar gives away the corner under pressure form Giovinco. Columbus clear away the initial pressure though.
21' CHANCE! Meram should've put Columbus ahead! Higuaín finds Kamara in space on the transition and he squares the ball to Meram who only has Bono to beat. He takes too long and Michael Bradley makes up the ground to put in a great tackle to block Meram's shot. Great defending by Bradley there but Columbus' game plan right now is working.
20' Giovinco gets brought down by Jonathan Mensah and then calls a foul against Toronto but reverses his decision after getting some help from his assistant.
18' Columbus try to break with Kamara who cuts inside but his effort is weak and Bono has now issue gathering the ball.
15' Higuaín puts in a free-kick from an angle but the home side deal with it well.
14' The first moment of controversy comes up here. Jonathan Osorio goes down in the box and the crowd howls for a penalty. The referee waves away the claims from the Toronto players and the replays support his decision. Osorio definitely embellished that.
10' Columbus play some nice little passes to free up Meram who swings the ball in. Steven Beitashour is prepared and heads the ball aways before Santos can get to it.
9' The free-kick hits the wall and finds Vázquez but his shot is deflected right into Zack Steffen's hands.
8' Trapp fouls Sebastian Giovinco right at the edge of his own area in a dangerous spot for his team. Giovinco has pinged goal in from similar situations.
7' Víctor Vázquez tries to pick out Justin Morrow down the left-hand side but his pass is too long for Morrow's out-stretched leg.
5' Wil Trapp tries to send Justin Meram on his way but Eriq Zavaleta is alive to the danger and cuts out the pass.
5' CHANCE! Santos picks out Henry Afful with a great cross but the defender can't keep his header on target and sends it high over the crossbar.
4' Although Columbus are in a 4-2-3-1 formation, when they have the ball, they are seemingly shifting into a 3-5-2. So far, it's keep Toronto a little off-balance.
2' Higuaín tries to pick out Ola Kamara with a little chip into the ball but it goes straight into the hands of Alex Bono.
1' Columbus start quickly and Federico Higuaín finds space at the top of the penalty area but Drew Moor puts his body on the line and blocks the Argentine's shot.
1' Pedro Santos? gets us started in this big Eastern Conference final second leg!
The two teams are making their way out to the field not. National anthems and kick-off will shortly follow.
Starting XI for Columbus Crew SC (4-2-3-1): Steffen; Afful, Mensah, Williams, Abubakar; Trapp, Abu; Santos, Higuaín, Meram; Kamara.
Starting XI for Toronto FC (3-5-2-): Bono; Zavaleta, Moor, Mavinga; Beitashour, Osorio, Bradley, Vázquez, Morrow; Altidore, Giovinco.
Good evening to everyone who's joined me tonight on VAVEL USA where we will be live streaming and updating the second leg between Toronto FC and Columbus Crew SC.
Toronto FC 2 - 0 Columbus Crew SC
Prediction: This game is in Toronto's hands and they will go into it as the heavy favourites. They have the talent to overcome any major problems and if they play in front of their home fans like they have for most of the year, they should navigate this second leg well. Columbus will want to play up to their underdog tag and shock those in Major League Soccer but I don't think they have enough to see them over the line.
The center official for the game will be Ismail Elfath. His assistants will be Frank Anderson and Corey Rockwell, the fourth official will be Baldomero Toledo, and the man helming the VAR system will be Drew Fischer.
Projected Lineup for Columbus Crew SC (4-2-3-1): Steffen; Afful, Mensah, Williams, Jimenez; Abu, Trapp; Santos, Higuaín, Meram; Kamara.
Projected Lineup for Toronto FC (3-5-2): Bono; Zavaleta, Moor, Mavinga; Beitashour, Delgado, Bradley, Vázquez, Morrow; Altidore, Giovinco.
The match will be played at BMO Field on November 29, 2017. The game will kick off at 7:30 PM EST and will be broadcast on FS1 in the United States of America and on TSN 1, 4 and 5 in Canada.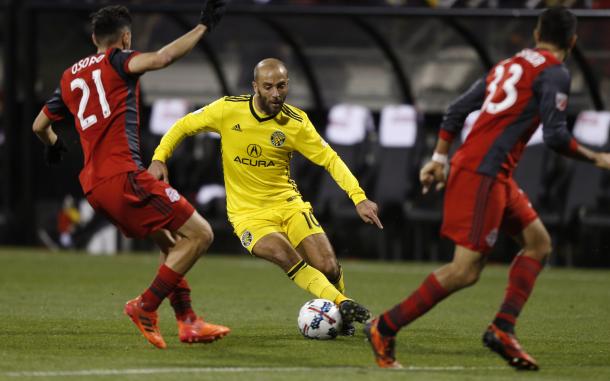 The Crew backline will be facing a much more difficult 90 or so minutes this time around with the return of Giovinco and Altidore. Against New York City FC in the previous round, the Crew conceded two goals away from home and although they had already done enough to secure their place in the Eastern Conference final, head coach Gregg Berhalter will know that his team cannot afford to concede that many goals again. The defense will have to be even sturdier than they were in the first leg and goalkeeper Zach Steffen will have to continue his fine form if they hope to finish their season with the ultimate prize.
Columbus will look back at the first leg as a missed opportunity. During the first half of the game, the Crew seemed to not be able to adjust to the difference in formation that Toronto had presented to them and failed to really influence the game until the second half. Once they figured things out, Federico Higuaín came to the fore and changed the momentum of the game. The Argentine was unable to help his team find the back of the net but if anyone can see Columbus threw to the MLS Cup final with sheer ability alone, it's Higuaín. Kei Kamara and Justin Meram will look to have more of an impact at BMO Field than they did last week and if they do, Columbus may pull off the improbable.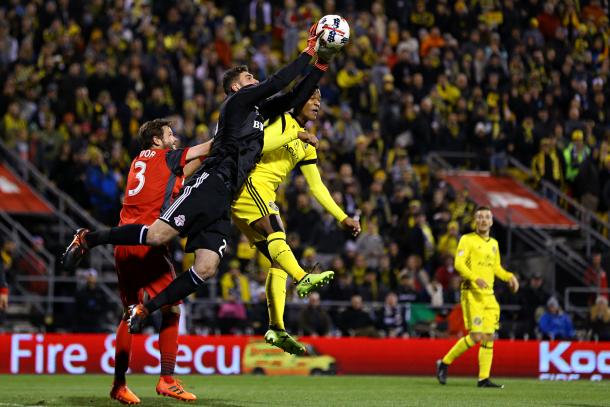 The first leg did show that Toronto can be found out, especially if a change of tactics or formation happens which tends to make their defense a little off-kilter. If it had not been for Alex Bono, Toronto could have conceded in the latter stages of the first leg as their defense failed to adjust to the 4-5-1 formation they had to play due to Giovinco and Altidore's absences. Chances are that Toronto will revert back to their formidable 3-5-2 formation on Wednesday night which should strengthen their backline but should they not be focused, Columbus is the type of team that can destroy you if they catch you unprepared.
The second leg sees the return of Sebastian Giovinco and Jozy Altidore from suspension. Their presence was missed by Toronto last week and their return will no doubt be a boost to not only the fans but to their teammates as well. The rest of the team managed to navigate the first leg in Columbus well but the lack of attacking impetus was a concern and having Giovinco and Altidore available will certainly ease head coach Greg Vanney's mind. The return of the two superstars also helps the likes of Víctor Vázquez and Michael Bradley. Columbus will be forced to account for the two strikers throughout the match which will give Vázquez and Bradley room to operate and when that happens, Toronto tend to prove why they finished as the 2017 MLS Supporters Shield winners.
A 0-0 draw in the first leg sets up and intriguing second leg for both sides. Toronto FC will have home advantage which during the regular season, proved to be a fortress as they registered 13 wins out of 15 games. Columbus Crew SC had a terrible away record during the regular season, only winning four of their 17 home games and they have not fared any better in the playoffs. It seems as though Toronto have all the advantages here but it's a knockout game and anything can happen in knockout games.
Hello everyone to VAVEL USA's coverage of the second leg of this Audi 2017 MLS Cup Playoffs match. This particular match will feature Toronto FC who will be hosting Columbus Crew SC. I'm your host, Kudzi Musarurwa in what should be much better viewing than the first leg between these two teams.