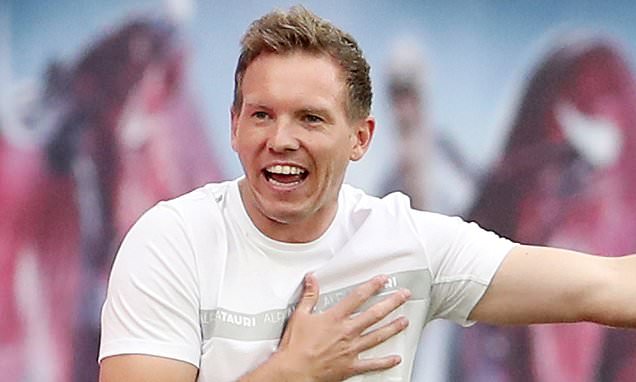 RB Leipzig manager Julian Nagelsmann has furiously criticized both his team and the German Football League (DFL) following their disappointing draw at home to Hertha Berlin Wednesday. After dropping points, Leipzig find themselves in a heated battle to qualify for the Champions League.
Sh**ty English Week
With 18 Bundesliga teams instead of 20 like the Premier League, and without a second domestic cup in Germany like England, very rarely do German clubs have to play every 48 or 72 hours, unless it's in European competition.
So, this week's schedule didn't sit well with Nagelsmann, especially as Hertha had two extra days of rest compared to Leipzig. "It was difficult to get into the game, which is normal; for us, it was the first 'English week' for months," he told DAZN, via Goal.
"It wasn't an 'English week' for Hertha. They had a four-day break. I don't understand how the game is scheduled. Hertha play on Friday, we on Sunday and have our game on Wednesday."
"It is again the case that we get a really sh**ty game plan. That was addressed at the DFL meeting, but nobody is interested" he lamented.
While it's true Leipzig didn't have as much time to rest and recover as Hertha, not all the blame for dropping points should focus on the schedule. And Nagelsmann didn't single out the league either, finding plenty of fault with his team.
Defensive Mistakes Drop Points
Leipzig's Marcel Halstenberg got a yellow card in each half against Hertha, the second a particularly silly and unnecessary challenge, to send his team down to 10 men with more than 25 minutes remaining.
On top of that, while still up by one goal, Englishman Ademola Lookman gave away a penalty by fouling former Leipzig man Matheus Cunha in the box with less than 10 minutes to go. Berlin's on loan striker Krzysztof Piatek subsequently buried the penalty and equalized.
Those mistakes weren't lost on Nagelsmann. "I'm not at all satisfied. We have to ascribe this to ourselves. We simply have to learn so that we are not constantly lagging behind. In the beginning, we defended like a student team. The frustration is deep."
Leipzig Fading Fast
It's been a frustrating second half of the Bundesliga season for Nagelsmann. He guided his team to the top of the table on two occasions this year, once in the fall and as late as matchday 19 following the winter break. But since then, the team has only four wins in 11 matches since the January return and is now fighting just to hold on to a Champions League qualification spot.
And since returning from the Coronavirus stoppage, Leipzig have managed only one win and two draws. And most disappointing is the two draws were at home to mid-table sides.
Nagelsmann is right to criticize his team for defensive mistakes in this game. But the attack has faded in recent months. In the first half of the year, Leipzig scored 45 goals in 17 league games, good for 2.64 a game. In the second half, it's 22 in 11 games, or only 2 a game. A stark drop in production.
And with forward Yussuf Poulsen out for an undetermined length of time, possibly the rest of the season, Leipzig will have to find new inspiration in attack and quickly.
Now at the business end of the season, Nagelsmann has more important, and concerning, things to worry about than the schedule.
Leipzig travel to Cologne this weekend, another team mid-table. Sitting third on 55 points, Leipzig have no room for error with both Borussia Monchengladbach and Bayer Leverkusen just two points behind them. These are quickly becoming must-win games.