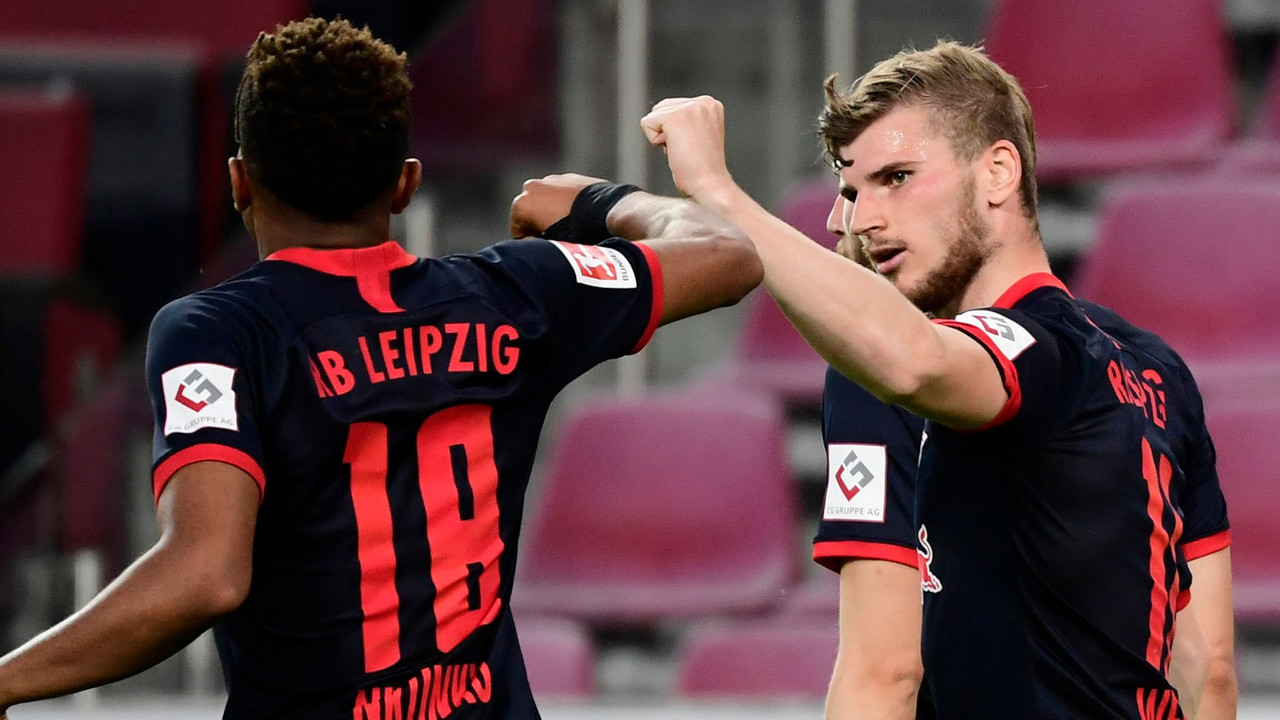 Angeliño wreaked havoc on the left flank and Timo Werner scored his 25th Bundesliga goal to power RB Leipzig over Cologne 4-2 on the road in a game that ping-ponged back and forth Monday. And in so doing, Leipzig leapfrogged both Bayer Leverkusen and Borussia Monchengladbach to regain third place and intensify the battle for Champions League places.
Angeliño's Angelic Performance
Leipzig initially fell behind in the seventh minute to a Jhon Cordoba goal for Cologne. But soon enough, Angeliño helped take back control of the game. In the 20th minute, he floated a beautiful cross from just outside the box, which Patrik Schick headed back across goal to equalize. Assist to Angeliño, which was only the start of his night.
Throughout the match, he menacingly attacked up and down the left flank, finding himself open and in space time and time again. And almost every time, he made it to the byline to send in a dangerous cross or cutback.
Angeliño had four of his eight crosses accurately reach the target and contributed an incredible six key passes according to SofaScore. Watching the game, though, it seemed like twice as many. Every time he got on the ball, he threatened the Cologne defense already on its heels.
Defensively, he didn't slouch either. The Manchester City loanee cleared the ball four times and added two tackles.
In terms of sexy stats, he didn't stand out. But through the eye test and looking deeper, Angeliño was the engine of this win, earning the highest rating in the match on both WhoScored and SofaScore.
Werner Runs Riot
In Sunday's prematch press conference, Leipzig manager Julian Nagelsmann compared possibly losing forward Timo Werner this summer to Bayern Munich losing Robert Lewandoswki.
Big words from the manager. And another big performance from the German frontman followed.
In the fourth minute, Werner blasted a shot from inside the box straight at keeper Timo Horn for a routine save, which was a sign of things to come.
In the 50th minute, Cologne sent a free kick straight into keeper Peter Gulacsi's hands; queue Werner's sprint for the counter attack. Gulacsi spotted it and bombed the ball down field right into the path of the German who left everyone in the dust and was 1v1 with the keeper. And of course, he cooly slotted it past Horn to extend Leipzig's lead.
Werner also had another shot saved by Horn in the 66th minute when he rifled it from the right side of the box after getting free on goal once again. It was a tough angle and Horn did make a quality stop. But a striker of Werner's quality, you wouldn't be crazy to expect him to have scored.
Werner totaled four shots, three on target and took full advantage of his free role. Werner popped up on the left, right, and centrally throughout the game as his strike partner, Schick, occupied the center backs.
Naglesmann praised his center forward massively on Sunday. On Monday, Werner proved his manager right. With his goal, Werner remained hot on Lewandowski's heels in the Bundesliga Golden Boot race, just four behind.
Top Four Battle Intensifies
Since the restart, like most of the Bundesliga teams so far, Leipzig have performed better on the road. Two home games, two draws. However two road games, and two wins including at Cologne Monday. And in this one, they did it in a more typical Leipzig fashion, sans the going down early part.
The visitors had 19 shots with nine on target and 15 of them from inside the box. Leipzig also created eight big chances on the night, although they disappointingly missed six of them. The most Leipzig-ian (is that a word?) part of their performance without a doubt was the five counter attacks, most spearheaded by Werner.
Little by little, Leipzig have gotten better since the restart. However, it's likely too little too late in terms of the title. But for a Champions League place, they are firmly in the fight and have a tight grip on a top-four spot.
With the win, Leipzig jumped to third place with 58 points, going ahead of Gladbach and Leverkusen tied on 56 points, both of whom won during the weekend.
The top four battle is on fire and Leipzig are in prime position, in total control of their own destiny. Leipzig host last place Paderborn Saturday in their next match which should be three easy points.