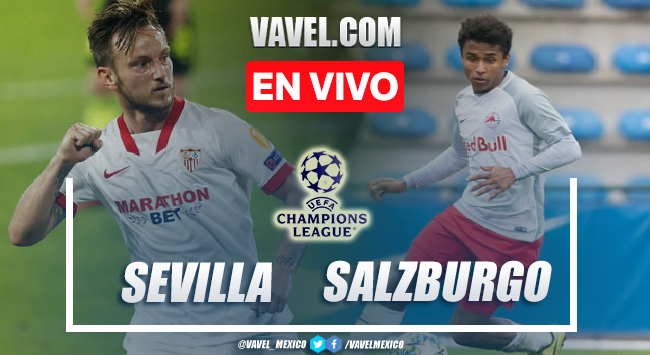 Thank you all!
MATCH ENDS: RED BULL SALZBURG TO ROUND OF 16, SEVILLA GOES TO EUROPA LEAGUE
5 minutes more
84' Another change for Salzburg
75' Red Bull Salzburg substitution
68' Changes in both teams
64' Sevilla down to 10
60' Clear chance for Sevilla
56' Yellow card
55' The second could have come
1-0
53' Lopetegui changes
50' GOOOOOAALL
46' Second half begins
END OF THE FIRST HALF
42' Chance for Fernando
37' Diego Carlos appears
34' Saves Kohnn
24' Long shot by Rakitic
21' Occasion by Papu
Lille goal
11' Kounde had it
8' Good intervention by Fernando
THE MATCH BEGAN
5 minutes
The Austrian team's arrival at the Red Bull Arena
Ocampos vs Adeyami
A final for Sevilla and Salzburg: The Spanish side must win and the Austrian team can only draw, but with a draw they could be eliminated.
This is Jaissle's eleven
Lopetegui leaves Rafa Mir on the bench, the main novelty in Sevilla's starting XI
1 hour
Where and how to watch Red Bull Salzburg vs Sevilla ?
What time is Red Bull Salzburg in the Champions League ?
Lopetegui: "There will be different moments during the match with the final objective being what it is".
Pre-training of the Austrian team
How does Sevilla arrive ?
How is Red Bull Salzburg coming along?
Background
Headquarters
Preview of the match
Welcome to VAVEL.COM LIVE coverage of Red Bull Salzburg vs Sevilla in the Champions League.