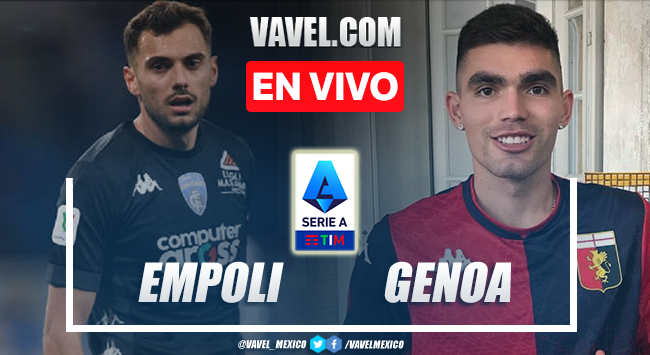 Thank you all.
END OF THE MATCH: GOALLESS DRAW, POINTS ARE SHARED
90 + 4
91'
90'
89'
86' Yellow card
84' Attacking foul by Destro
81'
74' Saves Sirigu
70' Yellow card
62' Double changes in both teams
56' German coach also changes
52' First change for Empoli
46'
END OF THE FIRST PART
45'
43' Free kick for Genoa
Double yellow card
25' Another one for Genoa
20'
9'
THE GAME BEGAN
5 minutes
Genoa seek first home win of the season
Genoa's top scorer on the bench
Blessin starts with an eleven formed by:
Andreazzoli starts with: Vicario; Romagnoli, Verre, Bajrami, Benassi, Asllani, Zurkowski, Stojanovic, Luperto, Parisi, Pinamonti.
All set in the Genoa dressing room
1 hour
How to watch Genoa vs Empoli live in Serie A ?
What time is the match between Genoa vs Empoli in Serie A ?
Empoli players training, preparing the next match, before traveling to Genoa.
Genoa players and fans united after earning a point against the Serie A leaders and aiming for relegation
How does Empoli arrive ?
How does Genoa arrive ?
Background
Venue: The match will be played at the Stadio Luigi Ferraris, a stadium built in 1911 with a capacity of 36,7703 spectators.
Preview of the match
Welcome to VAVEL.COM's LIVE coverage of Genoa vs Empoli in the Serie A