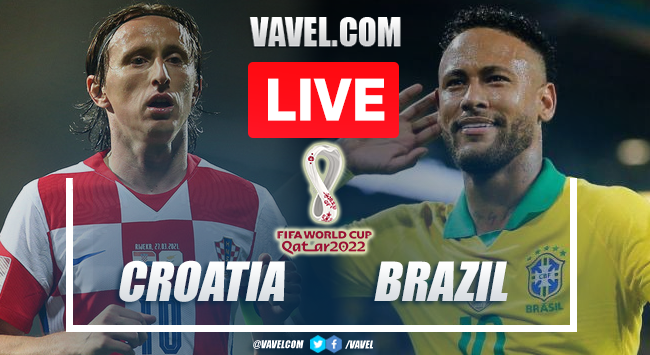 SUMMARY
THANK YOU FOR FOLLOWING LIVE ON VAVEL
IT'S OVER
4-2
3-2
3-1
2-1
2-0
penalty
We go to penalties
117
THE BRAZILIAN GOAL
Second overtime begins
105+1
102
95
Overtime begins
End of 90 minutes
90
83
79
72
64
59
48
47
Second half starts
End of first half
41
40
36
30
27
24
20
17
12
9
4
3
The game kicks off
THE HYMNS ARE ALREADY PLAYING
IN A FEW MOMENTS WE START
BRAZIL'S STARTING ELEVEN READY
CROATIA'S STARTING ELEVEN READY
THE REFEREES
TO ELIMINATE THE STRONGEST TEAMS IN THE TOURNAMENT
WHO WILL BE THE OPPONENT IN THE OTHER KEY?
A REAL MACHINE
CROATIA'S LAST DUEL
BRAZIL'S LAST DUEL
THE WAIT IS OVER
Tune in here Brazil-Croatia Live Score
What local time and where to watch Brazil-Croatia live stream for World Cup Match Today?
Watch out for this player from Brazil
Watch out for this Croatian player
Latest Croatian lineup
Brazil's final lineup:
Background:
About the Stadium:
In search of the hexacampeonato
The uncrowned champion
World Cup fever continues
Kick-off time
Welcome to VAVEL.com's LIVE coverage of the World Cup Match 2022: Croatia vs Brazil!