 Sunderland manager David Moyes, has revealed that youngsters will get a chance in his side, as they add energy, pace and work rate to his team.
Adding something different
Many will have been surprised to see the inclusions of the likes of Lynden Gooch, Donald Love and less so Duncan Watmore, for the trip to the Etihad Stadium.
Despite the late 2-1 defeat to Pep Guardiola's Manchester City, the youngsters impressed many on the day.
Gooch especially, who was making his Premier League debut, showed good signs especially in the first period, and Moyes said the likes of Gooch will get their opportunity in his side.
Moyes said: "The biggest thing was I needed people who were going to run and have energy." He admitted, "Until we improve, then we can afford people who maybe don't run about as much, I want people who are going to work for the team and be part of the team."
He continued: "I take a lot from it, especially giving two young boys their debut," as "I thought they both did really well and that is what you want to do, to give your young boys an opportunity when the players aren't there because of injuries."
Moyes concluded: "I'm more disappointed for the players because they put in a great effort. You've got to remember that we gave two boys their debut - against Man City."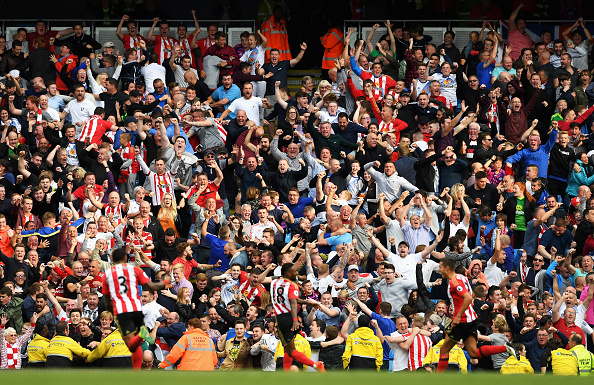 Praise from a veteran
The young American has impressed many at the Stadium of Light at academy level, and impressed on loan at Doncaster Rovers last season, before returning after a ankle injury.
The 20-year-old signed a new three year deal in the summer, and veteran striker Jermain Defoe, praised the youngsters performance against Guardiola's side.
He told safc.com: "Duncs has been involved and done well after he burst on the scene last season, but Gooch came in and he was fantastic."
Defoe concluded: "He's strong, he's got legs and he didn't look at all fazed or nervous, and it's a massive game to come into so you've thrown him in the deep end but he's performed."
Sunderland will take on Middlesbrough at the Stadium of Light on Sunday, August 21 with kick-off at 1:30pm BST.