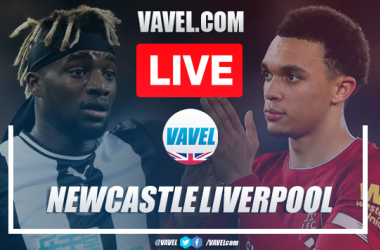 Thank you and goodbye
Highlights
Klopp confirms Henderson injury
Jurgen Klopp to BT Sport
Exciting times for the Reds
Eddie Howe post-match
Highlights coming soon
The stats
Player of the Match: Harvey Elliott
Former Fulham youngsters impress
Carvalho speaks to BT Sport
Carvalho smashes home
90+7 GOAL LIVERPOOL
90+7' Corner Liverpool
90+5' Chance Liverpool
93' Chance Liverpool
90+1' Free-kick Liverpool
5 minutes added-on
90' Chance Liverpool
90' Free-kick Liverpool
89' Elliott hard-work wins corner
87' Free-kick Liverpool
87' Pope in no-mans land
86' Chance Liverpool
85' Newcastle free-kick
84' Newcastle substitution
83' Chance Liverpool
82' Liverpool free-kick
80' Chance Liverpool
80' Corner comes to nothing
79' Liverpool pushing
Newcastle sitting deep
69' Liverpool substitutions
66' Impressive Elliott
64' Newcastle substitutions
62' Chance Liverpool
60' GOAL LIVERPOOL
60' Chance Liverpool
54' Isak scores- Offisde
53' Chance Liverpool
51' Liverpool absentees
48' Chance Liverpool
46' Salah outrageous
Back underway at Anfield
This tweet sums up Liverpool so far this season
Isak the hero so far
Against the run of play, sort of?
Half-time
45+4 Corner Liverpool
45+3 Corner Liverpool
45+2
45+1' No Danger
45+1' Corner Liverpool
4 mins added on
43' Klopp frustrated
42' Another corner
42' Corner Liverpool
41' Liverpool chance
Liverpool's woeful record continues
38' Great finish
38' GOAL NEWCASTLE
37' Free-kick Liverpool
34' Big chance Liverpool
33' Free-kick Newcastle
32' Elliott driving forward
29' Penalty shout- Liverpool
28' Straight at Alisson
27- Free-kick Newcastle
25' Corner Liverpool
21' Burn stops Salah again
20' Chance Liverpool
Encouraging sings for Newcastle
17' Chance Newcastle
12' Diaz down
11' Newcastle counter
9' Lascelles down injured
7' Liverpool on the attack
3' Chance Liverpool
We're underway
Jurgen Klopp talks to BT Sport
Pundits like the look of Isak
10 minutes until kick-off
Schar rested through injury
Liverpool out to warm up
Isak starts for Newcastle
Liverpool unchanged!
Newcastle team news
Liverpool team news
Check out our Liverpool v Newcastle preview
Huge news for Newcastle
Tune in here for Liverpool v Newcastle Live Score
How to watch Liverpool v Newcastle Live Stream on TV and online
What time does the game kick-off across the world?
What time does the game kick-off
Liverpool v Newcastle prediction
Recent meetings between the sides
Key player for Newcastle
Key player for Liverpool
Predicted XI- Newcastle
Probable line-up of Newcastle
Predicted XI- Liverpool
Probable line-up of Liverpool
Who is the referee and his assistants
Newcastle unbeaten so far
Liverpool on cloud nine after Bournemouth demolition
The match will be played at Anfield
Welcome to VAVEL.com's coverage of the Premier League match: Liverpool v Newcastle Live Updates!