David Unsworth will take temporary charge of Everton's final Premier League game this weekend with Norwich City after the Blues parted ways with Roberto Martinez.
The Blues are searching for a new manager and new major shareholder Farhad Moshiri is expected to aim at bringing in a well-known name who can deliver on his ambitions of bringing silverware to Goodison Park.
The former Everton defender will be assisted by former Everton manager and club icon Joe Royle with former players and current first team staff, Duncan Ferguson and John Ebrell helping with training.
Speaking to the assembled media at Finch Farm, Unsworth admitted that he may not be in the running for the job, but added that it was "the proudest moment" of his life when he got the call to take charge of Sunday's game.
He continued to say that he has "massive aspirations to become a manager" and that he "wouldn't want to work anywhere else." It's plausible that any new manager brings the former Everton defender into the first team set up after some fine work with the Under 21's.
Using youngsters against Norwich City
Premier League managers sometimes see the end of the season as a perfect time to showcase their club's youngsters, but Unsworth knows more than most about the talent of Everton's next crop of youngsters.
Unsworth said that whoever takes over this summer has "five or six, top talents" ready to make the move from his Under 21 team to the first team.
The Everton Under 21's manager has already added a number of youngsters to this week's first team squad with midfielders Tom Davies and Kieran Dowell expected to play a role in the game. Dowell is speculated to start with Davies coming off the bench.
Unsworth will also honour Roberto Martinez's promise to Tim Howard and allow him to finish his Everton career in front of the Goodison Park crowd.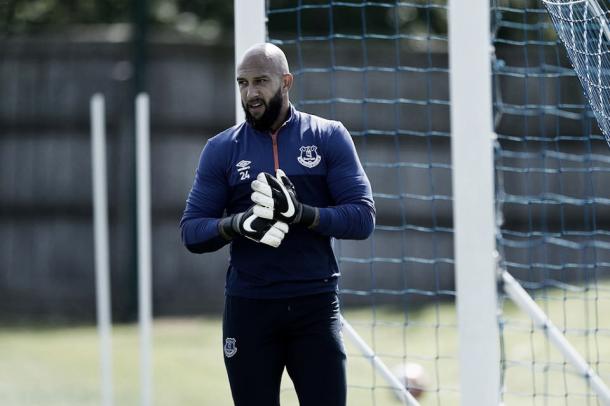 Sunday's atmosphere at Goodison Park
The atmosphere at Goodison Park had the potential to turn sour if Roberto Martinez was still in charge. Protests had taken place in the previous few weeks and more were placed for Sunday's game.
David Unsworth admitted that Goodison Park will see a "change of mood" on Sunday after it had become "an easy place to play recently."
Unsworth knows what it means to the Everton fans to win games and says the players "owe" the fans a win this weekend. The Toffees' home form this season has been rather poor, winning only five games but Unsworth is looking to sign off in style.
The Goodison faithful will still demand wins from whoever takes over in the summer. Unsworth knows this better than most as he added that whoever "gets the honour of being Everton manager will have to produce wins."
Injury report
Phil Jagielka and Seamus Coleman could return from injury for Sunday's Premier League meeting with Norwich City. The defensive pair have been struggling with hamstring injuries for a few weeks with reports suggesting that Jagielka would not play again this season.
Coleman has been missing for a while longer than Jagielka and has been touch and go for a number of weeks.