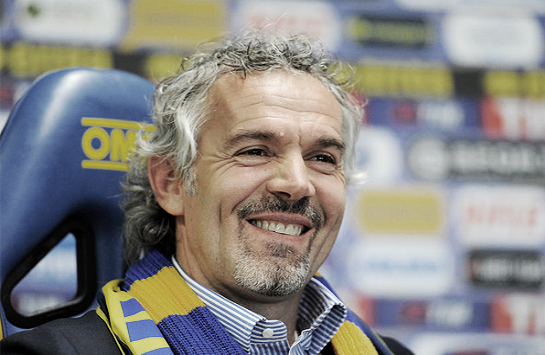 Massimo Cellino must be having an infinite amount of sleepless nights as the memory of his dismissal of Roberto Donadoni as Cagliari coach, before the season had even started, has now come back to bite him in the… you know where.
A traumatic 5-0 loss away to Inter was the final straw for the Ducali management as they announced, at the stroke of midnight on January 9, that Franco Colomba had been relieved of his duties as tactician and to be replaced by the former Livorno coach Donadoni.
For Colomba the name of the 48-year-old holds a certain air of uneasiness as it was the second time in his career that he was to be succeeded by the former Milan player.
Upon arrival to the Tardini outfit Donadoni clearly stated his ambitions for the club, indicating that a team with such quality should not be fighting to avoid relegation.
"I'm here because I believe that this society has to look ahead, to reach and, possibly exceed the teams that are above us," he noted in his first press conference at Parma. "This is not a team that has the ambition of salvation only. It is not in my plans or the society's to look over our shoulders."
Starting his coaching career just 11 years ago, Donadoni wasn't graced with easiest of rides, seeing him take over minnows like Lecco, Livorno and Genoa. At Livorno the tactician did the remarkable with limited resources and took the Labroncini to a surprising 9th place finish; before resigning after one of many disagreements with the president Aldo Spinelli.
At Parma he was confronted with yet another mission impossible as he had to take a team, which had slumped into a winless run of five matches, and turn around their confidence as they sat just seven points above the drop zone.
"In my career I've always had this positive approach and I am highly ambitious and want to build here day after day something important," Donadoni added in his unveiling.
Build he did as Donadoni swiftly and quietly removed the Gialloblu from 15th place. His debut match brought him his first win against Siena, converting the whole formation of the team to a 3-4-3:"I tried this defense because I consider it compatible with 3 men available.
"There is workin all departments. I believe that the assessment should be comprehensive rather than individual."
The team started to excel under the guidance of their new coach by going on an undefeated run of six matches, eventually losing 1-0 to Roma, 40 days after his arrival.
In 17 matches played under Colomba, Parma only managed five wins, four draws and eight losses; tallying up a total of 19 points. Under Donadoni, with 18 matches, the club have totalled 28 points, only losing four games, conceding 10 less and having found themselves dramatically shifted all the way up to 8th place.
They say revenge is a meal best eaten cold and Donadoni certainly got his own back on Cellino when his side came out triumphant with a narrow 1-0 win, but the tactician refused to get hotheaded.
"We have not done anything yet, we are not saved," he his squad moved one step closer to survival.

"I'm really sorry for Cagliari: I have seen 18 players that I know well, who I've coached and I'm sorry to see them in this position in the standings. I hope that by the next game they can get out of this bad situation."
Forever humble in his work, the grey-haired coach has put aside his troubled time with the Azzurri and has transformed Parma into a living calcio fairy-tale. So much so, if one had to calculate the table from when he took over, which would be 18 games and one more than Colomba, Parma would in fact be sitting in 4th place.
If Donadoni has already taken Parma this far, in such a short space of time, next season will be one in which Parma could be bringing back their old UEFA Cup days.
It is with this, that there is little wonder as to why the former Napoli manager has been confirmed to be on the bench of the Ennio Tardini next season, and that Cellino is sulking on an island of disbelief.