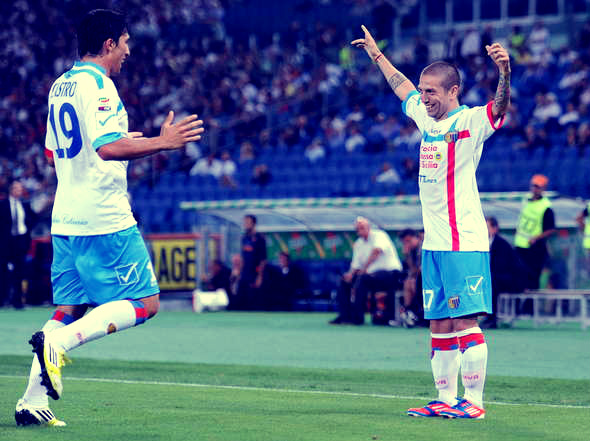 This week, we review each team's performance in the 2012-13 Serie A season.
W6 – D4 – L 28 – Pts 22
The goal of any promoted Serie B team is obviously to remain in the top flight. Pescara came into the season as Serie B Champions, however were unable to make anything happen Serie A, especially after the transfer of its top young players, midfielder Marco Verratti, and striking duo Ciro Immobile and Lorenzo Insigne. The team had been in the relegation zone almost the whole season and only won 1 game in 2013, the first game of the calendar year. The fans in Abruzzi will again be faced with looking their beloved team in Serie B next season.
W9 – D9 – L 20 – Pts 30 (deducted 6 pts)
Siena was deducted 6 points to start the season due to their involvement in the "Calcio Scommesse" football betting scandal in 2011, and it was a setback that the Tuscan would not be able to recover from. While briefly coming out of the relegation zone during a string of good form, grabbing points in 9 of 12 games from mid January to mid April, Siena would falter, losing their last 6 games of the season, and falling back into the Serie B zone. The 36 points they would have had without the deduction would have put them within two points of 17th spot, and would have given them something to play for in down the stretch of the season. Siena fans can only wonder what may have been, and hope next season in Serie B brings a speedy return to Serie A.
W6 – D14 – L 18 – Pts 34
If there was a grade lower than "F", Palermo would deserve it. With the likes of Fabrizio Miccoli in attack, Josip Iličić controlling the midfield, and keeper Stefano Sorrentino anchoring the defense, this team had too much talent to be fighting in the relegation area for the season. President Maurizio Zamparini, doing his part to wreak havoc on his team, made 4 coaching changes, but in true "Zampa style", only 3 men were actually hired (and fired). Even with the season winding down, and a 5 game unbeaten streak (including wins over Roma, Sampdoria, and Inter) going into the last four games of the season, all the Rosanero could accomplish was losing those four games a securing its place in Serie B. With the new salary cap in Serie B, this Palermo team will look much different next year, and promotion back to Serie A will be no easy task.
W 8 – D 14 – L 16 – Pts 38
After finishing the 2010/11 season in a strong 9th position, Genoa has finished the last two seasons in the same place: one place above relegation. Without a point deduction to Siena (and something to play for in the last few games), it is quite likely the Rossoblu would have been relegated instead of the Tuscan side. Goals were very hard to come by for the Genoa squad, with Marco Borriello netting a third of the teams goals with 12. Ciro Immobile, the youngster who scored 28 goals in Serie B last season with Pescara, was thought to be able to pick up the slack when Alberto Gilardino was loaned to Bologna, managed to only net 5 goals in 26 appearances, while "Gila" managed to score 13. Without some improvements, next season will see Genoa fighting for relegation again.
W 8 – D 16 – L 14 – Pts 39* (1 point deduction)
Recall how I said that the goal of any promoted team is to stay in the top flight. Well Torino achieved this objective, and showed some promise at the beginning of the season, hovering around the mid table, until the wheels fell off at the end of the season. After a surprise win against Lazio in mid March, Torino sat in 12th position, however it failed to win again for the balance of the season, including a thrilling late loss to Napoli (likely the game of the Serie A season… seriously look the highlights). Torino finished the season going winless in its last 9 games, including 5 loses. Had a couple of these games, in which some it was in a position to win, turned into 3 points for the Granata, it easily could have earned a "B" grade. A good sub plot to their season was Alessio Cerci reviving his promising career, scoring 8 goals with a further 8 assists, and reasserting himself as a future Italian star.
W 11 – D 9 – L 18 – Pts 40* (2 point deduction)
Last season saw the squad from Bergamo finish in 12th position, despite a 6 point deduction. This season, while contending with only a 2 point deduction, saw Atalanta slip somewhat in their form from last season, but still a tough "provincial" opponent to play. Early in the season, they were able to defeat Milan, Inter, and Napoli, asserting that teams must concentrate in order to beat them. After scoring 16 goals last season, Argentine German Denis netted 15 this season, including a hat trick in 13 minutes against Inter, to help the nerazzurri remain in Serie A. Youngster Giacomo Bonaventura netted 7 goals from the midfield, while also setting up 4 more, and his great play this season has made Italian National team coach, Cesare Prandelli, to notice him and invite him to the provisional squad for this summer's Confederations Cup.
W 11 – D 10 – L 17 – Pts 42* (1 point deduction)
The highest ranking of the newly promoted teams, Sampdoria managed to do something no other squad in Italy was able to do; that is beat Juventus in both the home and away fixtures. Sampdoria got off to a good start this season, holding 3rd position into Week 3, and maintaining a mid table sport for most of the season, before slipping into some bad form for the last two months of the season, winning only two of its games since the beginning of March. Mauro Icardi led the team in scoring with 10 goals in 33 appearances. While the team could have finished higher in the standings, as a promoted squad, a 14th place finish is a great result, and gives the team confidence that they can compete in Serie A for the years to come.
W 11 – D 11 – L 16 – Pts 44
Last season, Bologna finished in 9th position, and while there were no major improvements made to the squad to try to better that position, a mid table finish is about where one would expect them to finish. Two major winless streaks, 6 games in the first half of the season and 8 games in the second, really dented any chance Bologna had to climb the standings. Alberto Gilardino seemed to turn back the clock, scoring 13 goals (none from the penalty spot), and led the attack for the Bolognese squad.
W 12 – D 9 – L 17 – Pts 44
A poor start gave the Verona club a deep hole to climb out of this season. While they won their first game of the season, Chievo then lost its next 5 games, and 8 of 12, putting it in a relegation battle early in the season and cost head coach Domenico Di Carlo his job. After Eugenio Corini was brought in, the team had a string of decent form, winning 5 of 8 games to bring them from 17th position to 11th, and helpe d to ensure their salvation this season, and entrench them in the middle of the table. Chievo was able to maintain a very good home record, losing only 5 games at home (Juventus, Milan, Lazio and Inter), and only 1 game to an opponent lower in the standings (Genoa). Considering the team lost influential players Michael Bradley (Roma) and Francesco Acerbi (Milan) without adequate replacements, plus the poor start, a 12th place finish was a good result for the gialloblu.
W 12 – D 11 – L 15 – Pts 47
After last seasons' 15th place finish, a stadium debacle, and a few coaching changes, had you asked Cagliari calcio fans if they would be happy with an 11th place finish at the beginning of this season, their first reaction may have been to fall over laughing. And, in spite of a 6 game winless streak to start the season, and losing 6 straight games mid season, the Sardinians were still able to put together a respectable season. Aside from those two stretches, they were able to win 12 of 26 matches, adding 9 ties, which is an impressive record. If Cagliari can get their stadium situation straightened out, and know where they will actually be playing all their home games, this may be a squad that can improve their standing next season.
W 13 – D 10 – L 15 – Pts 49
Since being promoted back to Serie A in 2009, Parma has collected two 8th place finishes, and a 12th place finish, so it comes as no surprised that they would finish the season right in the middle at 10th. Roberto Donadoni's side was strong at home, earning three quarters of their points, including 9 home wins games, while winning only 4 games away from the Stadio Ennio Tardini. Amauri, the teams' leading goal scorer with 10 goals this season, would mimic his team's performance, scoring 8 of his 10 goals at home. An 8 game winless streak ruined any small hope Donadoni may have had about a Europa League spot this season, a string of results that cannot be repeated next season if Parma hopes to have a shot at the trophy.
W 16 – D 6 – L 16 – Pts 54
Inter entered the season with two goals in mind: capture the Champions League spot that was missed last season, and contend with Juventus and cross town rivals, Milan, for the scudetto. Inter had a great start to its season, winning 9 of its first 11 games, and the ending of Juventus' unbeaten streak at 49 games being the last of those wins. However after the win against the Turin giants, the nerazzurri would only win 7 more games all season, along with 6 draws. The team was riddled with injuries all season; Diego Milito played only 20 games; Dejan Stankovic missed 31 games; Antonio Cassano missed 7 games; Ricky Alvarez missed 5 games due to injury; Rodrigo Palacio missed 9 games; and of course, captain Javier Zanetti, ruptured his Achilles tendon in Week 35. Head coach Andrea Stramaccioni has been replaced by Walter Mazzari who will try and come in and reverse the downward trend that has been plaguing Inter for the past few seasons. Inter finished 12 points behind a Europa League spot, 18 points behind Milan for the final Champions League spot, and an astounding 33 points behind champions Juventus. There is much work to be done for Massimo Moratti's team.
W 15 – D 11 – L 12 – Pts 56
The 2011-12 season saw Catania finish with its highest ever point total with 48, however coach Vincenzo Montella, who was extremely impressive in his first full season as a manger, moved on to Fiorentina and there was much doubt at the beginning of the season if the performance could be repeated with new head coach Rolando Maran. Well, the Sicilian side not only bettered the point total, but for much of the season, they were within striking distance of a Europa League spot. If not for points thrown away late in the season (leading Inter by 2 goals at half time and losing 3-2; a 90th minute loss to Juventus; leading Lazio and giving up an own goal and penalty in 3 minutes for a loss; a 90th minute goal to Palermo to turn a win into a tie) Catania would likely have challenged Udinese for the final European spot. The Stadio Angelo Massimino was a fortress for the Sicilian side, where they managed 12 wins, losing only to Juventus and the two Milan clubs. Starlet Francesco Lodi, who many thought would leave the rossazzurri before the start of the season, remained with the club, started every game he was eligible to play in, and managed to score 6 goals and 7 assists. Catania will likely be hard pressed to better its performance next season, but that is what everyone thought last year as well.
W 18 – D 7 – L 13 – Pts 61
If I remember nothing else from this season from Lazio, it will be the incredible game by Miroslav Klose on May 5th versus Bologna, in which the German scored an amazing 5 goals. That tally helped erase the fact that Lazio had only won 2 games in its previous 14 games, a period in which it was fighting for a Champions League position, only for the slide to knock them out of contention for even a Europa League spot. Klose managed to score 15 goals, despite missing 8 games due to injury, of which Lazio lost 6. Lazio was able to maintain a very good record at the Stadio Olimpico, winning 13 games, drawing twice, and only 4 loses (Juventus, Fiorentina, Chievo, and Genoa), while their record on the away from home is what prevented them from climbing higher in the standings, managing only 5 road wins. Brazilian midfielder Hernanes was able to find the back of the next 11 times, while adding 4 assists in a very productive season for the 27 year old. Lazio ended the season with a win over cross town rivals Roma in the Coppa Italia, a trophy they last won in 2009, with a late goal by Senad Lulic, and gave them a qualification spot, and a shot at another trophy against the scudetto winners later this summer.
W 18 – D 8 – L 12 – Pts 62
When Zdenek Zeman was appointed as coach at the beginning of the season, many fans were overjoyed with the return of one of their favourites. Everyone knew that this would bring an offensive system, and a lack of responsibility on the defensive side, however not many people expected the number of points to be dropped from winning or tied positions late in games to be so high. In the first half of the season alone, Roma would lead two games by a score of 2-0, only to lose the games. There more a few occasions where a late goal would turn a sure tie into a loss (Bologna 90'; Udinese 88'; Chievo 87'). Zeman was sacked after a 4-2 loss to Cagliari in Week 23, and was replaced by assistant coach Aurelio Andreazzoli. This would bring a Roman resurgence, with the team winning 8 of its last 15 matches, bringing it to within striking distance of a Europa League spot, but ultimately falling short. They also had a shot at a Europa qualification spot, and would have been the first Italian team to earn a "silver star" for winning 10 Coppa's, however Roma would lose to Lazio.
W 18 – D 12 – L 8 – Pts 66
Udinese spent most of the season lingering around the mid table of the league, after a very poor start to the season. It saw them crash out from Champions League qualification, and then finish last in their Europa League group, managing to win only one game. In Serie A, the Friulani would win only 1 of their first 7 games, and 3 of the first 14 games. The New Year saw an "up and down" squad, alternating good results with bad ones, including wins against Inter and Fiorentina, but losing to Milan and a 4-0 thrashing by Juventus. Francesco Guidolin was able to motivate his club to finish strong, with Udinese winning their last 8 games of the season, propelling them from a mid table standing, to a Europa League qualifying round spot. Antonio Di Natale was himself, scoring 23 goals and missing two penalties this season, while youngster Luis Muriel managed to score 11 goals in only 22 games. While the "little club" from Friuli has been used to some Champions League play the last few seasons, it has clearly shown it is in over its head, and the pressure seemed to distract the team from performing well in Serie A. It will be interesting to see how serious they take the Europa League next season, and if it will affect their play.
W 21 – D 7 – L 10 – Pts 70
Fiorentina was one of the more consistent teams in Serie A this season, and much of the credit should go to newly appointed coach Vincenzo Montella, who proved that his impressive season at Catania last season was no stroke of luck. The former Roma hitman brought an attractive style of soccer to the Tuscan side, and with a squad that last season was almost relegated, this year was moments away from a Champions League position. In fact, the only reason why they didn't qualify was a controversial penalty awarded to Milan in the 84th minute in the last match of the season, which lead Viola supporters to claim they won "third on the field". Looking back through their results, Fiorentina could have controlled their destiny, with a few losses to teams much lower in the standings, such as a 2-0 loss to last place Pescara. Transfer target Stevan Jovetic led the team in scoring, netting 13 goals in 31 matches, while also chipping in with 5 assists. This season also saw the resurgence of Alberto Aquilani, with the midfielder scoring 7 goals of his own, while assisting on 6 other goals in 25 matches. The last game of the season also saw Giuseppe Rossi make his debut with Fiorentina after his transfer from Villarreal, coming on as a second half substitute for a 27 minute run. Depending on how intact Montella's squad remains, next season should be a very interesting year for the viola.
W 21 – D 9 – L 8 – Pts 72
The 2012/13 season got off to about the worst start possible for Milan, losing 5 of its first 8 games, with the rossoneri sitting as low as 15th in the table. However, an improvement in form saw them gradually increase their standing with the team, finally capturing 3rd position in Week 25, and not relinquishing the position after Week 27. Milan started the season by selling their two biggest stars, Zlatan Ibrahimovic and Thiago Silva, which put a dent in the team at two positions. With the departure of Ibrahimovic, young star Stephan El Shaarawy was able to shine, scoring 16 goals and 5 assists from 37 appearances, while his forward partner for the first half of the season, Giampaolo Pazzini scored 15 goals from 30 appearances. However the second half of the season belonged to newly acquired Mario Balotelli, who scored 12 goals (6 PKs) in just 13 games, an av erage of a goal every 96 minutes. While Milan may be looking at making a change with Coach Massimiliano Allegri, he does deserve some credit for bringing the team to a Champions League qualifying position after losing two stars and a poor start to the season.
W 23 – D 9 – L 6 – Pts 78
There is no doubt that the second best team in Italy this season was Napoli. The southern squad held the second position every week of the season except for 8, falling no further than 5th in the standings, before getting back on track and being in second place for the last 18 weeks of the season. Napoli would get closest to Juventus while the Turin club hit a January slump, however the Partenopei would have a slump of their own in February, tying 4 straight and adding a loss versus Chievo, which created a gap that Napoli could not close. Coach Walter Mazzarri, who left the team after the end of the season, was integral in getting the best of out his players. He modified how Marek Hamisk played, who scored 12 goals this season, got everything he could from veteran Gordan Pandev, who netted 6, and got the most out of his 3 man defense, with only Juventus conceding fewer goals than Napoli. Of course, you cannot mention the success of Napoli with talking about their star, Edison Cavani. The Argentine put fear into goal keepers throughout the league, scoring a league leading 29 goals (7 from PKs) in 34 matches, and causing havoc for most of the season. Quite remarkably, Cavani was only substituted once all season, playing the entire 90 minutes of 33 games. With a Champions League spot in hand, it will be interesting to see how a new manager will be able to compete in Europe with this incredible Napoli squad.