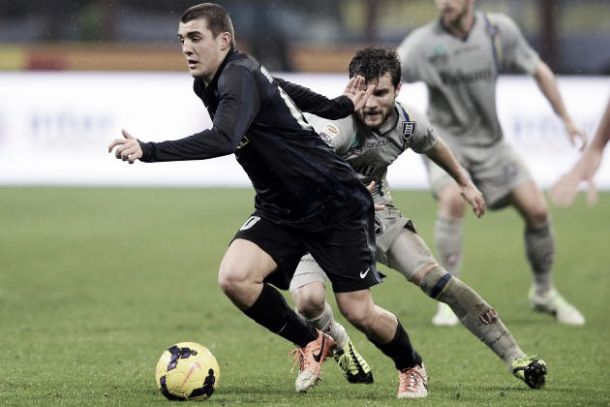 Mateo Kovacic was born in Linz, Austria, to Bosnian-Croat parents who moved to Austria to escape the bitter war in the former Yugoslavia in 1991. The young Croatian began his career very early, when he was just six years old he began playing at local club Lask Linz's youth academy. He started showing much promise, which as a result, he was just thirteen he was being scouted by some of the biggest European clubs, including Bayern Munich, Juventus, Inter, Ajax and VFB Stuttgart, who tried to lure his family by offering lots of money, the latter even offered his father a well paid job at the Mercedes company, but his parents weren't fazed by all the fortune thrown at them. Finally they agreed with their son to move to Zagreb instead, where he signed for Croatian powerhouse Dinamo Zagreb in 2007.
DINAMO ZAGREB AND INTER
Mateo Kovacic proved to be an instant hit in Zagreb. Upon his arrival with Dinamo Zagreb he was placed straight away in their U-15 squad, where he was appointed captain. His immense ability was being wasted playing for the U-15 squad, so he found himself playing with the U-17 squad just a few months later where he was earning plaudits left right and centre.
Due to his terrific performances for Dinamo Zagreb's U-17 squad he was called up by the Croatian U-17 side. Despite being eligible to play for both Austria and Bosnia-Herzegovina, Mateo Kovacic always dreamt of playing for the Croatian national team. The Croatian U-17 manager, Martin Novoselac who in his playing days played for Dinamo Zagreb too, had only great things to say about Mateo Kovacic. The U-17 manager was quoted as saying, ''I haven't seen a youngster with so much talent since the days of Robert Prosinecki''.
For anyone who don't know who Prosinecki is, he played for both Spanish giants Barcelona and Real Madrid, and was regarded as one of the best, if not the best, Croatian players of all time. He, like Kovacic, Zvonimir Boban, Davor Suker, Luka Modric and many other talented Croatian footballers began his trade at Dinamo Zagreb, Croatia's answer to La Masia.
Just over a year at Dinamo Zagreb, Mateo Kovacic broke his leg in 2009. A horrible injury, especially for someone his age. He remained out of football action for almost a full season. But despite his injury he didn't give up. It didn't hinder his progress at all, as the Croatian started training with the first team squad immediately as he got fully-fit. In November 2010, Dinamo Zagreb's former manager Vahid Halihodzic who recently carried Algeria to the second round of the 2014 World Cup for their first time in their history, handed Mateo Kovacic his debut against Hrvatski Dragovoljac in a 6-0 win, he even marked his debut with a goal. His debut saw him become the youngest debutant and goalscorer in the Croatian league history. Though his record was broken by fellow Croatian, Alen Halilovic. In his debut season with Dinamo Zagreb, Kovacic went on to make seven appearances scoring one goal and helping Dinamo Zagreb win the league title.
But it was in his second season that he began establishing himself as a first-team regular. At the start of the season he helped the team reach the Champions League group stages for the first time in 12 years. Half-way into his second season with the first-team he was appointed as club captain at the age of seventeen, becoming the youngest player to wear the captain's armband in the club's history. In the same season he appeared thirty-two times for the Croatian giants helping them win a seventh consecutive league title.
In the beginning of his last season at the club, he endured a metatarsal bone injury that resulted in him missing the club's qualyfing road to the Champions League. Despite his injury he managed to play in all the six matches of the Champions League Group Stage. During the winter break of the 2012/2013 season there was lots of speculation of Kovacic leaving to an elite European club. But Dinamo Zargeb's board promised the fans that Kovacic won't be going anywhere, and they were going to build the team around him. However Zagreb's board failed to keep their promise, when an offer around £10 million arrived from Inter it was hard to say no, and much to their fans dismay they accepted the offer from the Italian club.
Mateo Kovacic made his debut with Inter just three days after he signed, when he came on as a subtitute in a Serie A match against Siena. The game where he really introduced himself with the Inter faithful was on the 14th of February, when he made his European debut for Inter at the San Siro against CFR Cluj. That match he assisted Palacio with the winner. When he was substituted on the 89th minute the Croatian earned a deserved standing ovation after impressing the crowd with his performance. His first Serie A start was against Fiorentina in a 4-1 away loss. His manager at Inter back then, Andrea Stramaccioni praised the young midfielder on several occasions and backed him to be a ''star of the future''.
In the beginning of the 2013/2014 season Kovacic lost most of the pre-season due to a series of minor injuries. Mateo Kovacic who was being used as a Regista in his first season under Stramaccioni, was going to be used in a more advanced position when Walter Mazzari was appointed as the new Inter manager. The new Inter manager had said during the pre-season of the 2013/2014 season that he'll be looking to give the Croatian midfielder a role similar to that of Marek Hamsik had in Napoli. In his first season under Walter Mazzari he didn't start as many games as he did under Stramaccioni, starting only fourteen games from thirty-two appearances. Though in the last six games of the season he won his place in the Nerazzurri's midfield. This season he's looking like he's going to have a key role in Mazzari's plans. He started this season brilliantly, scoring a hat-trick in the second leg of the Europa League play-off round against Stjarnan and scored his first Serie A goal and assisted twice in a 7-0 trashing of Sassuolo.
PLAYING STYLE
One of the many strengths of Mateo Kovacic is that he can play anywhere in midfield, in the centre, on the wing or behind the strikers. His best position is when he's played in an advanced role though, where he's being played at the moment. Kovacic mostly excels when he's being played with some great runners off the ball, but even without them, he can pick the ball up and goes past two or three players easily. His dribbling is second to none and he's not afraid to go and take on defenders, this season in Seria A he's averaged 4 dribbles per match, only Palermo's Dybala averaged higher so far.
Mateo Kovacic is an exceptional passer, similiar to his idols – Cesc Fabregas and Andres Iniesta. Kovacic's vision is outstanding, his ability to pick out a pass is remarkable. He's very fast in counter-attacks too, he can turn defence into an attack instantly with his fast and precise through balls.
Despite his undoubted attacking skills, Kovacic's game isn't all about attacking. His work-ethic, tackling and interceptions are more than adequate. A thing that really amazes me about Kovacic is his strong mentality and incredible maturity, especially for someone his age.
One of the few things that Kovacic lacks or at least used to lack from his game is goals. He often prefers to pass it to a team-mate rather than take a chance himself, as the Croatian midfielder himself said, ''As a kid I would often pass to my team-mates instead of scoring myself, but I have to change. Only when I score 10 goals a season will I be a complete player.'' And this season he's on his way to doing just that, after already scoring five goals in five matches.
STRENGTHS
Dribbling
Passing
Through balls
Key passes
Work-rate
Vision
WEAKNESSES
Aerial duels
Shooting
Dictating the tempo
CONCLUSION
Vision, techinque, passing, dribbling, pace and strength are the most important attributes for a complete midfielder, and Mateo Kovacic has it all in abundance. Obviously being just 20 years old he's not fully developed yet, he's still very young and will only improve by time. Although he isn't fully developed yet, he's currently Inter's best player this season and displaying some incredible performances. So just imagine him when he's fully developed. It's really up to him how good he can be, the sky is the limit for the Young boy from Linz.