Joe Hart spent 10 years at Manchester City before falling out of favour to new coach Pep Guardiola who demoted the goalkeeper to the team's backup at the beginning of the season.
When City bought Chilean goalkeeper Claudio Bravo from Barcelona, it was evident that Hart should seek other options. Not long after the signing of Bravo, Hart found himself on his way to Torino on a season long loan despite other offers from English clubs.
The goalkeeper has played one game since joining Torino and although he is no longer playing for one of the Premier Leagues top teams, he is very grateful to still be playing.
"I was happy at Manchester City for 10 years and now I'm here. It's normal for a player to change and I'm grateful to Torino for giving me the experience to test myself in Serie A." said Hart via Football Italia.
The Ups and Downs
When Manchester City won the league title in 2012, that was around the time Hart was playing some of his best football. However following the shootout loss to Italy, the goalkeepers play has been inconsistent for the most part.
The goalkeeper's play at this past Euro cup didn't help his case to be named the starter at City. The England international was out of form and ultimately struggled when his team needed him most.
However Hart's technical abilities don't exactly suit Pep Guardiola's style of play. Guardiola prefers his goalkeepers to be good with their feet and play like another defender, which is another reason why he went out and bought Bravo.
Bravo is one of the best goalkeepers in Europe when he has the ball at his feet, whereas Joe Hart is more of a long distance kicker with less accuracy.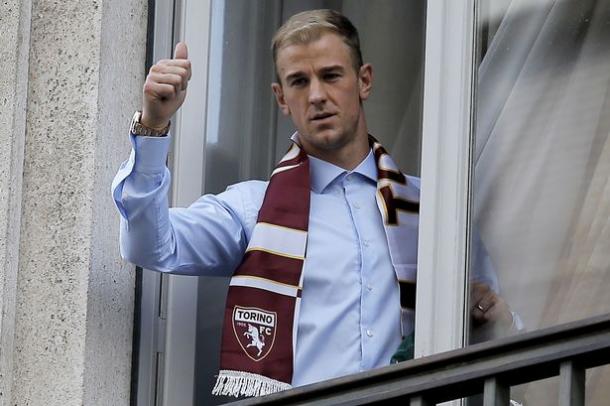 Grateful for the Opportunity
Hart is grateful for the opportunity he has received to be the no.1 goalkeeper at Torino. With the switch to the Serie A club, he has become the first the first English goalkeeper to sign for an Italian club.
"I was in a difficult situation in Manchester and Torino gave me the opportunity to play as I wanted to." said Hart via Football Italia.
The goalkeeper also admits there are differences between Serie A and the Premier League but he is doing his best to get adjusted.
Hart is doing his best to become accustomed with Serie A. The goalkeeper has an Italian teacher and is already learning the basics of Italian.
"I'm learning Italian. I'm very happy to be here and I'm learning the words that a goalkeeper needs," said Hart.
Torino was a good choice for Hart to build his confidence back up. For Hart the decision to go to the Granata was the fact that he would be the no.1 goalkeeper and receive more playing time than he would recieve in Manchester.