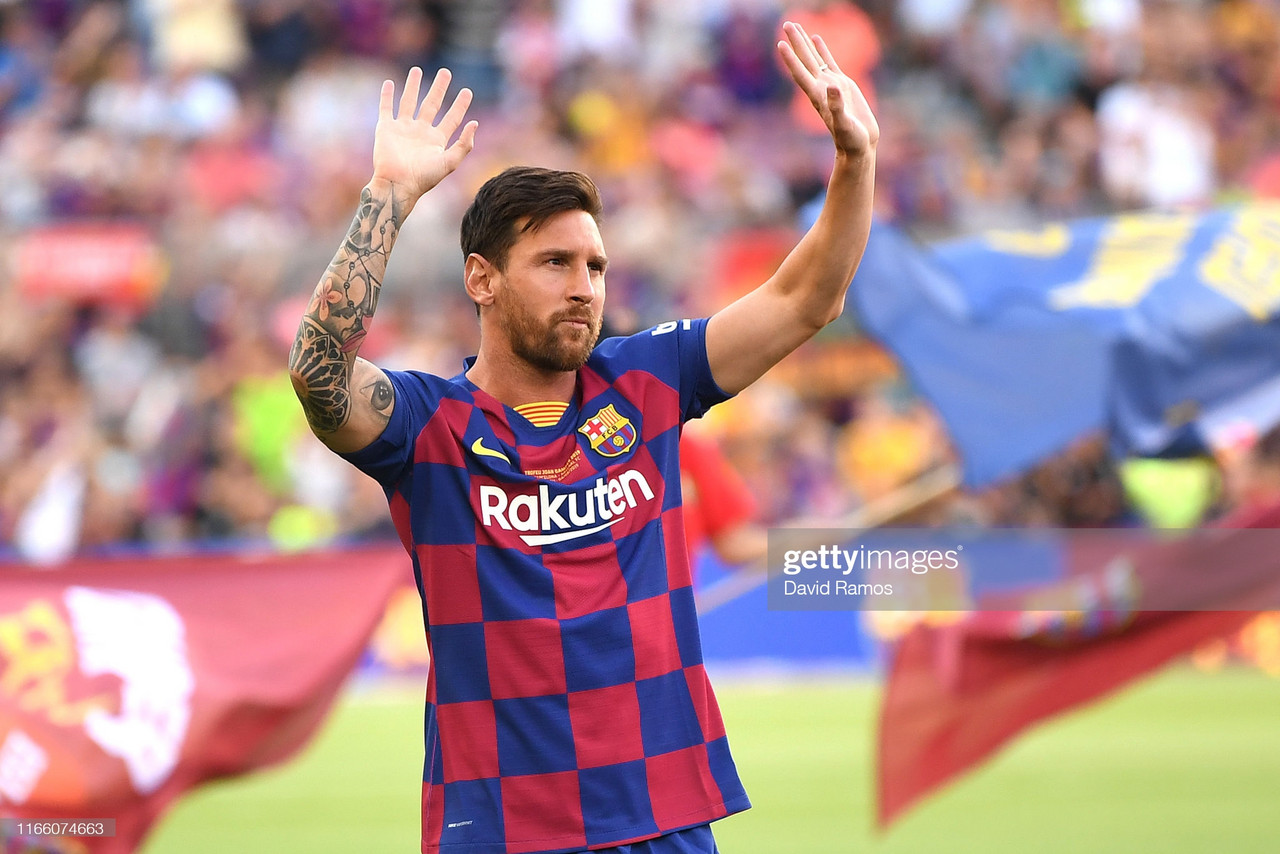 After spending all of his professional career to date with Barcelona, Lionel Messi is set to leave due to contract issues.
Nelson Mandela once argued that things often seem impossible until they are actually done and, in Messi's case, that couldn't be more correct. There have been rumours running the mill of Messi leaving for the last few years but nothing seriously concrete.
That was until COVID-19 hit clubs hard and accelerated Barcelona's financial issues. All this in turn has caused Messi to walk out the door, but the big question is how?
This all comes down to the La Liga's financial fair play laws which enforces club to live within their means financially. The 'Squad Cost Limit' represents the total amount of money a club can spend on their first-team squad, reserve squad, academy players and any non registered squad players. It also covers cost of the coach, assistant coach and head physio. It takes in account both wages and transfer fees.
Each clubs have unique limits depending on the financially stability and annual turnover of each club. The squad cost limit is decided before the beginning of each season and cannot be passed. As COVID-19 hit and the pandemic had it's toll on clubs La Liga curbed the spending of it's clubs, by not allowing any club to spend more than 25% of it's income on transfers.
Due to this new rule being implemented the spending of clubs dropped significantly. The 2020 summer transfer window in Spain's La Liga closed with a total spending of 412 million euros. In the 2019/2020 season, the spending on football players in the main Spanish competition amounted to almost 1.5 billion euros (Statista).
This rule helped smaller clubs in the league survive but didn't stop the Blaugrana's board from making bad decisions. In the 2019/20 season, before the pandemic, Barcelona still had what was left of the profits form Neymar's departure to be taken into account because of this the clubs salary limit was 671.4 million euros.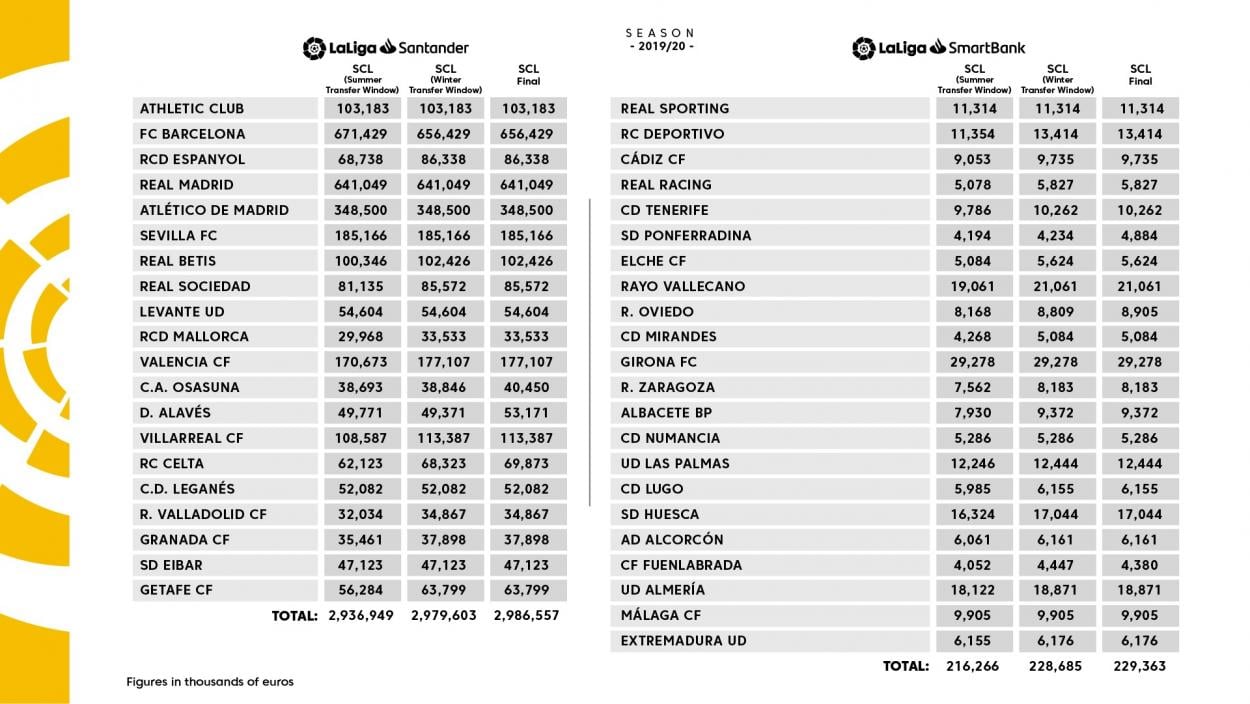 At the start of the 2020/21 season Barcelona's limit fell to 382.7 million euros.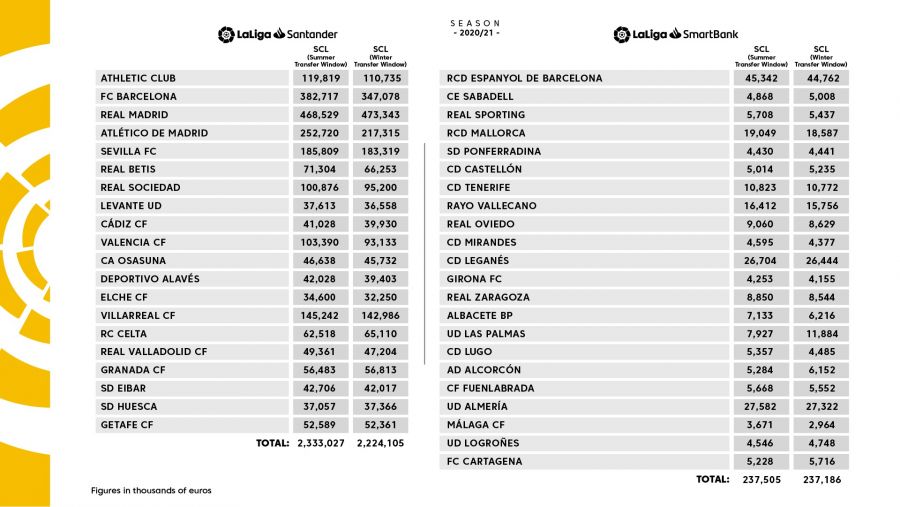 Although the figures for the 2021/22 season haven't been released it's expected it will fall again to roughly 60% of the figure in 2019/20.
Club president Joan Laporta confirmed their wage bill stood at 110% of their predicted income from the year. Not sure what this means? In EUFA's own FFP regulations they recommend this figure should be at a maximum 70%.
However, it would be naive to just blame the pandemic for Barcelona's issues. It all started in 2016 when Messi, who makes up 30% of the clubs commercial revenue was given a new contract that saw his annual wage go from 20 million to 39 million euros.
This was followed by the departure of Neymar in 2017 who left Barcelona to join Paris Saint-Germain for 222 million euros. Although at the time that seemed like a great deal for Barcelona it came back to haunt them. Although Neymar didn't make the same amount of revenue as Messi he still made a significant amount that helped to increase the clubs finances and to lose that revenue stream would mean the amount of money they could spend on transfers would decrease.
It wasn't just finances where Barcelona had fell short in this deal. Neymar had made the move to a more well liked, attractive sports franchise in the business and marketing world, PSG.
To try and combat this as well as cover for Neymar's loss on the pitch they signed fellow Brazilian Phillipe Coutinho and Ousmane Dembele for 160 million euros 147 million euros respectively. The figure of those two signings alone is more then Barcelona made from the Neymar deal. The duo failed to hit the heights expected in the Camp Nouand it's safe to say it was money wasted.
Add to that a roughly 100 million euros splurge that saw Paulinho, Nelson Semedo, Gerard Deulofeu and Yerry Mina and what at the time looked like a squad bolstering now looks like a disappointing summer financially.
Antione Griezman joined a few years later in what was another poor decision by then president Josep Bartemou. Barcelona had to take out a loan of 30 million euros in order to complete the deal as well as offer a more than generous wage packet.
As COVID-19 hit, all clubs suffered in creating revenue and a sustainable income that and it couldn't have come at a worse time for Barcelona. The Baulgrana had to fund their unsustainable wage bill, taking out numerous loans and as of April 2021 they owed an estimated 266 million euros in bank loans by the end of June. Add to this the 144 million euros to pay for previous deals and it puts Barcelona in serious financial trouble.
In order to stay afloat they took out further loans in 2021 estimated to reach over 500 million euros which will need to be paid back and voted in for the European Super League which has also fell through. All this while losing Messi's commercial revenue and it leaves Barcelona in a crisis zone.
Reasons Messi is to leave
So simply it comes down to money, La Liga informed Barcelona that they needed to reduce their wage budget by £200m before new signings could be fully registered.
There were two options for Barcelona to try and solve their problem. Option one was to sell all their stars or failed signings and ask Messi to take a significant pay cut, option two was to let Messi and his colossal wage budget leave.
Barcelona tried option one, asking Messi to take a 90% decrease before offering him a 50% decrease. Many people will ask why Messi hasn't taken the pay cut and some may argue he should.
Truth is, Messi knows his importance to Barcelona's financial situation and reputation and therefore demands a wage that he believes justifies his importance.
Another reason for Messi to leave is trophies, after finally tasting success on the international stage, winning the Copa America with Argentina this summer he may believe with all that is going on behind the scenes in northern Spain that other top European clubs will give him more chance of winning silverware.
There are only a handful of clubs in the world that can afford the 34-year-old and the Parisians top that list. PSG are one of the richest clubs in the world thanks to their Qatari owners. Realistically it is feasible but the club would have to sell players, or change their financial structure to comply with the Europe and French financial fair play laws.
PSG's wage bill currently sits at roughly £400m and if they were to sign Messi and meet his £1m a week wage demands it would take them well over £450m for the year, which means changes would be need to made to keep the deal legal.
As much as this would make PSG even stronger on the pitch it is also a massive statement for their owners. The next World Cup is being held in the home nation of the PSG owners and to have Messi at the forefront of their domestic franchise would attract even more interest to the World Cup, making it a massive PR stunt.
Wherever Messi goes is going to get possibly the world's best and a couple years of commercial fame in the footballing world.