The Bianconeri will be hoping for a much better season this time around as last year was a rather disappointing and turbulent one as they finished just two places above the drop zone.
But with former Palermo boss Guiseppe Iachini in charge for the new season, the Udinese faithful will be hoping for an upturn of results as they look upwards this campaign.
Udinese' inconsistency was their downfall last season
Italian football certainly seems to be in a world of its own when it comes to hiring and firing managers; and last season Udinese were no exception as the Pozzo family who are also in charge of Premier League Watford hired and fired two coaches in the space of a season.
Originally Stefano Colantuono was in charge but after a miserable time, he was replaced towards the end of the season by Luigi De Canio – but now it seems the Udinese hierarchy feel Iachini is the right man to steer the club to greater heights.
It certainly wasn't one of the better seasons for Udinese' fans; this season will be their 22nd successive season in Italy's top flight. So they have pedigree, but if they can't match it with ambition what's the point.
The Bianconeri struggled last season partly due to inconsistency, and then partly due to not being good enough in games. Another reason why they struggled last season was because they were left with a big hole in the middle of their midfield after star player Allan moved to Serie A rivals Napoli last summer.
Allan was a huge miss, the year before he was an integral part of the side; he was their midfield enforcer, the one who made the Bianconeri tick – but they never really replaced him and that was a big part of Udinese' slide down the table.
Consolidation is the key for Udinese this season
The majority of Serie A observers will not expect Udinese to rapidly improve this season; they have had a solid transfer window so far reinforcing the squad but the squad is nowhere near capable of challenging the likes of AC Milan, Sassuolo, and Fiorentina for European places - and that's just for a shot at the Europa League, so the fans might have to be happy for a consolidation season under Iachini.
Wins breed confidence, and if Udinese can get a few decent wins under their belt early on, then ambition might heighten. Duvan Zapata will be relied on for the goals after Antonio Di Natale called time on his stay with Udinese having scored over 200 goals.
Despite the poor season last campaign, Udinese' hero Di Natale still managed 14 league goals and the partnership between him and Zapata was improving but they won't have that liberty or his goal scoring exploits for the first season in 12 seasons.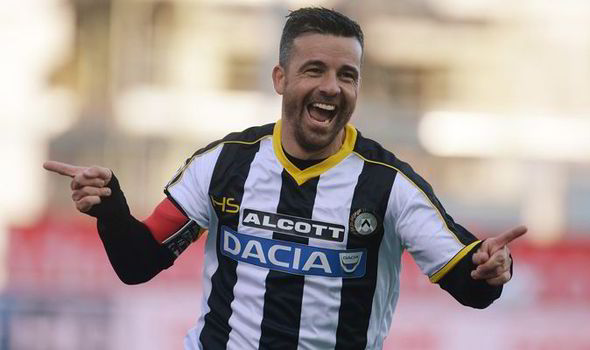 Fixtures
It's going to be a long tough season, and the start of it looks particularly tough for a side that struggled last season, they open with am away game against Roma, and then follow that up with games against:
Empoli (home)
AC Milan (away)
Chievo (home)
Fiorentina (home)
Sassuolo (away)
But if Udinese are chasing a high finish, their final six games look 'kind' on paper - barring Inter Milan - as they face:
Cagliari (home)
Bolongna (away)
Atalanta (home)
Crotone (away)
Sampdoria (home)
Inter Milan (away)
A solid yet uninspiring summer window
The former Palermo boss, Iachini has obviously identified what Udinese need to have a better campaign, but all in all their business certainly wouldn't strike fear into opposing teams, but they have strengthened and that is important.
The 52-year-old Italian certainly feels they needed more firepower, so he has signed some attacking players in a bid to burden the load.
Young Stipe Perica has come in from Chelsea, as have strikers Hamdi Harbaoui and Adalberto Penaranda from KSC Lokeren and Watford respectively. Furthermore, Youssef El Arabi arrived on a free from Granada shortly before the Pozzo family sold the club.
Then in midfield Iachini has drafted in Manchester City's youth player Seko Fofana for some added bite in the middle of the park, and then on the wing he has identified Ewandro from Sao Paulo as someone who could add a bit of creativity and flair from the flanks.
It's by no means perfect, but it isn't all doom and gloom for the Bianconeri
It is really hard to know how Udinese will perform this season, as mentioned it might be a consolidation season for them, as last season proved they were well off the pace when it came to the upper reaches of Serie A.
But with a new manager at the helm and an influx of new players, it might be a vastly improved season. In a way it has to be, as last season showed that Udinese were very close to dropping into the second tier of Italian football for the first time in 22 years.
Consistency is what Udinese should be striving for, but with Giampaolo Pozzo in charge you just never know if the man decides his team needs a change of managers – and if that start's to happen again this season, Udinese could certainly be in trouble.
After Di Natale's retirement Duvan Zapata will have to step up
The Italian forward embodies Udinese, in football today you don't get many players such as Di Natale; he has been with Udinese through everything, but now he has retired Zapata will carry the burden of being Udinese' main hopes for goals.
14 goals last term was a terrific amount, but now Zapata will really have to step up this campaign and try to share the load. The target man is well adverse to Serie A as having previously been at Napoli; but after not getting plenty of game time, the Columbian has moved to the Stadio Fruillo on a two year loan in search of minutes and most importanly goals, and the Bianconeri are to be successful this year, Zapata has to now step up and fill the legendary shoes of Di Natale.
Another player that could be integral for Udinese this season is the highly rated Argentine midfielder Gaspar Iniguez – he was signed last summer, and came with quite a reputation, he is slowly getting used to football in Serie A, and this season might be the one where the 22 –year-old bursts onto the scene.
After a troublesome campaign last term, the Udinese faithful hope Iachini can steer the club to greater things; but with a modest budget, and quite frankly a modest playing squad, not much is expected from the Bianconeri. So it is up to them to turn heads and make a rumble in Serie A this coming season.