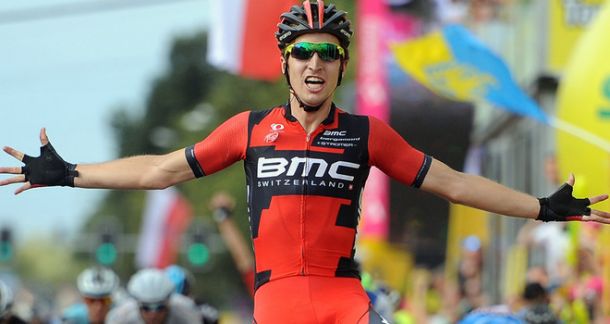 BMC Racing Team's Taylor Phinney has seen his career going on the ascendency over the past eleven months. Impressive road victories in the Tour de Pologne and Tour of California where he attacked solo from the peloton and held on for the wins; overall victory in the inaugural Tour of Dubai on the back of a strong time trial; mixing it with the sprinters in Dubai and the Tour de San Luis; looking strong at the start of the classics season before a crash in Kurrne-Bruxelles-Kuurne hampered the rest of his cobbles campaign; and claiming a second American Time Trial Championship. However in the American National Road Race that followed Phinney suffered a horror crash, smashing into a guardrail on a descent after being forced to evade one of the race motorbikes.
Phinney fractured his left leg and damaged his knee, undergoing two surgeries in Chattanooga, a few days before being airlifted to a hospital Utah. He has since been discharged and is attending the hospital as an outpatient under the care of Dr. Max Testa and Dr. Eric Heiden, both members of the BMC medical team. He should soon be able to return home to Boulder, Colorado, to continue his rehabilitation. Speaking to the media today, Phinney spoke about, the injuries, the accident and what he is doing to get over it.
"I had a compound fracture to my tibia, just my tibia, it was a clean break. It [surgery] was a simple procedure, I have a nail in my tibia and a couple of screws screwing my tibia back to my fibula. The other thing was that I severed my patella tendon in the crash, I think on impact with the guardrail, but ironically in surgery they would have had to sever that tendon in order to put the nail into my tibia anyway."
Phinney was grateful for the speed with which he was able to receive high quality treatment "I was very lucky in Chattanooga that they have a level one trauma centre, in which I had my surgery, so I was in great hands." While also being hugely appreciative of the work of the BMC medical team "I'd like to give a big thank you to my team for supporting me through this, especially Dr Heiden and Dr Max Testa.
"An accident like this gives you a perspective that you cannot have, unless you have something like this happen to you. I realise that this career I have is not a given and that it's something that can be taken away at any point in time. "
As reported in VeloNews the accident happened after Phinney and Lucas Euser (UnitedHealthcare) caught up with a race motorbike on a descent. The motodriver reacted unusually, forcing Phinney to take the corner on a dangerous line, forcing him off the road and into the guardrail.
"He just wasn't paying attention and wasn't aware of the speed at which we were travelling behind him. Then the way that he reacted when he realised that myself and Lucas and the rest of the pack were coming up on him, definitely demonstrated that he was not equipped [to handle the situation], in the sense that he didn't react properly in my mind, he braked instead of accelerating away, which is what you would do if you are on a motorcycle instead of a bike."
Asked if he was angry about the incident, Phinney said that he had been for a couple of days but has moved on.
"I try to be forgiving, I know people make mistakes, people are human. I'm not bitter about anything, I definitely get frustrated when I am hobbling around, when I crutch myself 20m and then I have to take a breather and sit down, so for sure I get frustrated with my current state, but I'm not constantly thinking about one person or the organisation."
However Phinney has been left more upset about the response, or lack thereof, from the race organisers and the motodriver involved.
"I, kind of unbelievably, have still not heard from the motodriver or anyone from the organisation. USA cycling issued an incident report with no mention of the motodriver, he definitely played a pretty significant role in the crash. I was pretty taken aback, especially those first couple of days following the accident that he didn't stop to see if I was OK, or check-in on the days following."
However while the official response may have been disappointing, Phinney has nothing but praise for those who helped him in the immediate aftermath of the crash. "I'd like to thank the first responders to my accident, in particular Lucas Euser, who witnessed my crash, was able to avoid it, and was there by my side."
Though he didn't hit the deck himself, Euser opted to abandon one of the more important races on his calendar to stay with the distressed Phinney.
"He actually gave up the race to be there, I think he's actually experienced a bit more post-traumatic stress than I have, because he actually looked at my leg, and I didn't want to see it. So a big thank you to Lucas."
Phinney and Euser were friends before this incident, but their relationship has been strengthened by this shared experience: "Lucas and I have been close friends for a while, he is from Boulder, Colorado, which is where I live, he's kind of an integral member of our little "Wolf Pack" that we have in Boulder, a group of guys from domestic professionals to World Tour riders, we all get together when we're in town and go for rides, or we'll go out. Lucas is definitely a sensitive guy and he's somebody who is very caring. He's had a traumatic accident to his knee before, so I think he just realised the gravity of the situation."
"I'm eternally grateful to him for what he did for me, and I'd like to think that if the roles were reversed, that I would have done something similar for him."
In the immediate aftermath of the crash, it had seemed implausible that Phinney could return to racing fitness during the 2014 season, however the early stages of his recovery are proceeding faster than expected so it's not out of the question that Phinney could be back racing in earnest before the end of the year, though 2015 does seem more likely.
"Initially when I did have my crash, a couple of days after they were saying I was going to be off the bike for three or four months, but the prognosis has just gotten better and better since the surgery and since I started the rehab. I remain optimistic for whatever the rest of the year brings, but I do realise that I need to be patient, and I need to be also conservative in a way to protect my career."
He is due to have stitches removed later this week and will soon have a revised idea of what to expect from the weeks and months ahead; so far the only information Phinney has to go on came in the immediate aftermath of his surgeries.
"The only time frame that I currently have is that since the day of surgery I will be on crutches for six to eight weeks, so I take that as six weeks, and that was two weeks ago. So there is a chance that four weeks from now I could be back on a bicycle, probably a stationary bicycle, and in a gym doing some strengthening of my left leg."
When asked about the possibility of returning this season, he said: "I'm not really sure, I've been kind of on a day to day schedule. We'll reassess once I get off crutches, once I can put weight on my leg and put pressure on my knee, so it's a bit far off for me to think about now, obviously I remain optimistic for the rest of the season. The only thing that I can do every day is as much rehab as I can and not push it too much, but also not be lazy. Once I get back on the bike there's going to be a long build back up to where I feel I need to be."
Rather than laborious the rehab, the biggest difficulty for Phinney seems to be finding ways to pass the time, and avoid overdoing the rehab.
"I am way ahead of schedule so they're forcing me to chill out every day, there's not much I can do except rehabilitation at this point."
"That first week was definitely not very enjoyable, both physically and mentally, especially considering I was really geed up for the Nationals, I was really excited to go to the Dauphine, and I was really excited to prove myself, and try to make it to the Tour. I'm used to being out there and active, but when you are kind of immobilised like this, all I can do is really sit on a couch and look TV or read, move from the couch to a chair, or just do my rehab which consists of flexing my knee to a tolerable pain level. My main mental state is that I'm just kind of bored now."
Regardless of when he returns, Phinney is determined not only to pick up where he left off, but to use this hardship as motivation to reach even higher levels of performance.
"I was almost more focused than I've been before, so I know that when I come back I'm going to take that same focus, and maybe even more to the next races that I do."