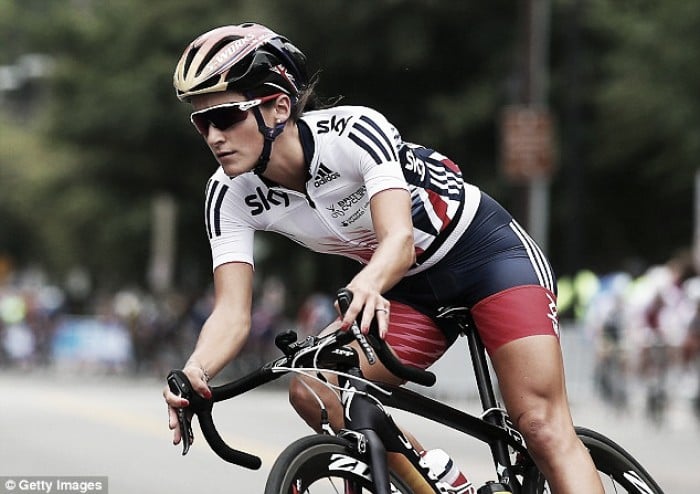 The Rainbow jersey has a pride of place in cycling; almost regarded as highly as the Maillot Jaune. However, over the years, the jersey has carried a burden for riders that have worn it – but it looks as though British rider Lizzie Armitstead is reversing that trend.
Some say the Rainbow jersey carries a 'curse' which prevents riders from winning races in the preceding year; but Boels-Dolman rider Armitstead has already proven that to be just a myth, as she has won the women's Omloop het Nieuwsblad and also the Strade Bianche in the early part of the season.
This so called curse dates back to when legendary British rider Tommy Simpson won the coveted jersey in 1965. But whilst skiing, Simpson broke his leg and ultimately lost his jersey the following year.
Since then, riders who have held the jersey haven't been able to replicate their success the year after they won at the World Championships.
Armitstead is dispelling Rainbow Jersey 'myth' with strong early season showings
Yorkshire-born Armitstead won the jersey back in September last year in Richmond, USA, where she defeated the likes of Anna van der Breggen to clinch what so far has been the highlight of her career.
Former World Champion Rui Costa spoke about the jersey and what it does to a rider; and he said it 'adds more pressure' and 'greater responsibility'. Regardless of Armistead's standing in the peloton prior to her winning the Rainbow jersey; this year the pressure is firmly fixed on the girl from Otley.
And it is not just the pressure on her to win races and perform to her high standards, there is also another pressure of being the mantle bearer for women's cycling. The sport is undergoing a transition from less amateur teams to a more professional feel, which is only a good thing for the sport. And right at the front of it is the World Champion Armitstead.
Her performances so far this season have been worthy of a World Champion too and has dissipated any fears that Armitstead was going to have a barren year on the saddle.
At Omloop het Nieuwsblad, Armitstead attacked solo in the last 10km and her nearest challenger couldn't match her speed. And then at Strade Bianche she won from a three-woman breakaway to seal another impressive win so early on in the season.
In comparison; Peter Sagan is having a tough time being World Champion
Going back to that curse, it might be appropriate to say that Peter Sagan could be experiencing something of a curse lately.
He has just finished the Tirreno-Adriatico, where he finished second overall. He seems to like second place, as this was the 70th second place finish of his career. Because he is the current World Champion, questions have been asked if wearing the jersey has anything to do with it.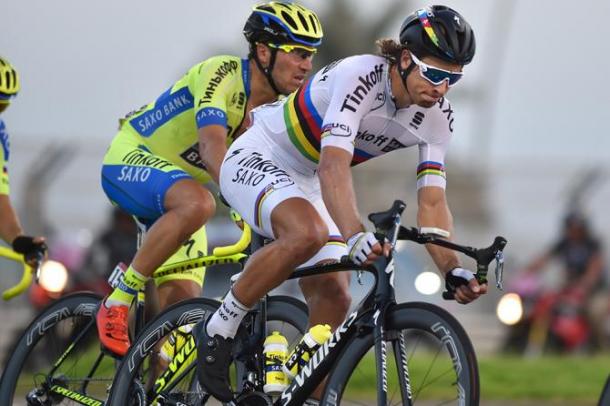 It's not like Sagan has been riding poorly, he hasn't. In some of the stages last week, he put in some barnstorming performances but was just pipped at the line by other contenders. Still, it's difficult to imagine a rider of Sagan's calibre of going the whole season without winning one race, as he is just too good.
All this talk of the Rainbow jersey carrying a curse is just glorified nonsense, and Armitstead has already proved that the famous jersey is not restricting her season as she looks to add a Gold medal to her palmares at Rio this year.