A berth in the European Masters will be a well-earned one as two exciting semi-finals are set to take place on Saturday. Four of the best players in the world showed their class as they all breezed through the last eight and will lock horns in two tight matches before the final.
Mark Selby - Judd Trump
Mark Selby and Judd Trump are both enjoying fantastic form this week, with neither player dropping a single frame in either the second round or quarter-finals. Only two weeks ago Selby reached the Shanghai Masters final where he was defeated by local favourite Ding Junhui, who opted not to play the European Masters.
The World Champion took the form that saw him reach the last two in China into this competition and extended it when he cruised past outsider Alfie Burden. Excellent breaks of 84 and 102, were shadowed by a tournament-high 136 in frame three as Burden struggled to get to the table.
It was a similar story between Judd Trump and John Higgins with the former making a mockery of the latter's number five ranking spot. Higgins struggled to formulate any sort of effective break, as Trump compiled a 74 and 105 on his way to a 4-0 win. Trump himself is in excellent form this season after winning 12 of his 15 matches.
Ronnie O'Sullivan - Neil Robertson
Ronnie O'Sullivan only began his season in Shanghai three weeks ago but already seems to have found top gear with seven wins from eight matches. He has mixed grit with class to cruise into the final four and this was the case once more against Mark Davis. A break of 54 helped him towards a 2-0 lead, before Davis pounced on an opening with a 124. Yet the Rocket hit back and completed the contest with an excellent 129.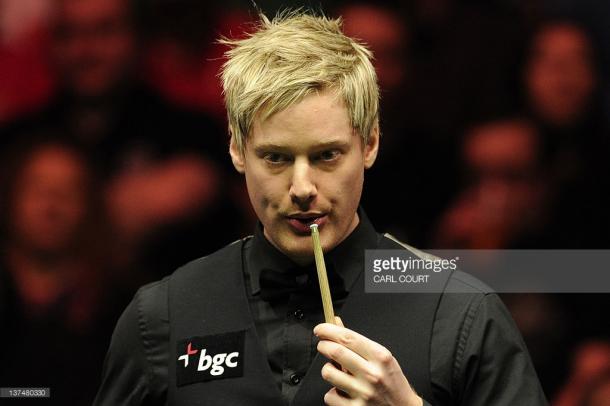 His opponent is Riga Masters Champion Neil Robertson who is also in fine fickle with 18 wins from 20 matches so far in this campaign. His latest success came against Anthony McGill as he struggled to play his best snooker but found a route through. A match-high break of 61 set Robertson on his way before the pair exchanged frames to find themselves locked a 2-2. Yet two tight frames were edged by the World number seven as he showed his quality to progress into the final four.