Judd Trump secured his first event win of the season following an excellent comeback against former World Champion Ronnie O'Sullivan. The 27-year-old had not progressed further than the last eight in any of the other tournaments he has entered this season but responded from 8-6 behind to win 9-8.
O'Sullivan edges ahead in the first session
A tight opening frame set the precedent for the rest of the contest as O'Sullivan edged a nervy start 58-51 with neither player able to make a significant break of note. Trump was able to respond immediately as a handful of bites at the cherry resulted in him drawing level without his opponent potting a ball.
The fourth seed was to play a predominant part in the third and fourth frame as he racked up 80 points, but it was not enough to overhaul the Rocket in either contest as contributions of 53 and 62 gave him breathing space at 3-1.
The established duo then exchanged turns at dominating the table in the second half of the opening session, with the result panning out to 5-3. Trump scored what was to be a match-high break of 120 in frame five and an impressive 82 a further two racks later. Yet O'Sullivan matched Trump's resistance with a 59 and 55 in separate frames as he continued to lead with clean air ahead of his opponent.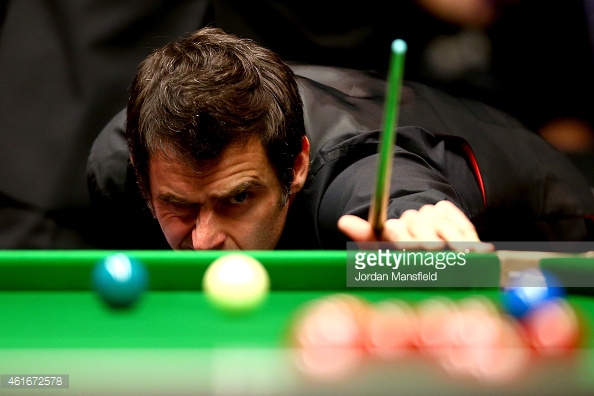 Trump strikes back
With a two frame lead going into the evening session, the smart money would have been on another O'Sullivan tournament success. Yet Trump responded adequately as the heavily decorated World number ten struggled to rekindle his earlier form. Trump was afforded two chances to get the session off to a winning start, before contributing a 105 with his second century of the match. A 67 in frame 11 added to his stock as the World number four took the lead for the first time.
Yet that resurgence only seemed to light the fuse of the Rocket who struck back with a vengence. A personal high of 93 for the match drew the scores level once more, before a 72 sent O'Sullivan back into the lead. A tighter 14th frame was also won by the 40 year old as he stormed into an 8-6 lead, leaving him just one frame away from another tournament success.
Judd Trump was in no mood to give up the fight though as he subjected O'Sullivan to just 16 points in the final three frames. A break of 109 gave Trump a third century break of the match and hope of winning the tournament, before victory in frame 16 drew the players level again. Trump then showed his class as he pounced on an O'Sullivan error to win his first tournament of the season with a break of 74.