As the UK Championship narrows down to the final eight, Ronnie O'Sullivan is once again dominating the headlines, this time suggesting that snooker is too focused on "quantity over quality".
"There are a lot of players I watch out there and they can't play"
His words come after another impressive victory this week, defeating Matthew Stevens 6-2 and taking his frame record for the competition to 24-3. With 128 players beginning the competition last week, O'Sullivan has suggested that "there are a lot of players I watch out there and they can't play". He added "when you are trying to cater for 128 it is maybe holding back the sport when it could maybe do better if they thought about more tournaments for the top 32 or top 16".
The Rocket's resolution is that "there should be more for the top players. Top players should be rewarded, have more classy events to play in and should be treated differently". This follows comments he made earlier in the week about snooker being "like a car-boot sale" with the perceived lack of prize money on offer.
Yet whilst O'Sullivan was delving deep into the suggested problems surrounding the sport, other players were enjoying themselves despite an increasing sense of nerves developing around the Barbican Centre. Mark Williams dropped his glass of water over himself during the first frame of his match with Liam Highfield, whilst Jamie Jones posted on Twitter "some cracking twitches at the end. Nearly fell over on the blue, delighted to get the win".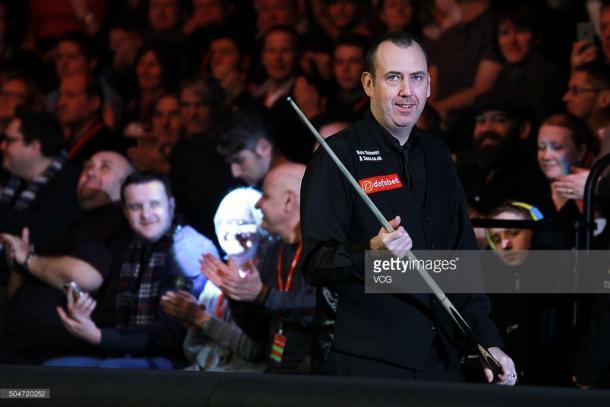 Maguire sees red as he struggles to pot that colour
Whilst a handful of players were enjoying themselves, nobody looked more frustrated in the last sixteen than Stephen Maguire. The Scotsman came from 2-0 and 3-2 behind against Luca Brecel, with two century breaks to boot, only to lose 6-3 as the number 30 seed won numerous tactical battles. Maguire continued to curse under his breath and at one point slammed his cue down as Brecel defeated him for the first time.
Brecel's quarter-final opponent will be Shaun Murphy who stepped up his game against Zhou Yuelong. The number six seed was tied at 2-2 before accelerating to win the next four frames, formulating five breaks above 79 during the course of the match.
Yet Murphy has some way to go if he is to match the form players this week. O'Sullivan has been the outstanding candidate, though Marco Fu has won 6-0 on two occasions in the tournament, defeating Oliver Lines by that very scoreline to reach the quarter-finals. Mark Selby added his third 6-1 victory of the week against Zhang Anda and has been rewarded with a mouth-watering tie against John Higgins, who recovered from 3-2 down to defeat fellow top ten player Mark Allen 6-3.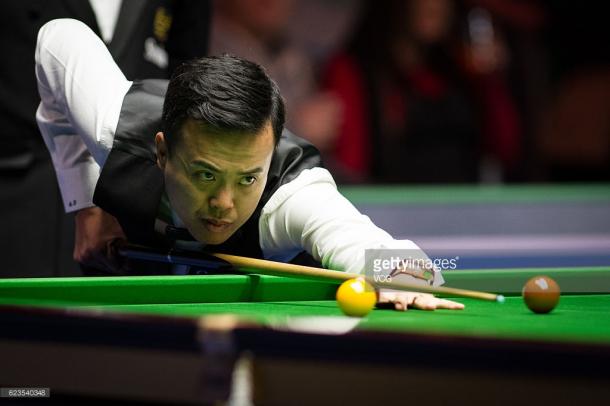 Jones through, whilst Highfield just misses out
Jamie Jones progressed to his first ever UK Championship quarter-final and will only be further galvanised by O'Sullivan's comments. Jones, ranked number 37, stormed past David Gilbert 6-2 despite his best efforts to "fall over on the [final] blue". He will take on the impressive Marco Fu on Friday.
Mark Williams added his name to the eighth quarter-final position late on Thursday evening, overcoming his unsteady hand, effecting him with both glass of water and cue, to defeat an inspired Liam Highfield. Despite being seeded 97th in the tournament, birthday boy Highfield impressed with his attacking style of play that may have even been noted by O'Sullivan, who he just missed out on meeting in the final eight.