 Ryan Goins has never been considered one of the Blue Jays' hottest or most consistent hitters, but put him on with the bases loaded and a little bit of magic and watch out.
In one of the most memorable games of his five-year tenure with Toronto, Goins produced a bit of magic—first with a rare hidden-ball trick that fooled Todd Frazier and then a Grand Slam in the sixth inning that catapulted the Jays to an emphatic 8-1 victory over the Yankees, stalling New York's playoff hopes for the time being.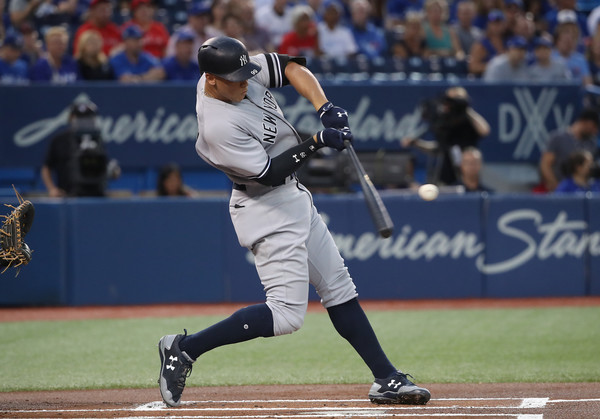 Blue Jays starter Marco Estrada, who just signed a one-year, $13-million extension with Toronto on Wednesday, had another superb outing, surrendering just the single run—a 469-foot Aaron Judge homer into the 200 level—in the first inning and two other hits the rest of the way in a seven-inning outing to pick up his 10th win of the season.
"I want to pitch well with these guys, it's the reason I signed back," said Estrada who, since his last loss on August 15, picked up his fifth win in his last six starts with an ERA of 3.32. "I want to finish on a good note and show everybody that June and July were kind of a fluke and I think I've kind of shown that now."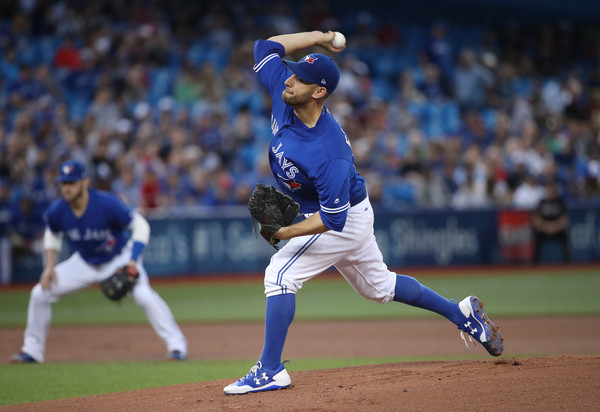 Blue Jays Homer Thrice to Wipe Out Yankees
After Estrada gave up a first-inning home run to this year's Home Run Derby champion, it was up to the Blue Jays offence to give him some run support, and boy did they deliver.
Toronto would get on the board with an RBI groundout from José Bautista, who is most likely playing his final series in a Blue Jays uniform at Rogers Centre, that plated Teoscar Hernández in the bottom of the first.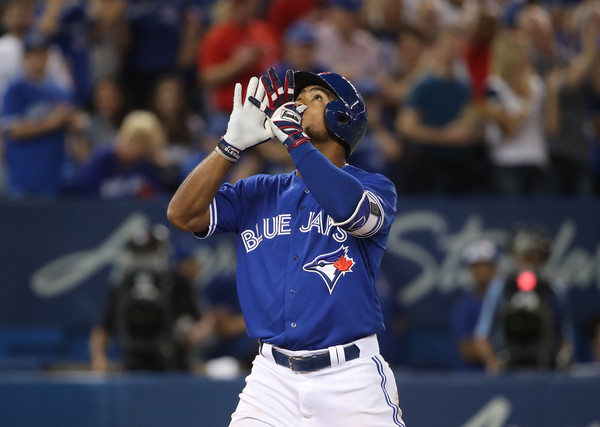 A couple innings later, it was Hernández again who would make a trip around the bases for Toronto, this time launching a solo shot to left field off Yankees starter Masahiro Tanaka—his third since coming up from the minor leagues on September 1—to give the Jays an early 2-1 lead.
Toronto would triple their advantage an inning later when Russell Martin lasered a two-run shot just over the wall in left to break the game wide open, extending the team's lead to 4-1 going into the fifth.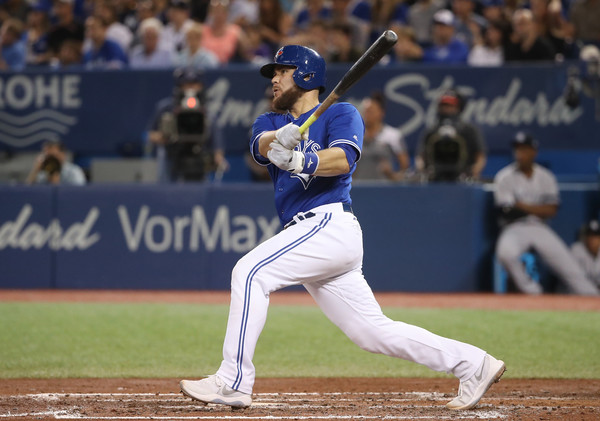 Goins, Goin', Gone: Ryan Goins Belts Second Career Grand Slam After Rare Hidden-Ball Trick
If that wasn't enough, the Jays would put three men on in the bottom of the sixth with two outs. The next batter? None other than Ryan Goins, Mr. Bases Loaded.
Coming into this at-bat, Goins had the best average of anyone in the majors this season with the bases loaded, recording a hit in nine of 13 (.692) appearances at the plate with three on.
However, the 29-year-old shortstop faced a tall order in Tanaka, who was left in the game by manager Joe Girardi, considering Goins was 0-for-22 in his career against the Japanese right-hander—until now.
Despite quickly falling behind 0-2, Goins would go deep on an 86-mph slider, sending it deep over the wall in right field to double Toronto's score to make it 8-1. With his second career Grand Slam, Goins is now 10-for-14 (.714) with the bases loaded, tying Blue Jays legend Carlos Delgado (2003) for the most hits in a single season, and becomes the first shortstop in franchise history—yes, franchise history!—to hit two Grand Slams in the same calendar year.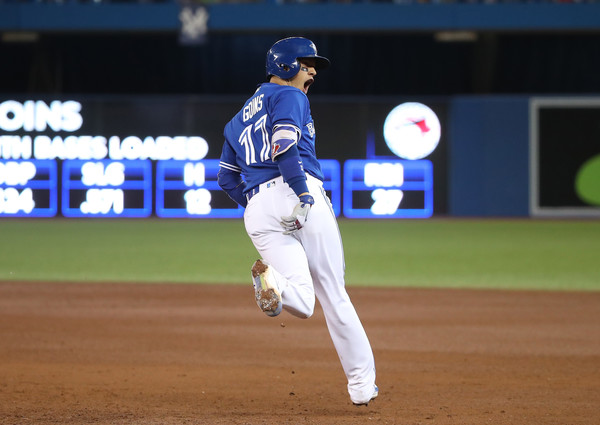 All of this came after Goins pulled off a rare trick play in the third inning after Bautista snared a Jacoby Ellsbury liner to right field to record the second out. Pretending to toss the ball back to the mound, the shortstop kept his eye on Frazier before tagging him out as soon as his right foot came off the bag to end the inning.
"With the new rules, you keep the tag on for a long time sometimes," he said. "So I just joke around, keep it on there, knowing guys aren't going to come off. That time, I just arm faked and was going to sit there and watch him. Something in my head told me he was going to take his foot off the base. I put my glove on him, and that was it really."
"Just a bonehead play by me, to be honest with you, because I try and do that too," said Frazier. "I thought the ball was thrown in. Just one of those things, nothing you can do about it afterwards. It's just one of those things where you have to have a little better mindset of understanding what's going on in the game. Just not a good play on my part."
Carlos Ramírez, who allowed just his first run in the minor and major leagues this season on Wednesday, pitched a perfect ninth inning to close out the win for Toronto.
Joe Biagini (3-11, 5.33 ERA) will look to rebound from a nightmarish last outing against the Twins to clinch the series for the home team on Saturday, but his offence faces a tall order in Sonny Gray (9-11, 3.38) on the mound, who maintained a 2.66 ERA in eight games for New York before also having a nightmarish last outing against the Orioles. Despite pitching better than he did in his time with the Athletics before being traded this season, Gray has not gotten much run support from his offence, resulting in a disappointing 3-6 record with New York.