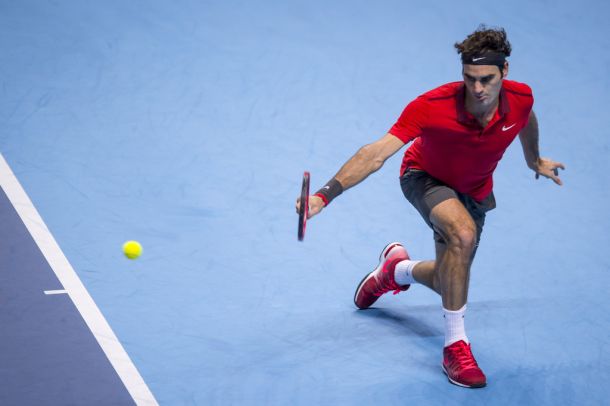 After what was a rather uneventful opening couple of days at the Barclays ATP World Finals in London, the hope was we would see some quality matches during Day Three of competition between the likes of Roger Federer, Andy Murray, Kei Nishikori and Milos Raonic.
Unfortunately for tennis fans around the world, it was day which delivered a couple of more predictable results and not exactly the sort of tennis we were counting on leading up to the season ending event. While Federer had next to no trouble beating Nishikori 6-3 and 6-2 in straight sets, needing just over an hour to dispose of the 2014 US Open Finalist, Murray had a surprisingly easy time with the Canadian number one during the second day of action between the four men who make up Group B.
After disposing of Raonic in short order during his opening night match, the No. 2 seed proved to be far too much for the Japanese No. 1. From start to finish, Federer was in complete control and was never once pushed by Nishikori during what was a rather routine victory. Though he still has to play his final round robin match against Murray, the Swiss Maestro has essentially clinched himself a spot in the semi-finals with the victory.
The same cannot be said for Raonic, who will be in real tough to advance to the knockout stages of the competition following his 6-4, 7-5 defeat to the No. 4 seed. While neither player was in top form, the young Canadian committed far too many unforced errors, especially on the forehand side, and simply became unglued at the worst possible moments in both sets.
Despite having been down a break early in set number two, the twenty-three old was handed a "gift" break of serve and looked to be headed towards a tiebreaker at 5-5 and serving to put the pressure on his opponent. While Murray certainly deserves credit for hitting a couple of great shots to put himself in a position at earning another break, with his running cross-court backhand winner being the obvious highpoint of the evening, Raonic still had this one on his racket and simply cannot get it done.
With Federer having basically booked his ticket into the semis, it is still anyone's guess as to who will be joining him in the final four. Obviously the fact Nishikori already has a victory against Murray in his back pocket puts him in the driver's seat but one would have to think the hard-serving Canadian will do everything in his power to ensure he doesn't leave the first World Finals of his career with goose egg in the win column.
Group A will once again take centre stage on Wednesday afternoon in London, as top seed Novak Djokovic will take on Stan Wawrinka in the feature match of the day, while Tomas Berdych will look to get past this year's US Open champ Marin Cilic, in a match both men absolutely have to win.