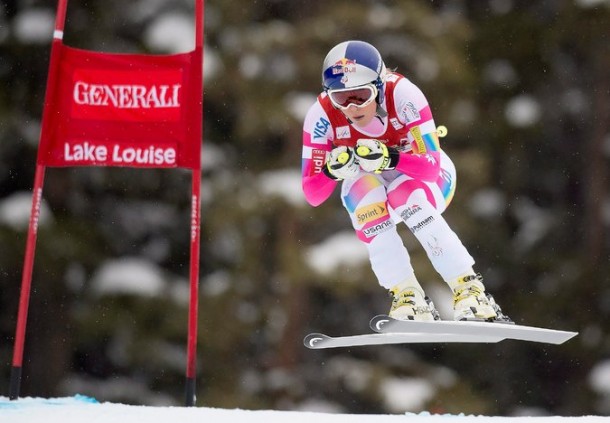 The Women's Alpine Skiing World Cup goes next to Lake Louise, Alberta for the first speed races of the season. Downhill races take place on Friday and Saturday, while a super-G race takes place on Sunday.
A year ago at Lake Louise, USA's Lindsey Vonn made her comeback after a right knee injury that had ended her previous season already in December. She won the second downhill race last year; that was her 13th World Cup race win in the Canadian venue. She went on to win both downhill and super-G World Cup titles last season.
This year Vonn suffered an ankle injury during summer training but that was minor compared to the previous knee injury. She was having a decent run in the Aspen giant slalom before she lost a ski and crashed. She surely is a favorite in both downhill and super-G.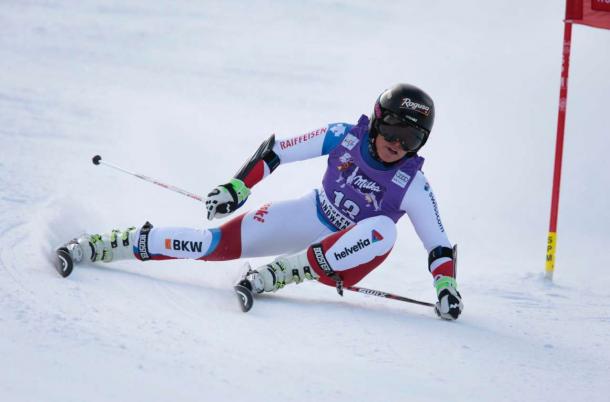 Photo: Keystone
Switzerland's Lara Gut started the season strongly in giant slalom with a fourth place finish in Sölden and a win last weekend in Aspen. Given the speed disciplines are usually even better than giant slalom for her, she looks like a strong contender for the overall World Cup title. Super-G has been her best discipline and she has won the Lake Louise super-G last two years in a row, going on to win the super-G World Cup title in the 2013-14 season.
Liechtenstein's Tina Weirather had a great start to her season with the third place finish in the Sölden GS. The Aspen GS didn't go as well; she was sixth on the first run but fell to 11th place on the second run. Now she gets to her best disciplines; downhill and super-G. She would need her best season in those disciplines to win the World Cup titles; her previous best seasons have been second in downhill in 2011-12 (lost by 290 points to Vonn) and third in super-G in 2013-14 (she was second, only 38 points behind eventual champion Gut before an injury that sidelined her from the final race).
Even if Weirather won no discipline titles this season, she may have a better combination of three disciplines than Vonn and Gut, and be a strong contender for the overall title. After finishing career-best second in the GS standings in the 2011-12 season, Vonn has been very inconsistent in giant slalom. Gut, on the other hand, has never finished higher than fifth in the downhill standings.
Germany's Viktoria Rebensburg seemed like a potential overall title contender. The two-time GS World Cup champion scored her first two downhill podiums last season and she has also two super-G wins from previous seasons. However, her start to the season with a sixth and a seventh place finish in GS hasn't been too impressive, and she has accomplished a lot less than the likes of Vonn, Gut and Weirather in the speed disciplines. She would need to improve a lot to become a title contender this season.
In speed disciplines, one must never forget Elisabeth Görgl. The 2011 downhill and super-G World Championship gold medalist has never won a World Cup title, yet the 34-year-old Austrian was still doing strongly last season when she finished fourth in downhill standings and seventh in super-G standings with a race win. Her winning a World Cup title this season is unlikely, yet she may well win single races.
USA's Mikaela Shiffrin will make her super-G debut in the World Cup in Lake Louise. It is hard to make predictions of her performance. Last year in November she finished 16th and 15th at Copper Mountain in FIS races featuring some World Cup regulars like Rebensburg and Weirather. Another example of her speed skills is this November's downhill FIS races at Copper Mountain where she finished 24th and 10th; beating World Cup regulars like Görgl.
Making the top 30 and getting points doesn't sound impossible for Shiffrin. Top 20 would be a great super-G debut whereas top 15 already feels unlikely.
Adding super-G to her repertoire helps Shiffrin to become an even stronger contender for the overall World Cup title. She may need time to start scoring significant points in it, yet she is young at 20 years of age and she has time to develop even into a frontrunner in speed disciplines if she has the skills for that.
Still, even if Shiffrin could not achieve points in super-G this season, she is a strong contender for the overall title, considering the way she dominates slalom and is strong in GS. The schedule favors technical disciplines with 20 races as opposed to the 17 speed races and four combined races.
Given Shiffrin's form in technical disciplines, the likes of Vonn, Gut and Weirather will need strong GS results, or some of them should totally dominate the speed disciplines to challenge Shiffrin for the overall title. Vonn seems like the one of those who could be even more dominant in speed disciplines than Shiffrin in technical disciplines. Gut has started strongly in GS but she might need her best season in downhill. Weirather has solid speed disciplines but the 11th place in the Aspen GS looks a bit worrying for her.
And if Shiffrin surprised everyone and finished the season in top 10 of the super-G standings, then she would be very close to winning the overall World Cup.