MACOMB, Michigan -- The Richmond Blue Devils made the trip from 32 mile to 24 mile for a non-league matchup against the Lutheran North Mustangs. Chase Churchill, a guard, scored a game-high 21 points to lead the Blue Devils to a 76-71 win over the Mustangs.
The Blue Devils (11-3) were down by one point after the first quarter, but a four point swing in the second quarter gave the team a 37-34 halftime lead. Richmond head coach Jim Barnes picked up a technical foul early in the second quarter for arguing with one of the three referees. Mitchell Visbara knocked down both free throws for the initial foul and Eli Thaut scored the two intentional foul free throws to help the Mustangs get a huge scoring swing.
Matthew Skoryanc led Richmond with nine points at half, all coming in the second quarter. Jack Hilt, a junior forward for Lutheran North, only had four first half points because of early foul trouble.
Churchill ran the show the rest of the way for Richmond with 12 second half points to give the guard 21 points on the night, while Anthony Tavano chipped in 11. D'Sean Hamilton tossed in 19 points, which gave the Blue Devils 40 points between the duo on Tuesday.
Lutheran North knocked down eight three-point jumpers compared to five from Richmond. Despite only hitting 69 percent from the free throw line, the Blue Devils were able to fend off a late push from the Mustangs to steal the victory.
The late scoring efforts of the Mustangs (11-7) were led by Kasey Lesnau, who connected on three triples in the fourth quarter. The junior guard has been key in clutch moments this season for Lutheran North, but this time the team could not find a way to win against a tough Richmond team.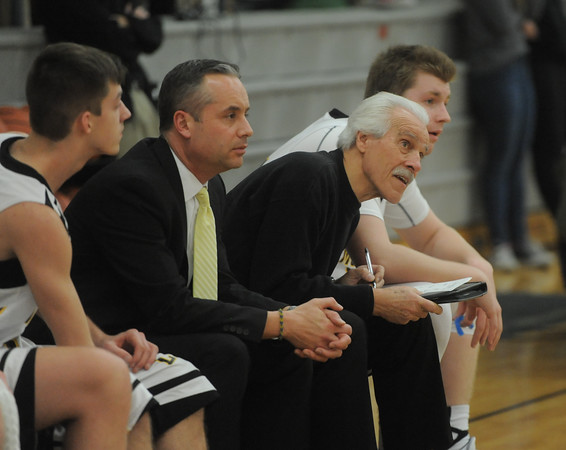 Hilt finished the game with 16 points on five two-point shots and one three-point jumper. Junior shooting guard Drew Arft, averaging 20.1 points per game, added 17 points despite not playing towards the end of the game. Thaut connected on five free throws to push his point total to 14 in the loss.
On March 1st at 7:00 PM ET, the Mustangs will hit the road for a game against the Utica Chieftains (10-7). Meanwhile, the Blue Devils are set to play the Almont Raiders (5-10) on February 26th at 6:00 PM ET.