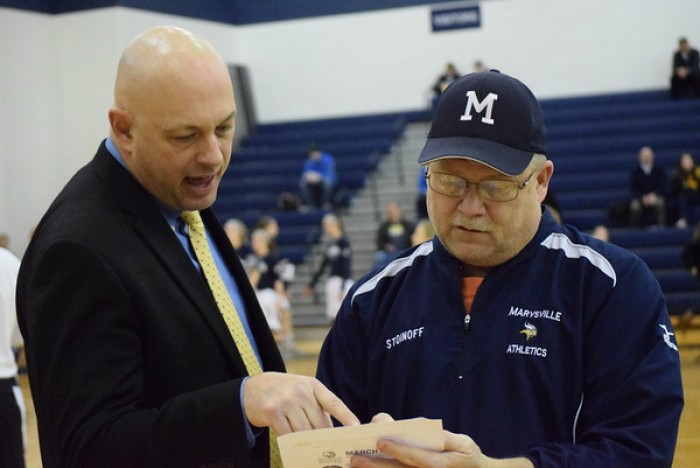 MARYSVILLE, Michigan -- Payton Husson scored 18 points to lead the Marysville Vikings to a 53-31 win over the Lutheran North Mustangs in the Michigan High School Athletic Association Class B district semifinal game.
"I thought we played really well," Marysville senior Devan Valko said. "We pushed the ball. We tried to make them play fast. We try to play hard for 32 minutes, and I think we did that tonight.

"Payton is huge on defense. She's got long arms. It's hard to shoot over a 6-4 girl. We always know we can use her as an outlet on offense, and she helps us on defense, too."
By halftime, the Vikings (20-2) owned a 25-8 lead on two late three-point jumpers off the hand of Shannon Curley. It was already evident that the team would be headed to the district championship.
The Vikings scored the first 12 points of the second half on six points from both Husson and Kiara Kelly, who added 15 points. Husson scored, blocked shots and brought down rebounds all night long.
"I was proud of the way our girls played on defense," Marysville coach Ryan Rathje said. "They were swarming around early, and they were real aggressive. That set the tone."
Leading the way for the Mustangs (13-8) was Emily Weir, one of three seniors, with seven points. Junior guard Natalie Zauel chipped in six points in the loss.
"In the second half, our effort wasn't as intense," Lutheran North coach Matt Knutson said. "They wanted this game. You could tell. They stepped up. They were solid."
Lutheran North won a share of the Catholic League AA Division and Marysville won the MAC Gold Division.
With the victory, the Vikings have advanced to the district finals game against the St. Clair Saints at Algonac High School.