 On March 5th in Las Vegas Nevada, UFC Featherweight Champion Conor McGregor and Nate Diaz went to battle in a short notice welterweight bout. McGregor's original opponent, UFC Lightweight Champion Rafael Dos Anjos, pulled out of the fight due to a foot injury, and Diaz was picked to be his replacement. While not the super fight fans initially expected to see, the replacement bout offered a serious test for McGregor.
Questions
There were questions that fans longed to be answered about the brash Irishman, and Diaz was a man who could potentially answer them.
1) How would McGregor do against a taller, longer fighter?
2) Would McGregor's power translate as he moved up not one, but two weight classes?
3) How would he fair on the ground against a world class jiu-jitsu black belt like Nate Diaz?
Round 1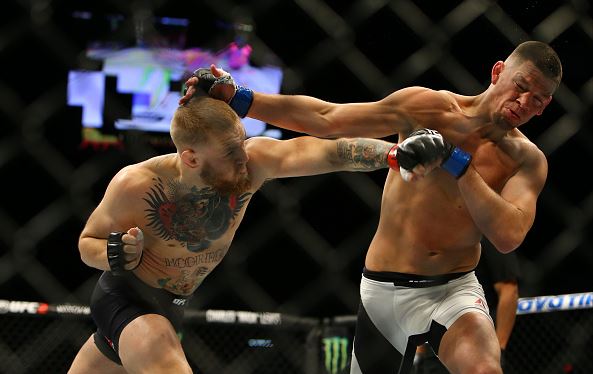 McGregor came out at the sound of the opening bell in his traditional style; fast. He immediately worked towards pressuring Diaz to the fence. It was clear that McGregor had been improving his boxing in his preparation for Dos Anjos. His head movement looked better than ever, slipping punches and attempting to counter with big left hands. It also seemed that he had been working on his left uppercut, possibly as a counter to Dos Anjos' level change attempts. McGregor's game plan seemed to be to push Diaz back towards the fence, attacking with leg kicks, body kicks, and countering Diaz's punches with strong left hands. However, something seemed a little off about McGregor from the offset.
McGregor landed some very powerful head strikes, Diaz' bloodied face at the end of the first round was a testament to this. However, McGregor was missing an awful lot more than he has in his past fights. Diaz' range seemed a little difficult for McGregor. His answer to Diaz' length was to explode inside as Diaz committed to an attack, and to land his left hand, darting out of range before Diaz could fire back. Committing to throwing full power attacks and bursting inside someone's range is very energy consuming; not a problem when you are used to knocking guys out in the opening stanza of a fight, however it is a problem if the guy you are punching doesn't seem to be getting hurt. Diaz may have looked bloody, but he never showed any signs that he was seriously hurt.
Diaz, to his credit was not letting McGregor play his game the way he wanted to. Even though he was getting hit hard, he was consistently punching back. Almost every time McGregor landed a shot, so too did Diaz. Diaz also did a good job at keeping his back off the fence, using small subtle foot movements to angle out whenever his back was against the fence. Towards the end of the round, Diaz took McGregor down with a single-leg takedown, astonishingly easily. While having an extremely high caliber of jiu-jitsu, Nate has never been known as a powerful wrestler. However, McGregor did a great job of sweeping Diaz, and closed the round out by landing some heavy ground and pound.
Round 2
Something definitely seemed off about McGregor in the second round, he looked exhausted. It takes an awful lot of energy to constantly be throwing full power strikes, and it takes even more energy to miss those strikes. Diaz looked fresh, hitting McGregor with crisp one-two combinations, which frustrated him. While McGregor's corner screamed for leg kicks and body kicks, the Notorious One was sucked into Diaz' game, and went headhunting. Diaz keyed in on McGregor's head movement, and hit him with a beautifully timed combination as McGregor was ducking, rocking the champion.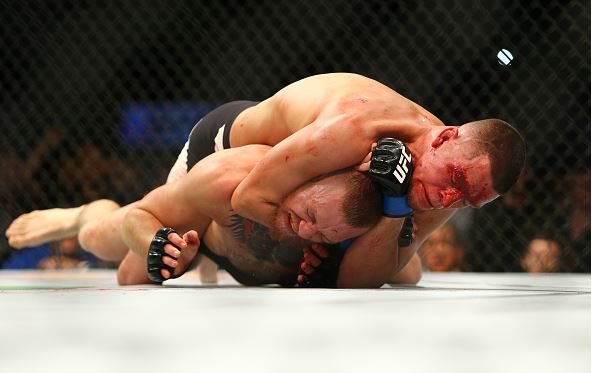 Diaz poured on the pressure, sensing that McGregor was fading and landed some powerful punches from the clinch. A hurt McGregor shot for a takedown, with the intention of getting into mount or guard to recover the rest of the round, but the skill mismatch on the ground soon became apparent, and soon Diaz was sinking in the choke.
What to Take Away from This Fight
McGregor made a few mistakes against Diaz. He was too focused on the idea of knocking Diaz out early, and spent too much of his energy doing so.
Diaz is extremely durable; a lot of lightweights would have crumbled under the powerful shots McGregor was landing.
McGregor is in no way finished as a fighter. He has just entered the prime of his career, and if he really wants to he can improve in the area's where his game is weakest, and come back a much better fighter.